Crash Course: Identity and Access Management 101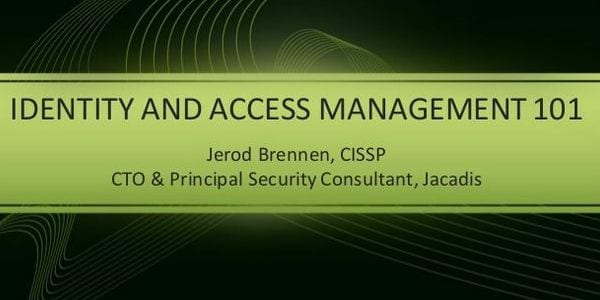 When you're just getting started with your Identity and Access Management (IAM) initiative, the world of Identity management can seem like a frightening,  complicated, and downright confusing place.
First you've got to sort through the acronyms—IAM, IdM, FidM, IDaaS, and the list goes on—it can be overwhelming. Then you've got to get to the nitty gritty of figuring out which IAM or IDaaS solution is correct for your organization, all the while wading through a sea of vendor-created info designed to sway you towards one solution or another.
This presentation, Identity and Access Management 101 by Jerod Brennen gives a frank and focused "crash course" on Identity and Access Management. Brennen breaks down the "alphabet soup" that makes IAM so confusing, gives straightforward definitions for several top terms, and lays out best practices for those pursuing an IAM reading. Recommended reading for IT pros looking to quickly familiarize themselves with Identity Management.

And watch this for the 10 Best Resources for Evaluating IAM solutions:

Latest posts by Jeff Edwards
(see all)