Key Considerations For Successful Data Integration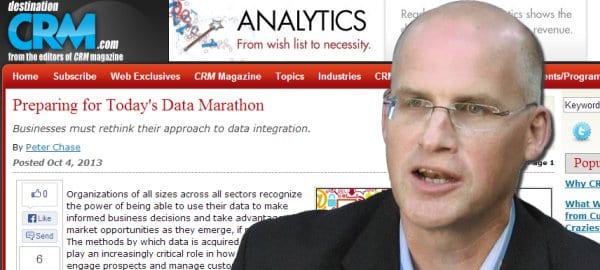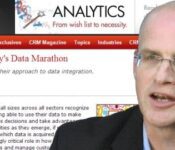 Peter Chase, Founder and Executive Vice President at Scribe Software has a nice data integration piece at DestinationCRM.com. Much of what frames his article come from the finding in Scribe's recent State of Customer Data Integration survey. As Mr. Chase states, "Our survey confirms what the market is telling us—that for reasons largely having to do with the added complexity and concerns brought to the table by cloud CRM deployments, actual between-systems integration of CRM and other business systems is astonishingly low—just 10 percent to 33 percent. Only 16 percent of respondents indicate full integration among business systems (up just one point from 2012)."
Mr. Chase goes on to highlight 4 Key considerations when contemplating a data integration initiative. Among them are:
The Need for Tight Integration:  "Key objectives of today's business and IT leaders include driving new growth while being able to continue supporting an existing client base well. To accomplish these and other goals, "new" CRM environments require tight integration with other core business applications.
The Old CRM Data Integration Approaches: "While custom coding and the more outdated processes of manual data entry and batch-loading (32 percent) are still being used by organizations (likely due to assumed cost savings), these methods result in labor-intensive and inefficient, often misaligned data structures."
New Ways of Integrating CRM Data: "Prebuilt connectors provided by software vendors are common (employed by 44 percent of surveyed organizations) and tend to be more robust and structurally versatile, resulting in stronger direct data cohesion than custom coding or file uploads."
The Integrated Road Ahead: "The rapid and sustained growth of CRM is certain; Gartner predicts CRM will be a $36 billion market by 2017. Cloud data integration and, particularly, cloud CRM data integration is compulsory for any organization that wishes to successfully engage its prospect and client base."
Mr. Chase concludes, "Optimizing customer and prospect outreach requires that every element of both organizational behavior and messaging is collected and correlated with consumer base behaviors and individual customer preferences—increasing new sales and renewals while discouraging oversaturation and repetition. Conversely, the absence of a holistic and agile CRM data integration strategy is an increasingly costly and painful omission."
The full article can be found by following this link.
Latest posts by Doug Atkinson
(see all)