Strategic advisory and analyst firm Constellation Research recently released the findings from its Constellation ShortList for B2B Marketing Automation for the Enterprise. The report from Liz Miller spotlights eight marketing automation solutions that large organizations and enterprises in the B2B sector should be paying attention to. Each Constellation ShortList report is updated yearly, although some reports can be updated after six months if deemed necessary.
The Constellation ShortList for Enterprise B2B Marketing Automation evaluated 50 B2B marketing automation providers before selecting the companies listed. Constellation used a combination of partner conversations, client inquiries, vendor selection projects, market share, customer references, and internal research to determine which vendors would be included in the report. Other considerations included the specific demands faced by large enterprises that manage complex sales cycles, teams, brands, and lines of business.
Our
Free Marketing Automation Buyer's Guide
 helps you evaluate the best solution for your use case and features profiles of the leading providers, as well as a category overview of the marketplace.
The eight solution providers named in the Q3 2021 report are listed below in alphabetical order.
---
Acoustic's Marketing Cloud platform provides companies across industries with the tools and insights they need to create personalized campaigns across digital channels backed up by AI-powered marketing automation technology. Acoustic debuted in 2019 after Centerbridge Partners acquired IBM's various marketing and commerce software offerings and now provides companies with content management functionalities, an analytics toolset, customer behavior analysis tools, and personalized campaigns.
Acquia is an open-source digital experience platform (DXP) designed to help organizations develop, host, analyze, and communicate with customers via websites and digital applications. The company's Marketing Cloud platform provides users with a seamless UI across its data, personalization, analytics, and campaign features so marketers can build memorable experiences for their customers with relative ease and agility. Other features include machine learning technology, predictive learning, omnichannel marketing tools, automated customer journeys, and more.
Adobe Marketo Engage is a marketing automation software capable of leveraging behavioral data, built-in intelligence, and complex journey flows to help enterprises identify, engage, and accelerate the customer buying journey. With its Experience Automation capabilities, customers can use Marketo Engage to build and scale automated marketing campaigns, measure success rates, identify promising prospects, and more. Users can also integrate the platform with Adobe Experience Cloud and access additional features like AI-driven analytics and content optimization.
Demandbase's primary solution, Demandbase One, is a B2B go-to-market suite of products built on an account-based platform. Demandbase One comprises four products: Account-Based Experience (ABX) Cloud, Advertising Cloud, Data Cloud, and Sales Intelligence Cloud. Marketers can use Demandbase One to connect all their customer data on one platform, measure engagement, track performance with account-based metrics, identify valuable accounts with AI, deliver personalized marketing messages across digital channels, and more.
Microsoft Dynamics 365 spans multiple technology categories and offers more than just traditional customer relationship management capabilities. The solution is more focused on customer support than its competitors. Dynamics 365 provides a complete customer view, agile support models, predictive analysis, and integrated AI functionality. It easily integrates with other Microsoft products as well. Its marketing functionalities can help enterprises engage with customers in real-time, orchestrate customer journeys, personalize experiences with AI, protect customer data, and more.
Oracle offers various cloud marketing and customer experience products, including Bronto, Eloqua, and Responsys. Eloqua is best suited for B2B companies looking for a marketing automation platform to help them create closed-loop marketing and sales activities and manage cross-channel campaigns capable of nurturing leads throughout the buying process. Oracle's other marketing automation features include advanced lead scoring, campaign design, integrated sales tools, and real-time firmographic data.
Salesforce Marketing Cloud provides companies with enterprise-level email, digital advertising, marketing automation, data management, analytics, and other functionalities, while Pardot acts as Salesforce's dedicated B2B marketing automation solution. Pardot can integrate directly with Salesforce's CRM platform and comes with tools for lead scoring, lead grading, capturing prospect activity, and real-time alerts for telling salespeople when the best time to contact a lead is.
SAP Marketing Cloud uses personalized demand generation and marketing tactics to help enterprises built customer relationships, create customized experiences, increase conversions, and use real-time business insights to streamline decision-making. Specific features include dynamic customer profiling, customer insights powered by AI, customer targeting, audience segmentation, multichannel marketing campaigns, account-based marketing, marketing analytics, data visualizations, and more.
---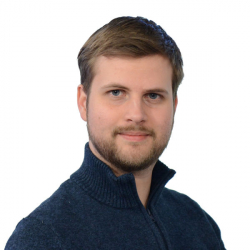 Latest posts by William Jepma
(see all)