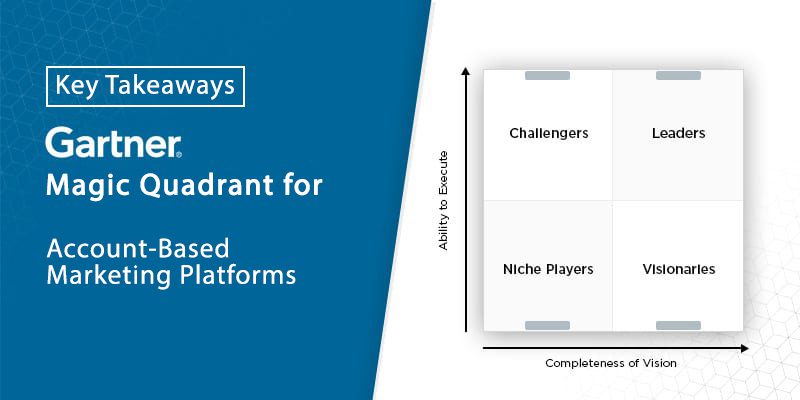 The editors at Solutions Review highlight the key takeaways from the inaugural Gartner Magic Quadrant for Account-Based Marketing Platforms and provide an analysis of the report.
Analyst house Gartner, Inc. recently released the inaugural edition of its Magic Quadrant for Account-Based Marketing Platforms. Gartner defines account-based marketing platforms "as a technology that enables marketers to run ABM programs at scale, including account selection, planning, engagement, and reporting. According to Gartner's report, these technologies should help B2B marketers align with their sales counterparts and engage customers via social advertising, web personalization, email, content syndication, and retargeting.
The core capabilities of account-based marketing platforms include audience management capable of unifying first and third-party data, cross-channel campaign orchestration, sales alerts to trigger sales interactions, account measurements, analytics, and target account segment development. Optional capabilities listed in Gartner's definition include predictive analytics and attribution modeling.
In this Magic Quadrant, the first one to focus on account-based marketing platforms, Gartner identifies what it considers to be the seven most significant providers in the ABM marketplace. The analysts on the report—Ray Pun, Christy Ferguson, and Julian Poulter—also evaluate each listed vendor's strengths and weaknesses and rank them on the signature "Magic Quadrant" graph, which clarifies how Gartner ranks vendors' ability to execute their vision. The chart is divided into four quadrants: leaders, challengers, niche players, and visionaries.
Key Takeaways: 2022 Gartner Magic Quadrant for Account-Based Marketing Platforms
---
To qualify for Gartner's report, each ABM vendor met specific criteria before July 31st, 2021. Those criteria include at least $5-million in 2020 fiscal-year revenue, at least 50 customers using the platform for ABM purposes, a minimum of 10 new customers within the past 12 months, and the ability to fund a year of operation with cash the company has on hand. The vendors also have to provide a standalone, purpose-built ABM platform outfitted with a specific suite of functionalities independent of a CRM, lead management, or marketing automation platform.
A breakdown of each category listed and the companies associated with it is below.
Leaders
Demandbase is the first Leader listed in the Magic Quadrant for Account-Based Marketing. Its solution, the Demandbase One ABX Cloud, primarily targets mid-market and enterprise businesses in manufacturing, financial services, high tech, and business services. According to Gartner's analysis, Demandbase's strengths include a comprehensive vision and strategy for its product, a robust suite of third-party integrations, and its collection of customer success, support, and service resources, including online training and certifications and an online customer community.
6sense ranks just below Demandbase in the report, and its Account Engagement Platform helps marketing, sales, and operations teams run ABM programs. Its clientele is predominantly North American and includes technology-based organizations ranging from SMBs to enterprise-level. 6sense is well-regarded for its embedded B2B customer data platform (CDP), which helps users manage their audience, and its high customer success and satisfactions cores. Gartner also spotlights the company's ABM thought leadership as a notable strength, as it supports its product vision and roadmap while simultaneously providing customers and noncustomers with insightful best practices.
Terminus rounds out the Leaders category with its suite of ABM products for midsize to large enterprises in business services and technology marketplaces. The company offers robust native channel support that includes display advertising, website chat, and web personalization tools. In addition to the three companies Terminus has acquired in the last twelve months, the company has invested in a collection of programs and thought leadership resources to help marketers embrace emerging best practices for account-based marketing. Finally, its product roadmap includes developing and launching enhanced dashboards, analytics, channel orchestration, and display advertising campaign functions.
Our
Free Marketing Automation Buyer's Guide
 helps you evaluate the best solution for your use case and features profiles of the leading providers, as well as a category overview of the marketplace.
Challengers
Madison Logic is the sole Challenger in this Magic Quadrant. Its ML Platform is designed to support marketers in large enterprise and high-growth technology companies running ABM programs that rely on display advertising and content syndication. While Gartner notes that Madison Logic is slightly lacking in its sales and marketing orchestration functionalities, the company excels with a flexible pricing model and a comprehensive suite of digital display advertising and content syndication tools. Users can use those capabilities to set budgets, forecast audiences, measure ad performance within the ML Platform, select creative assets, and more.
Niche Players
Jabmo kicks off the Niche Player category with an ABM platform focused on helping companies expand their accounts via pre-configured display, video, and social advertising capabilities. Not only is Jabmo one of the few companies listed in the report with an industry focus that goes beyond the technology marketplace, but it's the only vendor offering native email support. Its email capabilities include email journey development, advertising, website personalization, and retargeting.
RollWorks' Account-Based Platform offers users a self-service interface for account scoring, identification, display ads, and journey measurements. It works with small, mid-market, and large companies across the high tech, manufacturing, and business services verticals. Gartner spotlights its strength as its accessible pricing packages—which come in eight packages that start at a low-entry price—the ease of buying, and its campaign orchestration tools for LinkedIn and Facebook advertising.
Rounding out the report is Triblio, with was acquired by IDG Communications 2020 and works with clients across North America and EMEA. Gartner notes that the company lacks in-depth campaign orchestration, account measurement, and analytics tools. However, the report also spotlights Triblio's multifaceted intent data and support for various industries as compelling strengths. Its acquisition by IDG has also helped it reach larger enterprises in North America, Europe, Latin America, and Asia/Pacific.
---
---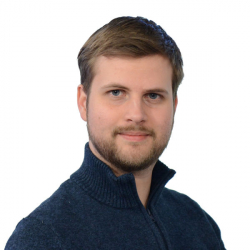 Latest posts by William Jepma
(see all)