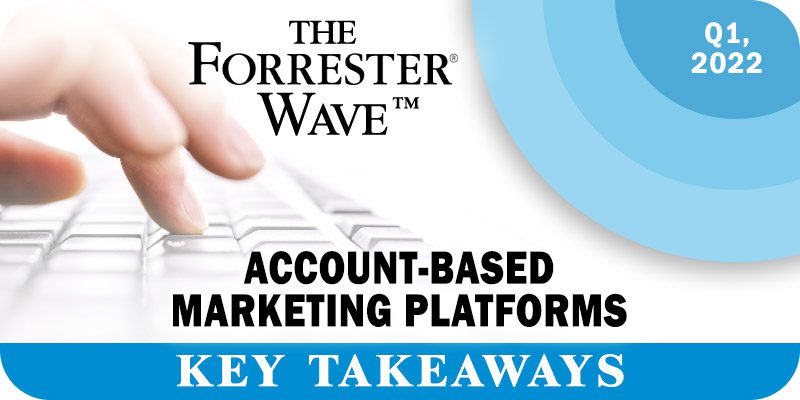 The editors at Solutions Review have read the Q1 2022 iteration of The Forrester Wave for Account-Based Marketing Platforms report and compiled the takeaways worth knowing.
Technology advisory firm Forrester Research recently released The Forrester New Wave™: Account-Based Marketing Platforms, Q1 2022, identifying ten of the most significant account-based marketing (ABM) platform providers. The report also provides analysis and comparisons of each provider to help companies find the right solution for their needs.
The report comes from Malachi Threadgill with help from Monica Behncke, Steven Casey, Sarah Morana, and Marissa Fritz. In the findings, Forrester explains how ABM has become a crucial part of B2B marketing, as these solutions help users incorporate more data-based insights into their strategies. It's worth noting that The Forrester New Wave differs from the traditional Forrester Wave reports Forrester releases. For New Wave reports, Forrester assesses emerging technologies, and vendors are selected based on a 10-criterion survey, 2-hour briefing with the providers, and a review of their market presence.
The Q1 2022 iteration of The Forrester New Wave: Account-Based Marketing Platforms segments the ten ABM providers into four categories: Leaders, Strong Performers, Contenders, and Challengers. The editorial team at Solutions Review has read the report and compiled the most important takeaways and updates you should know about the news and the vendors.
Note: The opinions described in this article belong to the researchers and editors of The Forrester New Wave: Account-Based Marketing Platforms, Q1, 2022.
Key Takeaways: The Forrester New Wave for Account-Based Marketing Platforms, Q1 2022
---
Each account-based marketing platform met three primary criteria to qualify for The Forrester New Wave report. These include offering omnichannel engagement, having at least $10 million in revenue specific to their ABM system, and incorporating solutions capable of selecting, identifying, and evaluating target accounts, contacts, and buying groups.
Leaders
The 6sense Account Engagement Platform provides users with an ABM solution with sales, operations, and full-lifecycle marketing capabilities. The platform's strengths include its data and analytics features, advertising tools, personalization functionalities, product vision, roadmap, and market approach. Forrester says 6sense is well suited for well-aligned sales and marketing teams.
Demandbase is a long-time presence in the ABM marketplace and continues to expand its market presence with multiple acquisitions, product innovations, and new engagement channels. Forrester's report says Demandbase is a good fit for companies looking for an all-in-one marketing solution, while customers referenced its personalization, advertising, orchestration design, data management, roadmap, and market approach as strengths. 
Terminus is well known for its "data-first approach" to account-based marketing. The company has expanded its platform with new analytics tools to ingest first-party data and create engagement opportunities across advertising, chat, and email channels. Customers praise Terminus' first-party data capabilities and identify its real-time audience customization, dynamic campaign, engagement channels, personalization, advertising, and orchestrated design capabilities as differentiating strengths. 
MRP offers one of the most native and integrated engagement channels in Forrester's report and is well regarded for its engagement, attribution, omnichannel ABM, and global data capabilities. While the solution's self-service capabilities aren't as developed as other vendors listed,  its omnichannel programs and multi-tenant deployment options make it a competitive choice for larger enterprises that support independent business units and regions.
Strong Performers
Triblio has become a long-term contender in the ABM marketplace with recent acquisitions and mergers. For example, the combining of Triblio, Kickfire, and Leadshift has helped it expand its account intelligent capabilities and introduce new engagement channels. Its differentiators include comprehensive data-driven orchestration tools, AI-based account scoring, and its well-realized market approach.
RollWorks provides customers with a feature-rich ABM platform that Forrester says is "on par with more established providers." While the company is still primarily seen as a display advertising provider, its ABM capabilities are growing, and it recently introduced deeper account scoring and prioritization capabilities. It's well-suited to help high-growth companies with an emphasis on value.  
TechTarget's strengths as an ABM platform provider include its data-driven insights for account and buying group prioritization, an extensive editorial portfolio covering various technology topics, and a publishing ecosystem that provides users with a comprehensive view of frequency, velocity, and recency of buyer research at buying group, contact, and account levels. Forrester does note that the company needs to expand its core platform, as its functionality for designing and analyzing ABM programs is more limited when compared to other providers.
Contenders
According to Forrester's report, Madison Logic is best suited for enterprise customers that need a comprehensive, managed ABM solution. Madison Logic's platform might lack self-service options but does provide users with robust omnichannel capabilities for driving engagement, tools for identifying high-fit accounts, and a foundation of third-party and proprietary data that customers can leverage via integrations with various engagement partners.
Jabmo offers an integrated ABM and marketing automation solution that's well-suited for vertical-specific ABM use cases. The company recently expanded its engagement capabilities with new chat and personalization options and is making a name in verticals like manufacturing, healthcare, and live sciences. Customers also mention Jabmo's full-service account prioritization, buying signals, and display advertising capabilities as strengths.
Challengers
True Influence's ABM platform offers embedded advertising tools and a robust intent data collection engine to help users identify the highest quality buying signals. While the platform is lacking in the self-service feature category, it receives favorable marks for its pricing strategy, intent solution, and complementary managed service for display and email content syndication campaigns. Reference customers also praised True Influence's engagement channels and integration opportunities with other marketing technology partners.
---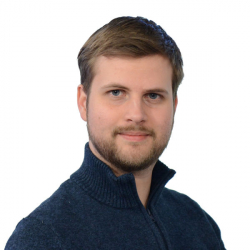 Latest posts by William Jepma
(see all)