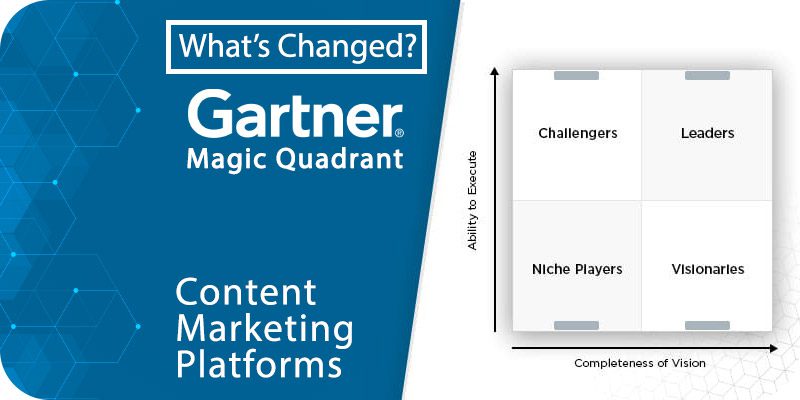 The editors at Solutions Review highlight and summarize the key takeaways and updates found in Gartner's 2022 iteration of their Magic Quadrant for Content Marketing Platforms.
Analyst house Gartner, Inc. recently released the 2022 version of its Magic Quadrant for Content Marketing Platforms. Gartner defines Content Marketing Platforms (CMP) as being able to help digital marketers create, manage, measure, and scale content that generates a customer response. Content marketing is a broad category that covers the creation of text, video, graphics, images, audio, e-books, white papers, and interactive content assets for distribution through media platforms and social media. While the 2022 version of the report is not yet available on Gartner's website, you can find the 2021 iteration here.
The core capabilities of a CMP solution include tools for editorial planning, content performance measurement, calendarization, content strategy, ideation, workflows, audit approvals, collaboration, content optimization, and the creation, assembly, curation, and distribution of content types. Many of the CMP solution providers listed in Gartner's report also integrate other marketing technologies, including marketing automation, web content management (WCM), sales enablement, and digital asset management (DAM).
In this Magic Quadrant, Gartner identifies what it considers to be the most significant providers in the Content Marketing Platform marketplace. The analysts on the report—Nicole Greene, David Millstein, and Jeffrey L. Cohen—also evaluate each listed vendor's strengths and weaknesses and rank them on the signature "Magic Quadrant" graph. The chart is divided into four quadrants: leaders, challengers, niche players, and visionaries.
What's Changed: 2022 Gartner Magic Quadrant for Content Marketing Platforms
---
To qualify for Gartner's report, each CMP vendor met specific criteria. These include generating at least $5 million in revenue by December 1st, 2021, and providing six of the following seven capabilities: ideation insights, creative workflows, content metadata management, editorial planning, out-of-the-box integrations, distribution tools, and content performance analytics.
A breakdown of each category and the companies associated with it is below.
Leaders
Optimizely (Welcome) is the top Leader in this year's Magic Quadrant. The Welcome platform is designed to help users create faster and more repeatable processes for content delivery. Since its acquisition by Optimizely in December 2021, Welcome's product roadmap is expected to focus on expanded AI-generated content capabilities, more personalization, and atomic content creation support. Gartner cites its low-code application marketplace, atomic content creation, and AI use cases as its most significant strengths.
Sprinklr's content marketing platform delivers a suite of technologies for creating and managing content. These include AI tools for mining unstructured social media data, generating Voice of the Customer (VoC) insights, optimizing performance, and more. The company primarily works with mid-market and enterprise organizations across the Americas, APAC, and EMEA. Its strengths as a CMP include its VoC social insights, robust data visualization features, workflow optimization tools, and AI-powered insights and recommendations.
Skyword's platform provides marketing teams with a talent network for content creation, enterprise dashboards that offer a unified view of content projects, workflow optimization tools, and a managed services team capable of augmenting in-house content marketing efforts. The company works with B2B and B2C clients in North America and has been prioritizing partnerships that can complement its content functionalities. These include a CRM integration with Salesforce, a website experience integration with Adobe, and others. Some of its strengths include its VoC and social listening insights, its suite of managed services, and the company's extensive talent network.
Seismic, formerly known as Percolate, rounds out the Leader category. Its CMP provides users with the tools to plan, manage, and optimize marketing programs, engage buyers, and equip sellers with effective sales content via integration with its sales enablement platform. The company works with clients worldwide and focuses on enterprise B2B customers in financial services, manufacturing, life sciences, and business services. Gartner spotlights its strengths in content performance analytics, native publishing capabilities, and integration opportunities.
---
---
Challengers
Contently is the first Challenger named in Gartner's report. The company focuses its services on pillar-based content development and prioritizes its operations for B2B enterprises in North America. Gartner's report highlights Contently's strengths as its creator workflow functionalities, custom tags, automated content tagging, and integrated talent network—exclusive to the Contently+ premium offering. The company's roadmap focuses on enhancements to its ideation process, which will help improve suggestions by personas, content performance, and content pillars.
Upland Kapost's content marketing platform prioritizes content creation, management, and distribution tools for customer success, sales, and marketing teams. It focuses its operations in North America and Europe and primarily works with B2B enterprises in the manufacturing, financial services, technology, and life science industries. While Gartner notes that Upland Kapost uses operational metrics instead of performance metrics, it also spotlights its content distribution tools, an extensive collection of out-of-the-box integration, and customer service and strategy support offerings as notable strengths.
Niche Players
CoSchedule is the only Niche Player in this year's Magic Quadrant. Its CMP provides marketers with an easy-to-use editorial planning and project management platform with features for identifying and utilizing trending keywords for content ideation, improved headlines, and better keyword quality. Its strengths as a content marketing platform include its intuitive user interface, streamlined implementation timeline, and bidirectional content tagging. The company's operations focus on small and midsize B2B customers in North America and Europe.
Visionaries
Sitecore rounds out the 2022 update of Gartner's Magic Quadrant for Content Marketing Platforms with a platform that focuses on atomic content strategies, metadata capabilities, distribution to headless CMS solutions, and distribution tools. Gartner identifies Sitecore's Content Hub, product portfolio integrations with other Sitecore solutions (including a DAM, MRM, experience, and commerce platform), and its practical application of AI technology to support atomic content.
---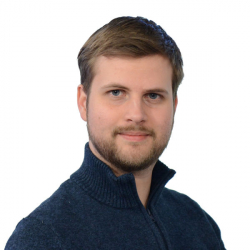 Latest posts by William Jepma
(see all)