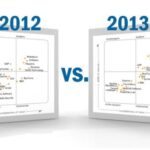 It has been just over a year since the latest release of Gartner's Magic Quadrant for Mobile Device Management (MDM) Software. Over that year we have seen extreme growth and adoption of MDM solutions within enterprises across the globe. To understand that growth we have spoken to hundreds of enterprise end users over the last year and heard directly their pressing initiatives to increase mobility within their organizations while upholding security and management capabilities of both company-owned and employee-owned devices entering their organizations. Their answer to this challenge has been more often then not MDM.
We have no doubt this adoption will keep up its blistering pace in the year to come, so as end users turn to Gartner's MDM Magic Quadrant what can they expect to have changed since their 2012 release? To be frank not a whole lot has changed in the 2013 release. The leaders, visionaries, niche players and challengers have for the most part held their positions with a few exceptions. A total of five providers did not make the cut this year from last and three new providers are now in Gartner's sights.
While there is a lot of movement in the adoption and purchase of MDM solutions from enterprises, it looks as though the MDM providers themselves have begun to settle down and find their place in the market if one is to use Gartner's Magic Quadrant as a barometer. Here is a quick breakdown of who is out of and who is now in the Gartner's 2013 MDM Magic Quadrant.
OUT
MYMobile Security
OpenPeak
Smith Micro
Amtel
Silverback MDM
Zenprise – based on their purchase by Citrix
IN
BlackBerry
Kaspersky Lab
Absolute Software
Citrix – based on the purchase of Zenprise