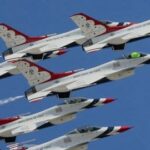 We have seen mobility proliferate the enterprise and we have also recently seen government organizations addressing mobility policies and strategies as well. Organizations such as the Department of Veteran's Affairs, the Library of Congress and certain sections of the U.S. Military have all been reported to be seeking out solutions like Mobile Device Management (MDM) and Mobile Applications Management (MAM) to address security concerns as mobility grows within. The most recent group to address these issues is the U.S. Air Force.
As the U.S. Air Force secures our skies they are working with Fixmo, a mobile risk management (MRM) provider, to secure their mobile devices. The USAF is utilizing Fixmo Sentinel for device integrity verification and MDM capabilities. Ultimately they are utilizing the solution to comply with security guidelines set by the Defense Information Security Agency. Fixmo SafeZone is also being utilized to enhance the MDM capabilities across USAF mobile devices. The solution brings managed secure container environment with CAC-enabled e-mail, secure browser, an office-like document management suite, secure camera, Microsoft SharePoint access and the capability to integrate custom applications.
The USAF's work with Fixmo is not stopping with simple utilizing their solutions however. The two groups have partnered to actually improve mobile security technologies. MSPMentor reports that the two have established a Co-operative Research and Development Agreement (CRADA) with the 688th IOW. "This agreement is designed to enable trusted mobile computing in the field on a wide range of mobile devices, Fixmo said." The focus on mobile security and the implementation of MDM solutions for operational security within our military truly highlights the importance of these solutions.