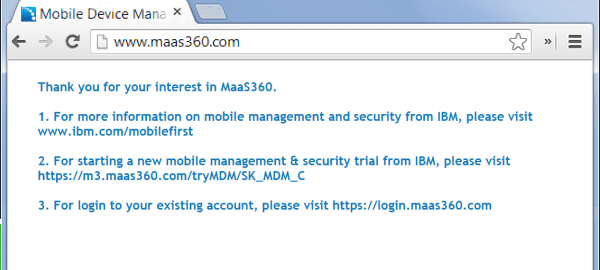 Fifteen months after IBM acquired Fiberlink and the MaaS360 solution, it appears the integration is nearly complete. The top flight enterprise mobility solution that IBM agreed to purchase back in November 2013 is on its way to becoming part of IBM MobileFirst. For a brief time this morning both when attempting to visit Fiberlink.com and MaaS360.com both sites rendered the following message:
"Thank you for your interest in MaaS360.
For more information on mobile management and security from IBM, please visit www.ibm.com/mobilefirst
For starting a new mobile management & security trial from IBM, please visit https://m3.maas360.com/tryMDM/SK_MDM_C
For login to your existing account, please visit https://login.maas360.com"
About three months ago, IBM started unveiling it's MobileFirst platform primarily around its IBM Worklight application building technology. At the time a release described that first phase as, "A platform for building mobile applications for the enterprise. It is a suite of tools and services available either on-premise or in the cloud, which enable you to rapidly build, administer, and monitor secure applications."
In December, IBM and Apple jointly announced "the first wave" of MobileFirst for iOS apps hihglighting, "A new class of made-for-business apps and supporting cloud services that bring IBM's big data and analytics capabilities to iPhone® and iPad® users in the enterprise. IBM MobileFirst for iOS solutions are now available to enterprise customers in banking, retail, insurance, financial services, telecommunications and for governments and airlines, thanks to an unprecedented collaboration between Apple and IBM".
As a technology acquisition monster, IBM has mentioned in other releases the scope of its sweeping mobile rollup and its strategic partnership with Apple, "IBM has secured more than 4,300 patents in mobile, social and security, which have been incorporated into IBM MobileFirst solutions that enable enterprise clients to radically streamline and accelerate mobile adoption, and help organizations engage more people and capture new markets. Through IBM's partnership with Apple, the two organizations are transforming enterprise mobility with a new class of industry specific business apps."
For a little more behind the scenes look at the IBM MobileFirst initiative you can also check out a recent blog post by Andrew Trice a MobileFirst Developer Advocate for IBM
Latest posts by Doug Atkinson
(see all)