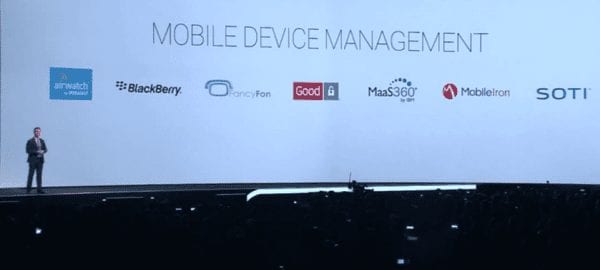 At Samsung's big unveiling of their latest smartphone – the Galaxy S6 – at the Mobile World Congress in Barcelona today, mobile device management was a key talking point. Sure it there was lots of talk of Gorilla Glass, low light video quality, wireless charging and mobile payments but for roughly three minutes, Samsung brought out Gregory Wade, Vice President – Enterprise Business Team to send a very clear message to enterprise decision-makers that their new device is "definitely ready for business."
While Mr. Wade took a few seconds to point out how Samsung has incorporated its own mobile device management technology – Samsung Knox – into the device as their first position regarding mobile security, he went out of his way to emphasize the message the new Galaxy S6 will play nicely with all of the major MDM or EMM solutions. This point was driven home with a massive white screen as a backdrop containing the logos of several leading enterprise mobility management technologies including: Airwatch, Blackberry, FancyFon, Good Technology, IBM's MaaS360, MobileIron and SOTI.
Three minutes goes only so far in delivering specifics, so there will certainly be more details to follow and some other technical details that still need sorting. The recent new release of Android for Work contained an interesting wrinkle where it did not contain the Samsung Knox technologies it had in earlier versions. Interestingly, both Google in that announcement and now Samsung at this event appear to be emphasizing their ability to work with the big well established enterprise class mobile device management solutions rather than attempting to compete with the. Which would make much more sense as they look to expand adoption of BYOD – Bring Your Own Device – in larger corporations.
For a complete overview of the leading Mobile Device Management solutions – grab a copy of our 2015 MDM Buyer's Guide here.
Latest posts by Doug Atkinson
(see all)