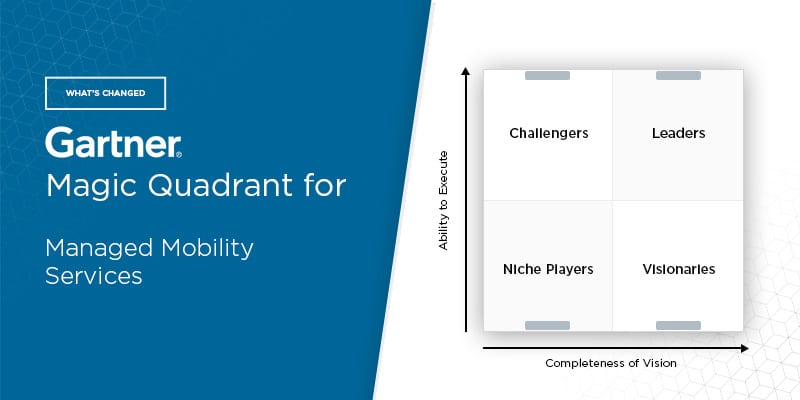 The editors at Solutions Review highlight what's changed since the last iteration of Gartner's Magic Quadrant for Managed Mobility Services, Global and provide analysis of the new report.
Analyst house Gartner, Inc. recently released the 2020 version of its Magic Quadrant for Managed Mobility Services, Global. Gartner defines this software space as "vendor-provided IT and business process services required to plan, procure, provision, activate, manage, secure and support mobile devices, mobile network services, related mobile management systems and mobile applications."
Gartner's requirements for managed mobility services (MMS) include sourcing and logistics management, managed unified endpoint management (UEM), security management, financial management, and program management (including professional services); all providers featured in the Magic Quadrant offer every one of these services.
If you want to learn more about how you can protect your company's mobile devices, you should

check out our Mobility Management Buyer's Guide

. We profile the top vendors in the mobility management field, list their key capabilities, and note our Bottom Line for each.
In this Magic Quadrant, Gartner analyzed 14 different MMS vendors and placed them into one of four categories: Leaders, Challengers, Visionaries, and Niche Players At Solutions Review, we read the report, available here, and pulled out the key takeaways.
Gartner listed two Leaders in this report; DMI and IBM. DMI has shown steady modest growth in the number of managed mobile devices and has continued to invest in security-related services and its operational capabilities, with strong service execution and understanding of business challenges. IBM's industry-agnostic approach to MMS and strong focus on UEM makes them a forefront vendor, and its expansions in data analytics and device performance benchmarking helped them to integrate more automation into support and service delivery in 2019. The sole Challenger in the report, Cass Information Systems, has increased the number of mobile devices it manages by 30 percent, and has been ranked very highly in terms of end user satisfaction. Cass focuses strongly in the North American, European, and APAC regions, but has no rigid plans to expand operations in other regions.
Leading the Visionaries quadrant is Orange, a vendor primarily focused on Europe that has introduced a modular sales strategy and has a global service desk aligned with ITIL recommendations. HCL's MMS solutions are a part of its digital workspace offering, and the vendor managed more wearables than any other provider in the report. While Vodafone has fallen short on delivering important capabilities to several regions, the vendor has matured its MMS offering with a tremendous increase in the number of devices managed. The Global Enterprise Mobility Alliance (GEMA) onboarded several new devices with a new North American licensee and continues to introduce new AI capabilities into its systems. Gartner stated that Telefonica, who is shifting its MMS portfolio towards a digital workspace offering, is the largest and one of the fastest-growing vendors in the list in terms of managed devices. Although Tangoe's MMS offerings haven't seen as much evolution as other vendors in the report, recent acqustions of MOBI and Asentinel have grown the company significantly.
Rounding up the Magic Quadrant report are the Niche Players. Honeywell focuses on productivity solutions for its MMS and has expanded its UEM capabilities, but its management presence in APAC and MEA regions is lacking. DXC announced in November 2019 that it is looking for "strategic alternatives: in key business areas, including workplace and mobility business, which could indicate a stronger or weaker offering in the future. Sakon only entered the MMS market two years ago, so its solution is relatively immature, but is suitable for customers with a strong U.S. requirement for MMS. Calero is also well-suited for North America-centric companies, but the vendor is set to merge with telecom expense management (TEM) vendor MDSL, which could alter its standing in the MMS market. Finally, Zensar offers its MMS services as a segment of its managed workplace services (MWS) offering, but has low presence outside of North America and Europe.
---
Latest posts by Daniel Hein
(see all)