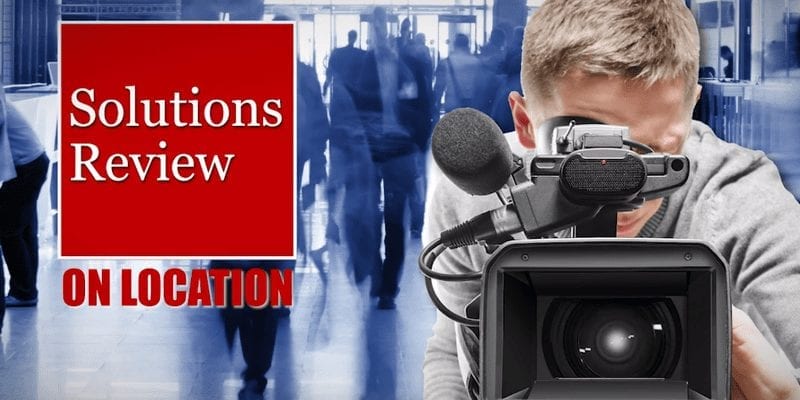 Solutions Review recently attended MobileIron LIVE! 2019, the annual enterprise mobile, desktop, and security conference. While we recorded live on the ground in Brooklyn, we spoke with the experts and featured speakers attending the conference. Additionally, MobileIron announced a significant release of a mobile-centric zero trust platform.
Throughout our interviews at MobileIron LIVE! 2019, we discussed major enterprise concerns including mobile security, identity, mobile strategy, and success. We asked them about enterprise mobility strategies and how enterprises can achieve success and security with their mobile management. We hope these interviews help you to learn as much as we did about the present and future of the space.
Check out the full interviews below:
Simon Biddiscombe of MobileIron
President and CEO of MobileIron, Simon Biddiscombe discusses the risks enterprises face on a day-to-day basis, the shift to the cloud, and perimeter security. He describes how the traditional infrastructures no longer apply in a world of mobile devices connecting to cloud frameworks. Additionally, he discusses modern enterprise mobility management necessities, such as the visibility of stored data, zero trust, and the streamlined end-user experience without usernames and passwords.
Dilip Patel of MobileIron
Dilip Patel is the Senior Vice President of Customer Success for MobileIron. He mentions that successful customer interaction is not just a matter of helping a customer learn the product. Instead, Patel believes that the true test of customer success comes when a client is having serious issues with the product. Working with the customer to help solve their problem, Patel says, is the best way to maintain a user's satisfaction with a service.
Dr. Chase Cunningham of Forrester Research
Dr. Chase Cunningham, Principal Analyst of Security & Risk at Forrester Research, gave one of the featured speeches at MobileIron LIVE! 2019. Afterward, we spoke with him about the concept of zero trust, moving away from the digital perimeter, and how cybersecurity should operate without interfering with the end user experience. Moreover, Cunningham argues for the importance of strategizing against cyber threats by understanding your IT infrastructure and mobile environment.
Theresa Payton of Fortalice Solutions
Founder, President, and CEO of Fortalice Solutions and former White House CIO Theresa Payton sat down with Doug Atkinson to discuss passwords. A featured speaker at MobileIron LIVE! 2019, Payton explains the dangers of repeated passwords in her interview; credential stuffing can easily compromise an enterprise's cybersecurity platforms. Additionally, she describes the power of step-up authentication and the contextualization of access across the remote enterprise. Payton argues for a change of thinking from blaming the user for breaches to creating safety nets around their business processes.
Paul Troisi of Troy Mobility
Paul Troisi is Chief Customer Officer at Troy Mobility, a partner with MobileIron. In his conversation with Doug Atkinson, Troisi provides insights into small-to-medium sized business (SMB) mobility management and how businesses develop long-term strategies. Mobility technology and cybersecurity should be mapped to the business infrastructure, says Troisi. Also, he discusses the consistent messaging of MobileIron LIVE! 2019 of using mobile devices as an authentication factor.
Eugene Yeh of Android Enterprise Business Team
Eugene Yeh is the Global Head of Growth for Android Enterprise at Google and a featured speaker at MobileIron LIVE! 2019. In his interview, he discusses the challenges for enterprises integrating mobile solutions into their infrastructure. Yeh comments on the benefits that businesses can reap from mobile deployments, including extending a worker's reach beyond their desk. Also, Yeh talks about the increasing adoption of IoT devices and how businesses need to both manage and provide resources to every connected mobile device.
Pierre Couteau of Samsung Electronics America
Pierre Couteau is the Senior Director of Strategic Alliances for Samsung Electronics America and another featured speaker at MobileIron LIVE! 2019. He speaks with Doug Atkinson about how companies are embracing BYOD and no-password security solutions, which is increasing the number of mobile devices in the enterprise; thus they also increase the possibilities for security risks. Couteau describes how businesses are able to leverage these devices on the security front by managing each device from a centralized solution.
Want to see more about enterprise mobility management, cybersecurity, or technology adoption? Subscribe to the Solutions Review Youtube Channel! We explore enterprises technology fields in-depth and speak with experts on the future of their fields. And stay tuned for our coverage of MobileIron Live! 2019 in Berlin!
This article was written in collaboration with our network monitoring and enterprise cloud strategy editor Daniel Hein.
If you want to learn more about the benefits of enterprise mobility management, you should check out our free 2019 MDM Buyer's Guide. We profile the top vendors in the mobile device management, their key capabilities, and our Bottom Line for each.
Latest posts by Ben Canner
(see all)