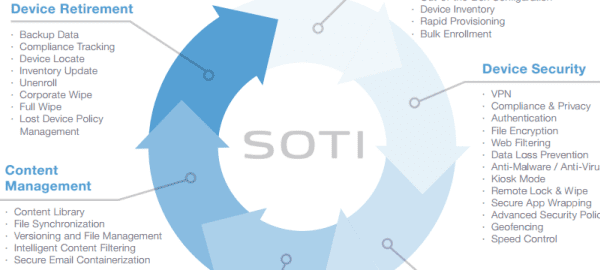 SOTI Inc. has just announced the general availability of their Enterprise Mobility Management (EMM) platform, MobiControl 12.
MobiControl 12 is the newest version of SOTI's EMM platform and is designed to reduce the total cost of ownership for enterprises, especially those relying on mobility. It also extends remote management capabilities to smart peripherals for connected enterprise.
This is especially useful for enterprises that use bring-your-own-device (BYOD) because it provides centralized security and helps control these devices. Some of the Key Features include:
Elimination or minimization of common mobile device deployment and management tasks, allowing rapid zero-intervention provisioning, policy administration and the ability to assign configurations over-the-air based on a broad range of criteria or LDAP attributes. This saves businesses up to $100 per device in provisioning costs.
Quick device provisioning and remote support for next-generation Zebra Technologies peripherals. SOTI offers the industry's tightest integration with Zebra, which minimizes downtime because of the ability to manage device profiles and spin up new devices remotely.
Enhanced and broadened support for Apple, Kyocera, Lenovo, Sony, LG, Samsung, Zebra Motorola APIs, as well as Windows Phone 8.1.
Over-the-air device configurations for email, WiFi, VPN etc. at a granular level based on various criteria including device properties, custom attributes and data, and more. This takes the burden off IT as users can now enroll their own devices quickly with zero IT intervention through a simple URL.
An updated user experience that optimizes device management across operating systems using advanced profiles and policies.
"We've reduced the overall total cost of ownership and nearly eliminated the provisioning costs for mobility with MobiControl 12. This delivers a value proposition to businesses that can't be matched," SOTI CEO Carl Rodrigues said. "The ability to manage the overall workflow across an entire organization while also offering end-user benefits means that businesses utilizing MobiControl 12 will not only save money, but they'll have more productive and more secure employees. Ultimately this allows businesses to use a robust mobile strategy to drive improved customer experiences."
For more information on the release of SOTI's MobiControl 12, check out the official press release.
Latest posts by Doug Atkinson
(see all)