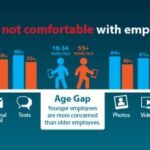 The majority of employees do not trust their employer to keep their personal information secure, according to the MobileIron Trust Gap Survey.  From June 14 to June 18, 2013 Vision Critical conducted an online survey of 2,997 consumers from three countries: Germany, the United Kingdom, and the United States.  MobileIron, a leading mobile app management and security enterprise administered the survey to help companies obtain a better understanding of the privacy concerns of employees.  84 percent of respondents own the smartphones they use for work purposes and 82 percent own the tablet they use for work purposes.  Nonetheless, only 30 percent of respondents said that they "completely trust" their employer to keep their personal information private.
The Trust Gap Survey provides an insightful look into the mobile privacy expectations of employees.  44 percent of respondents think their employer can see information on their mobile devices, but they are not aware of what information their employer can see.  41 percent believe their employer cannot see any information on their mobile devices.  15 percent or respondents indicated they are not sure what their employer can see on their mobile devices.  Depending on company policy or the mobile operating system, employers can see employees': app list, battery level, phone number, storage use, and other features.  All corporate email is accessible to employers because it travels through company servers.
Ojas Rege, VP of Strategy at MobileIron, explains that the Trust Gap is a real phenomenon.  However, with improved communication between employers and employees, the trust gap can be reduced.  "In the Trust Gap Survey, employees consistently underestimate the visibility their employers have into company data, and consistently overestimate the visibility their employers have into personal data," Rege wrote in a July 16, 2013 blog post on the MobileIron website.
Variances in the age of respondents presented the most significant difference among survey takers.  Employees between the ages of 18 – 34 are less comfortable with their employers having access to their personal mobile data than employees over the age of 55.
How can companies increase trust among their employees?
When asked what employers would have to do to increase trust levels among their employees, respondents had varying answers.  Overall, respondents most commonly desired clear communication from their employer as a method that would increase employee's trust in employer mobile privacy practices.
* 26 percent indicated that their employer should explain the purpose behind mobile-data access and how personal content was separated from work content.
* 20 percent responded that written permission for data access would improve trust.
* 18 percent said they would prefer written notification.
* Another 18 percent wanted to receive a written promise to only look at company information.
* The remaining 15 percent expected a written request for their permission before accessing any non-related work data.
Click on the following link for a more in-depth look at the MobileIron Trust Gap Survey:
https://www.prnewswire.com/news-releases/people-dont-know-what-employers-can-and-cannot-see-on-their-mobile-devices-215774261.html