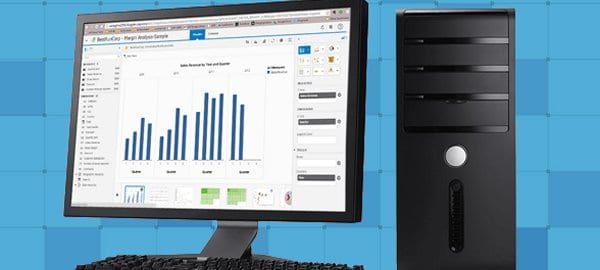 In an October 2014 survey, SAP found that organizations of all shapes and sizes are having a hard time procuring the hidden value of their data. Further, what data companies are able to obtain is going to waste, as organizations lack the tools for effective decision making.
+ Download our 2015 Business Intelligence Buyers Guide.
Today, SAP announced that their Lumira, Edge edition solution, Edge edition will now be generally available, helping small and mid-sized businesses bring cost-effective data visualizations to their IT departments. Within the solution, users can create, edit and share custom enterprise-grade visualizations with their colleagues. One of the more unique features of the solution is that these visuals can be shared within an internet browser. Any user can also upload their creation to the cloud for company-wide sharing.
The tools can be installed quickly and with ease, allowing IT teams to begin the visualization process of their data stores immediately. Only a few steps are needed to visualize data in real-time as it flows in, and the fluid drag-and-drop ecosystem allows for precision movement. The SAP Lumira solution allows businesses to make quicker and more impactful insights based on the visuals and infographics their solution helps create.
Other features include:
Agile networking of data discovery and visualization tools
User management services to enable more secure administration with better control
Self-service data visualization
Collaboration on big data, shared data
Ability to acquire, manipulate, and view any data source
User combining of multiple data sets into one, unified view
The company adds: "With over 650,000 downloads, we continue to see rapid adoption of SAP Lumira by organizations of all sizes," said Clemens Praendl, Senior Vice President and General Manager, Analytics. "SAP Lumira, Edge edition, is helping our customers extend the power of data-driven insights to all users throughout an organization."
The announcement was made at the company's SAPinsider BI 2015 in Las Vegas.
Click here to read SAP's official press release.