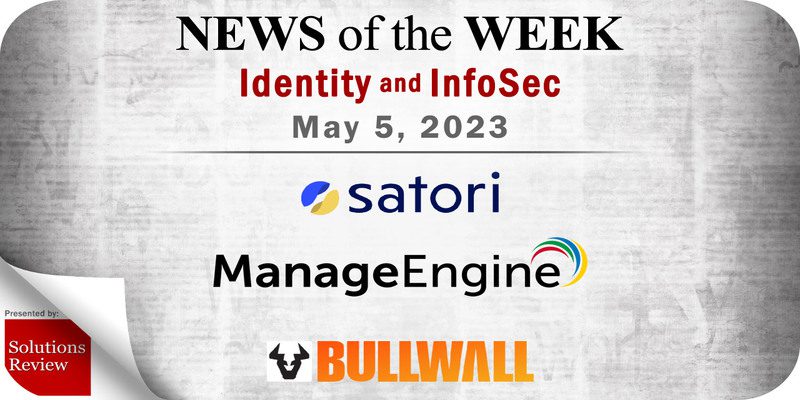 The editors at Solutions Review have curated this list of the most noteworthy identity management and information security news for the week of May 5. This curated list features identity management and information security vendors such as Satori, ManageEngine, BullWall, and more.
Keeping tabs on all the most relevant identity management and information security news can be a time-consuming task. As a result, our editorial team aims to provide a summary of the top headlines from the last month, in this space. Solutions Review editors will curate vendor product news, mergers and acquisitions, venture capital funding, talent acquisition, and other noteworthy identity management and information security news items.
Identity Management and Information Security News for the Week of May 5
---
Satori Unveils Universal, Free, Open-Source Data Permissions Scanner
Satori, a data security platform, this week announced the release of its Universal Data Permissions Scanner, a free open-source tool that enables companies to easily understand which employees have access to what data, reducing the risks associated with overprivileged or unauthorized users and streamlining compliance reporting. The Universal Data Permissions Scanner (UDPS) simplifies the complexity associated with authorization. This has a significant impact on the ability to quickly and easily share information across departments, increasing the time-to-value. Simultaneously, using the UDPS reduces the security risk from overprivileged users by ensuring that access controls are appropriately applied and revoked.
NSF Funds Institute to Research AI-Powered Cybersecurity
A group of the nation's best computer scientists and engineers, including researchers from Purdue University, have come together to form the National Science Foundation-sponsored Institute for Agent-based Cyber Threat Intelligence and Operation (ACTION). This $20 million, five-year project is one of seven newly funded National Artificial Intelligence Research Institutes. ACTION brings the continuous learning – and now, reasoning – of AI to the constant situational awareness and actions that are fundamental to cybersecurity. Dongyan Xu, the Samuel Conte Professor of Computer Science and director of CERIAS, the Center for Education and Research in Information Assurance and Security, is Purdue's principal investigator and ACTION Institute's use-inspired research lead. He and five other Purdue faculty members – Elisa Bertino, Z. Berkay Celik, Ninghui Li, Yung-Hsiang Lu and Ming Yin – will join ACTION collaborators from the University of California, Santa Barbara; UC Berkeley; Georgia Institute of Technology; the University of Chicago; University of Washington; University of Illinois Chicago; Rutgers University; Norfolk State University; University of Illinois and University of Virginia.
Specops Celebrates Star Wars Day and World Password Day with New Report
Specops, a password management solutions provider, celebrates two holidays this week, both falling on May 4th: Star Wars Day and World Password Day. The connection? Hundreds of thousands of breaches every year triggered by poor, Star Wars-themed passwords. Specops breaks down the Top 20 Star Wars passwords that have lead to breaches and more in their report.
ManageEngine Rolls Out Offline MFA for Remote Work Security
ManageEngine, the enterprise IT management division of Zoho Corporation, this week announced that its identity security solution, ADSelfService Plus, now offers offline MFA for Windows. This new feature allows organizations to secure their data with next-gen authentication methods that prevent unsecured access to remote machines even when they are disconnected from the internet or when the authentication server is inaccessible. This feature also helps meet compliance requirements for various industries across defense, medical, and financial sectors. Regulations such as HIPAA, the PCI DSS, and the GDPR recommend or mandate the use of MFA for access to sensitive data. With ADSelfService Plus' offline MFA, organizations can meet the authentication and security requirements of these regulations while allowing their end-users to securely work from anywhere.
Immersive Labs Unveils "World's First" Comprehensive Score to Gauge Enterprise Cyber Resilience
Immersive Labs, a cyber resilience solutions provider, this week announced the launch of the Immersive Labs Resilience Score. The score measures an organization's workforce preparedness for cyber attacks and breaches based on Immersive Labs' years of benchmarking data across industry verticals. The score will help organizations identify weaknesses in their teams' cyber capabilities, address skills gaps to prevent or mitigate damage to their revenues and brand reputations, and contribute to the factors that can lower insurance premiums. The Immersive Labs platform provides realistic simulations and hands-on cybersecurity labs to evaluate individual and team capabilities across the entire workforce, from executive decision makers to cyber defense, application security, IT, cloud teams and more. Now, when organizations use the platform to upskill their people, they will be able to view their overall resilience score against industry benchmarks and best practices, and see progress over time.
VCU and the Institute of Data Partner to Offer Tech Learning to Nontraditional Students
Virginia Commonwealth University and the Institute of Data have forged a partnership to provide programs that will prepare nontraditional adult learners for careers in the tech industry. The collaboration between VCU Continuing and Professional Education and the Institute of Data aims to bridge the gap between traditional academic education and industry-specific skills training, providing learners with the best of both worlds. The partnership offers noncredit bootcamps led by experienced instructors and industry professionals, leading to hands-on experience in cutting-edge technologies. Through this collaboration, VCU alumni and other community members in Virginia will have access to the Institute of Data's curriculum and state-of-the-art learning platform. Bootcamps will be tailored to meet the needs of the industry, providing adult learners with in-demand skills that are necessary to thrive in the job market. Full-time and part-time bootcamps that range from 12 to 24 weeks cover topics such as software engineering, data analytics and artificial intelligence, and cybersecurity.
BullWall Launches in North America, Following European Success
BullWall, a ransomware containment vendor, announced its expansion into North America after seeing great success in Europe. The company provides a fully automated, patented last line of defense against ransomware now used in many European mission-critical enterprises across industries such as healthcare, education and government. BullWall has experienced significant growth in recent years due to its innovative solutions and commitment to customer satisfaction. The company's expansion into North America is a natural next step in its growth trajectory, as it seeks to further expand its customer base and continue providing cybersecurity solutions to businesses of all sizes.
---
Expert Insights Section
Watch this space each week as Solutions Review editors will use it to share new Expert Insights Series articles, Contributed Shorts videos, Expert Roundtable and event replays, and other curated content to help you gain a forward-thinking analysis and remain on-trend. All to meet the demand for what its editors do best: bring industry experts together to publish the web's leading insights for enterprise technology practitioners.
Centralized and Decentralized Identity and the Way Forward
Dr. Mohamed Lazzouni of Aware centers a discussion around decentralized identity and the future of authentication solutions. There is an increasing trend, particularly in certain industries like crypto, of moving towards a decentralized identity model. Yet, the concepts of centralized versus decentralized identities may be challenging for people to conceptualize and understand. At the highest level, a decentralized identity model challenges the idea that a third party is required to manage the sensitive data used in authentication.
World Password Day Quotes from Industry Experts in 2023
As part of World Password Day (May 4) the editors for Solutions Review called for the industry's best and brightest to share their Access Management comments. The experts featured represent some of the top Cybersecurity solution providers with experience in these marketplaces, and each projection has been vetted for relevance and ability to add business value.
Solutions Review Celebrates 50 Vendors Served with Summer '23 Virtual Events Schedule
Solutions Review is proud to reach a milestone of 50 vendors featured as participants in its growing selection of virtual event programs. With tech conferences forever changed, Solutions Review has expanded its multimedia capabilities in response to the overwhelming demand for these kinds of events. Since its first virtual event in June 2020, Solutions Review has hosted more than 35 exclusive webinars featuring 50 unique vendors, with 65 individual segments.
Solutions Review Set to Host Datto for Exclusive Webinar on May 17
With the next Solution Spotlight event, the team at Solutions Review has partnered with leading managed service provider Datto to provide viewers with a unique webinar called Re-Imagining Endpoint Security with Datto EDR. Datto offers a family of enterprise business continuity solutions available in both physical and virtual platforms.
Solutions Review Set to Host VAST Data for Exclusive Webinar on May 23
The Data Protection Demo Day Exclusive is an exclusive virtual event featuring an inside look at the technologies of prominent enterprise storage and data protection solution providers. Solutions Review is hosting this online event as a way to present the latest data protection tools from the comfort and safety of your own desk.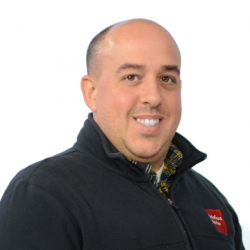 Latest posts by Mike Costello
(see all)