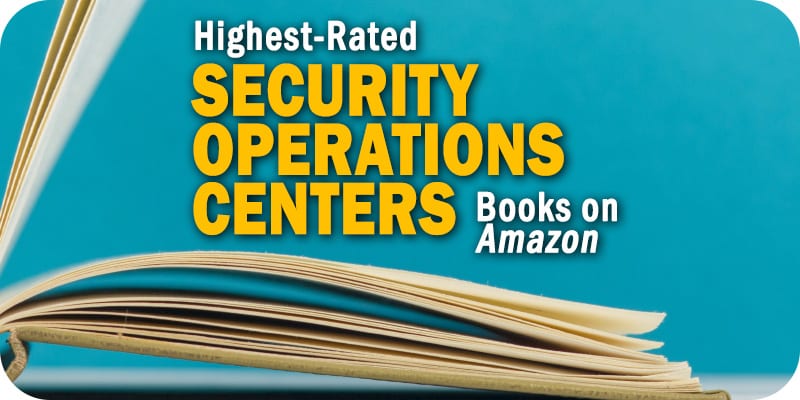 Solutions Review finds the highest-rated SOC books available on Amazon right now. You need to add these to your collection today. 
Solutions Review frequently shares our finds for essential cybersecurity titles and books every InfoSec professional and IT security team should have on the shelf. Here's one of our lists.
For this list, we wanted to zoom in on a specific branch of cybersecurity –Security Operations Centers – and share the highest-rated titles on the subject. These books qualify for this list by being about Security Operations Centers (SOCs) specifically and having a four-star rating on Amazon at minimum.
These books are intended for beginners and experts alike and are written by authors with proficiency and/or recognition in the field of cybersecurity.
The Highest-Rated SOC Books Available on Amazon
Our Take: 
The authors are members of Educational Technologies Group Inc. or operate in cybersecurity Their combined expertise should prove beneficial.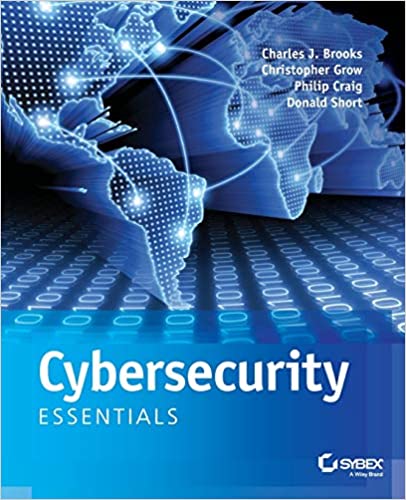 Description: Cybersecurity Essentials provides a comprehensive introduction to the field, with expert coverage of essential topics required for entry-level cybersecurity certifications. An effective defense consists of four distinct challenges: securing the infrastructure, securing devices, securing local networks, and securing the perimeter. Overcoming these challenges requires a detailed understanding of the concepts and practices within each realm. This book covers each challenge individually for greater depth of information, with real-world scenarios that show what vulnerabilities look like in everyday computing scenarios. Each part concludes with a summary of key concepts, review questions, and hands-on exercises, allowing you to test your understanding while exercising your new critical skills.
Our Take: 
Joseph Muniz is an architect and security researcher in the Cisco Security Sales and Engineering Organization. The other authors are seasoned cybersecurity experts.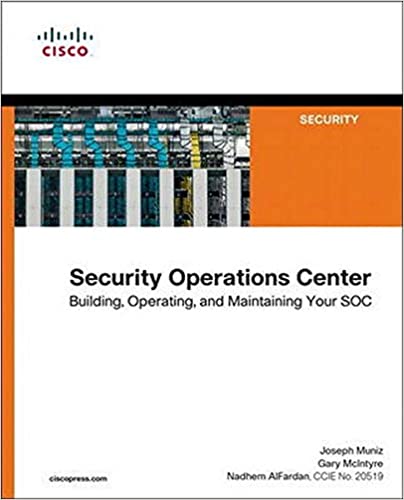 Description: Security Operations Center is the complete guide to building, operating, and managing Security Operations Centers in any environment. Drawing on experience with hundreds of customers ranging from Fortune 500 enterprises to large military organizations, three leading experts thoroughly review each SOC model, including virtual SOCs. You'll learn how to select the right strategic option for your organization, and then plan and execute the strategy you've chosen.
Our Take: 
Don Murdoch, GSE, MSISE, MBA has over 17 years of information and network security experience, ranging from intrusion detection and response to establishing an MSSP.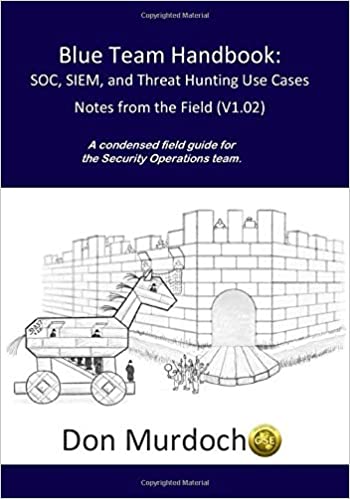 Description:  Blue Team Handbook: SOC, SIEM, and Threat Hunting Use Cases is having an amazing impact on Security Operations worldwide. BTHb:SOCTH is the go-to guiding book for new staff at a top 10 MSSP, integrated into university curriculum, and cited in top ten courses from a major information security training company. This listing is for V1.02.BTHb:SOCTH provides the security practitioner with numerous field notes on building a security operations team, managing SIEM, and mining data sources to get the maximum amount of information out of them with a threat hunting approach. The author shares his fifteen years of experience with SIEMs and security operations in a no-frills, just information format. Don Murdoch has implemented five major platforms, integrated over one hundred data sources into various platforms, and ran an MSSP practice for two years.
Our Take: 
The authors of this particular text come from information security investigation backgrounds, with exactly the experience your SOC can benefit from. 
Description: This practical book demonstrates a data-centric approach to distilling complex security monitoring, incident response, and threat analysis ideas into their most basic elements. You'll learn how to develop your own threat intelligence and incident detection strategy, rather than depend on security tools alone. Written by members of Cisco's Computer Security Incident Response Team, this book shows IT and information security professionals how to create an InfoSec playbook by developing strategy, technique, and architecture.
Those were our picks for the highest-rated SOC books available on Amazon right now. For more on SIEM, be sure to download our SIEM Buyer's Guide.
Solutions Review participates in affiliate programs. We may make a small commission from products  purchased through this resource.

Latest posts by Ben Canner
(see all)