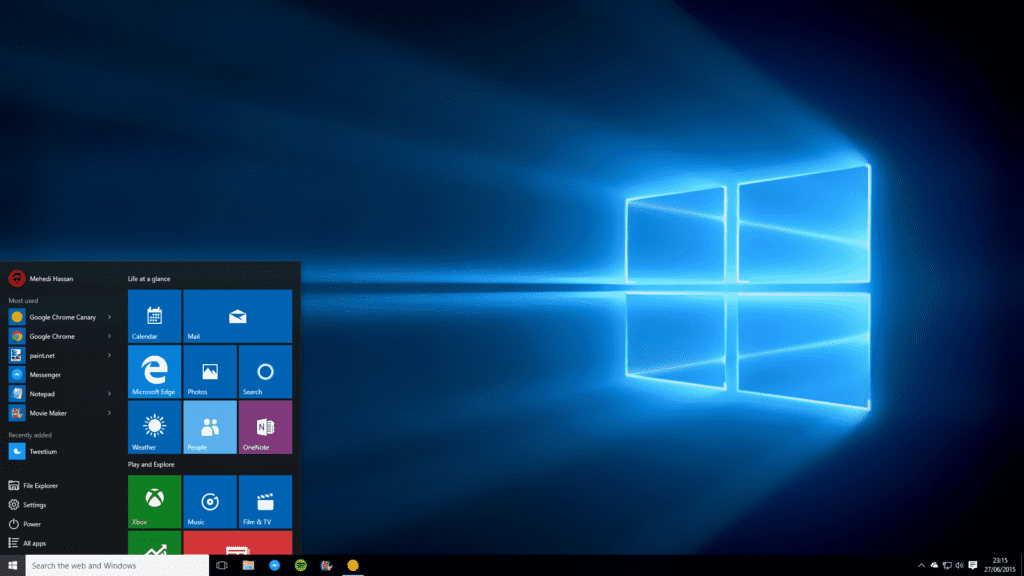 Windows 10 has officially launched and with it comes the highly anticipated Windows 10 Mobile. Not only is Windows 10 Mobile a much improved version on Windows Phone, but with Windows 10, EMM becomes the standard for managing all Windows devices, making Windows 10 truly mobile in all aspects. With Windows 10, all Windows devices can be managed with any enterprise mobility solution that supports it.
I was able to speak to Mark Margevicius, Head of Enterprise Consumer Strategy at VMware about how specifically VMware and AirWatch by VMware are going to be embracing Windows Mobile for the enterprise and allow you to manage all of your Windows devices.
"VMware is very excited about the release of Windows 10 for our customers," said Margevicius. "Windows historically speaking has been governed by the limitations of an older architecture predicated on hardware devices called PCs. We've had this history of management governed by hardware and ways in which they are managed limited by the underlying architecture. With the interest in both cloud and mobile delivery methods, Microsoft to their credit, has done a wonderful job at re-architecting Windows to include levels of management functionality that are far more applicable to this mobile cloud-centric model we see among our customers.
Still undecided about MDM, EMM or BYOD? Check out the Free Solutions Review Buyer's Guide and find out what to look for in a solution and compare the top 20 solutions. Download your Free Copy

Today!
"Customers who now embrace on Windows 10 will now have the ability to manage Windows as they have always done with products they have always used if they so choose, like traditional software distribution and imaging, can still be applied because their processes have been defined that way. Microsoft also makes available a new EMM based approach for management. They can leverage the similar techniques that have been applied to mobile phones, tablets and other smart devices that we have seen in other platforms. That means customers now have two choices on how to best manage Windows 10 and that's great because Windows has to be able to service both markets."
VMware now has products for customers, who want to continue to use their traditional Windows Management or who want to embrace the new EMM based approach of management with AirWatch. "With Windows 10 being another client who opens themselves up to this EMM approach," said Margevicius, "this means AirWatch can also be used for managing traditional notebooks and desktops as well." Regardless of where you are on this spectrum that VMware has presented of Windows 10 adoption, conservative or aggressive toward making a change, Windows 10 is able to accommodate both.
There is still the question of BYOD, CYOD and the ownership accountability of devices. Who is responsible for what when it comes to devices with corporate data? This has always been an issue in the space and will continue to be an issue with Windows 10. From an IT point of view, Windows 10 mobile devise will be easier to manage, but what about people who would like to use their iPhone or their Android?
"What Microsoft hoping for and what will occur for most customers, is that now Windows 10 has applicability across all platforms and can be managed in a single and concise way so they can actually deliver and provision devices to users that offer the same level, from a functionality point of view, with the governance and control without being overly burdensome to the user. Windows becomes far more attractive to enterprises now because it is a completely managed ecosystem based on Windows 10. This is something that has been lacking before. Windows 10 has been somewhat ostracized as something different from Microsoft, but that's no longer the case."
VMware is also announcing Data Zero Support, meaning that all the exposed elements of Windows 10 management are now going to be leverageable by AirWatch. Airwatch has always been a top solution at managing all platforms in the mobile space and they are now going to extend into the Windows 10 space.
"Many customers, we believe, will want to embrace the kind of functionality AirWatch offers into the across the notebook-desktop realm as well, beyond tablets and beyond smart phones. The fact is, consider the desktop and the notebook as new entrants into the mobile space."
There are far too many features Microsoft is introducing to Windows 10 to be able to mention them all, but the mobile capabilities alone are going to make Windows 10 a strong contender for any enterprise looking to truly take advantage of the growing mobile world.