ThoughtSpot Acquires Diyotta, Launches ThoughtSpot Everywhere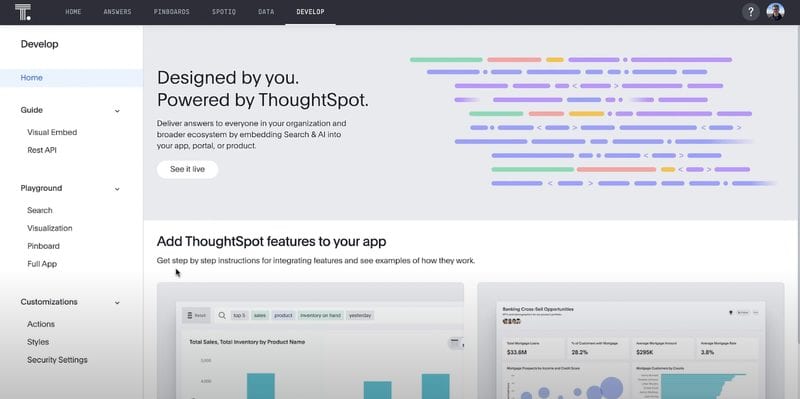 ThoughtSpot recently made two major announcements with its acquisition of serverless data integration platform provider Diyotta and the release of ThoughtSpot Everywhere. The acquisition will enable ThoughtSpot to rapidly expand integrations with best-of-breed services in customers' modern data stack. It also means that customers will be able to deploy ThoughtSpot as part of their cloud architecture. Additionally, the merger paves the way for ThoughtSpot to hasten integrations with modern data platforms, AI and machine learning services, and data applications built by web developers.
[box style="3″]Our Buyer's Guide for Analytics and Business Intelligence Platforms helps you evaluate the best solution for your use case and features profiles of the leading providers, as well as a category overview of the marketplace.[/box]
According to Diyotta's co-founder and CEO Sanjay Vyas "Both ThoughtSpot and Diyotta have large, shared enterprise customers and with this merger we are looking to provide more comprehensive applications in order to make cloud analytics seamless. Companies today run on data. It's at the core of every modern organization. By joining forces with ThoughtSpot, we're going to be able to expand how we help these businesses empower their entire team with data."
ThoughtSpot Everywhere is a low-code embedded analytics platform that allows developers to build interactive data apps that incorporate any service available in the Modern Analytics Cloud. ThoughtSpot also announced a new developer playground to allow developers to test and experiment with ThoughtSpot services. The offering lets users explore and interact with data through simple natural language searches. It automatically monitors underlying data to flag relevant changers without users having to ask questions as well.
The latest from ThoughtSpot lets customers take advantage of the entire platform or choose to use specific capabilities as a service, which include search, monitoring, actions, auto-analysis, and visualizations.
In a media statement on the news, ThoughtSpot CEO Sudheesh Nair said "ThoughtSpot Everywhere's low-code, API-approach makes it simple for our customers to take advantage of the entire modern analytics cloud. It's never been easier to build the most modern, simple, and powerful data experiences in your own offerings to delight customers and scale automation."
To learn more about ThoughtSpot's acquisition of Diyotta, read  1+1 Is Now Always Two! in Diyotta's blog. To learn more about the new product release, watch ThoughtSpot Everywhere – Build Interactive Data Apps on YouTube.
[hr style="single"]