In the public cloud market, size matters, and Microsoft Azure is the host with the most. Well, the most cloud regions, that is.
With 19 cloud regions worldwide, Microsoft's platform-as-a-service-ish Azure cloud platform boasts the largest geographic cloud coverage in the world…according to Mike Schutz, one of Azure's chief cloud marketers.
A little background: There are three 'hyperscale' (that's analyst-talk for dominant) public cloud service providers (CSPs), Amazon Web Services (AWS), Microsoft Azure, and Google Cloud Platform (GCP). Of those three, Amazon is widely recognized as the largest, most dominant market force—AWS raked in $5.16 billion in 2014, and, according to tech research and analysis firm Gartner, AWS boasts over 10 times more cloud IaaS compute capacity than the next 14 top providers.
With competition like that, it's no surprise that CSPs are often doing anything they can to make themselves look bigger.
The Solutions Review PaaS Comparison Matrix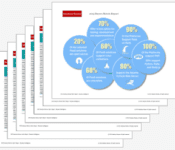 Compare the top 10 PaaS solutions across five categories:
-Features
-Languages
-Middleware
-Frameworks
-Services
Microsoft became the latest to puff up it's chest and play the game when last week, Mike Schutz, general manager of cloud platforms marketing for Microsoft Azure told attendees of  Deutsche Bank conference that Microsoft has better regional coverage than its rivals, according to an article from ex-Gigaom, current Fortune.com reporter Barb Darrow.
"We operate in about 19 regions which means we have 19 data center regions globally…that's about twice as many as AWS and about five or six times that of Google Cloud Platform," said Schutz, who also claimed that Azure supports more regions than AWS and Google combined.
Microsoft currently offers 17 Azure cloud regions worldwide, including regions in the United States, Europe, Asia, Australia, and South America, and is opening two Canadian data centers in 2016.
Microsoft has made major investments in data centers an infrastructure in recent years, and for good reason. CSPs have many incentives for investing in data center infrastructure—reducing latency (delays in delivering data), collocation, and meeting data residency requirements are all contributing factors.
Thanks in large part to those investments, Microsoft's cloud capabilities are growing rapidly—According to Gartner, the company is now in second place for IaaS market share, trailing only AWS, according to Gartner's 2015 IaaS Magic Quadrant report. Nevertheless, Schutz's claim is dubious.
As Darrow aptly observes, "there are regions and then there are regions, and they are defined differently."
Essentially, while AWS operates 11 cloud regions worldwide (eight less than Azure), these regions are generally running multiple availability zones, which provide isolation and redundancy for workloads at a local level. As Darrow puts it, when instances of an app are run in multiple availability zones, "if there is a problem in one zone, the application can keep running [in others]." According to Enterprise Tech, each one of those availability zones has at least one data center, while some have as many as six.
AWS is currently running 30 availability zones across its 11 cloud regions. Similarly, Google operates 10 availability zones across their three cloud regions. Microsoft, on the other hand, doesn't subscribe to the concept of availability zones.

Latest posts by Jeff Edwards
(see all)