Gartner Unveils First Ever Magic Quadrant for Content Services Platforms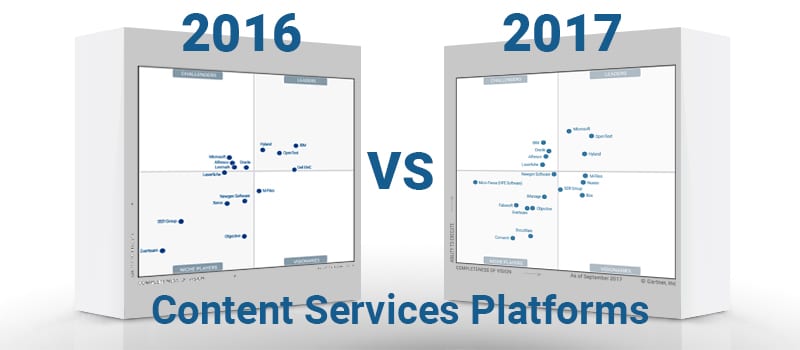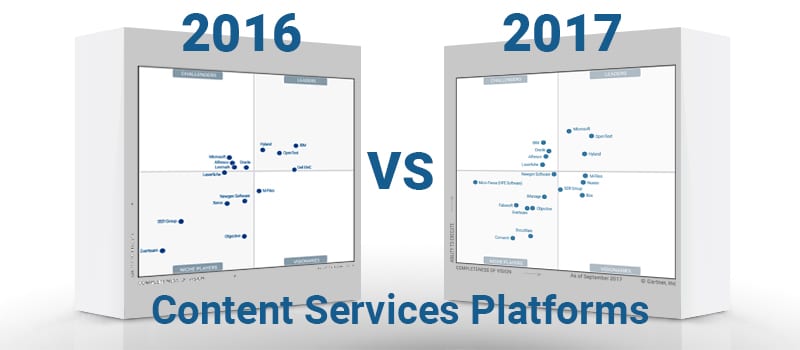 Gartner just released the first ever Magic Quadrant for Content Services Platforms. The tech giant made an announcement earlier this year, which revealed its plans to change the name of the quadrant report for this space. The report was once referred to as the Magic Quadrant for Enterprise Content Management (ECM).
According to Gartner, content services platforms are the "next stage of enterprise content management, representing a shift from self-contained systems and repositories to open services." By 2020, about 20 percent of major EFSS and ECM providers will transform what they currently offer and provide content services platforms, the report stated. In that same time frame, 15 percent of enterprises will have switched from a legacy ECM vendor to a provider that "offers consumerlike content services."
A content services platform is "a set of services and microservices, embodied either as an integrated product suite or as separate applications that share common APIs and repositories, to exploit diverse content types and to serve multiple constituencies and numerous use cases across an organization," according to the report. 
Nineteen vendors were included in the quadrant and then placed into four different categories based on various criteria including ability to execute and completeness of vision.
Leaders
Microsoft
Open Text
Hyland
Visionaries
M-Files
Nuxeo
SER Group
Box
Challengers
IBM
Oracle
Alfresco
Laserfiche
Niche Players
Newgen Software
Micro Focus
iManage
Fabasoft
Everteam
Objective
DocuWare
Comarch
There are seven newcomers in this report including Box, Comarch, DocuWare, Fabasoft, iManage, Micro Focus, and Nuxeo. Three vendors included in the last Magic Quadrant for ECM were dropped from this report: Dell EMC, Lexmark and Xerox.
Let's take a quick look at all the vendors that were included:
Alfresco
Alfresco is headquartered in both Maidenhead, U.K., and San Mateo, California. The provider offers an open-source approach and extensive APIs to help clients easily customize content services.
Box
Box has been around since 2005 and is headquartered in Redwood City, California. The public company offers two products: Box, a suite of CSP features and user interfaces along with Box Platform, a cloud-native API for transferring content services to enterprise systems.
Comarch
Comarch is headquartered in Krakow, Poland. Comarch CSP was unveiled in 2008 and includes a wide variety of content-related capabilities and solutions for various verticals. It can be deployed on-prem or in the cloud.
DocuWare
DocuWare is headquartered in Germering, Germany. It boasts several CSP tools including DocuWare for document capture and management, DocuWare Intelligent Indexing, and DocuWare Workflow for business processing. All three can be deployed on-prem or in a multitenant cloud built on a Microsoft Azure infrastructure.
Everteam
Everteam is based in Lyon, France and has a U.S. regional headquarters in Boston, Massachusetts. Its CSP suite features everteam.document, everteam.capture, everteam.case, everteam.records, everteam.archive, everteam.process and everteam.analytics. It can be deployed on the ground or as a SaaS-based cloud service.
Fabasoft
Fabasoft is based in Austria and offers two on-prem CSP tools, Fabasoft Folio and Fabasoft eGov-Suite, along with the Fabasoft Cloud, a Europe-based cloud product. The Fabasoft platform is an integrated solution that can help with the entire document lifecycle and the management of digital records, according to the report.
Hyland
Hyland is headquartered in Ohio and is privately owned. The company's flagship product, OnBase, provides various content capabilities. The vendor also offers ShareBase, which streamlines internal and external collaborations. OnBase is available as on-prem server software or SaaS.
IBM
IBM is headquartered in New York and offers a variety of global content services products, including Content Foundation, Content Manager OnDemand (CMOD), Datacap, Enterprise Records, Connections Enterprise Content Edition, Watson Explorer Enterprise Edition and Case Manager. All of their products can either be deployed on-prem or in the cloud.
iManage
iManage is based in Chicago, Illinois and focuses on marketing its iManage Work 10 product to law firms, corporate legal departments and professional services firms. The vendor also provides iManage Govern for managing records, iManage Share for external file sharing and collaboration, and iManage Insight for enterprise searches.
Laserfiche
Laserfiche is headquartered in Long Beach, California and provides various CSP products, including Laserfiche Quick Fields, image processing, Laserfiche Records Management and Laserfiche Forms workflow. The company also offers Laserfiche Cloud, a SaaS offering hosted on AWS.
M-Files
M-Files is based in Finland and has a headquarters in Dallas, Texas. Its CSP product can be deployed on-prem or as a public or private cloud. The platform was created with a variety of Microsoft components and is integrated with the Microsoft end-user experience.
Micro Focus (HPE Software)
Micro Focus (HPE Software), is headquartered in Newbury, U.K. The Micro Focus and heritage HPE Software spin-merge combines the content offerings into a single CSP: Micro Focus Secure Content Management (SCM), according to the report. The tool is able to work with the heritage HPE ControlPoint data and content analytics product.
Microsoft
Microsoft is headquartered in Redmond, Washington and offers collaborative content management capabilities as part of its SharePoint offerings. SharePoint Server can be deployed on-prem and SharePoint Online is a cloud-based multitenant offering that is usually bundled with Microsoft Office 365.
Newgen Software
Newgen Software is headquartered in New Delhi, India. Its CSP tool has five components: OmniDocs for end-to-end ECM; OmniFlow iBPS for BPM; OmniScan for document capture, digitization and delivery; OmniAcquire for on-demand information capture from a wide variety of endpoints; and the Newgen Enterprise Mobility Framework for building and managing secure, configurable hybrid mobile apps, the report said.
Nuxeo
Nuxeo is based in New York and unveiled the Nuxeo Platform in 2008. It's an open-source, subscription-based CSP is available on the ground, in the cloud or as a hybrid of both.
Objective
Objective is headquartered in Sydney, Australia and offers Objective ECM, which includes traditional document management, content collaboration, records management and workflow modules. Objective Trapeze for image and drawing processing and Objective Keystone for document collaboration are just two of the many solutions that go well with Objective ECM.
OpenText
OpenText is headquartered in Ontario, Canada. They have a large content and information product portfolio that includes content services, BPM, analytics and customer experience management. The company provides two CSPs, including Content Suite and Documentum, which it acquired from Dell EMC earlier this year.
Oracle
Oracle is headquartered in Redwood City, California and offers a set of content management capabilities as infrastructure. The company offers the on-prem Oracle WebCenter Suite Plus including WebCenter Content, WebCenter Portal and WebCenter Sites. The company also provides a SaaS-based Oracle Content and Experience Cloud.
SER Group
SER Group is based in Bonn, Germany and offers the Doxis4 CSP suite. It's a set of integrated, modular components for capturing and managing content. The product can be deployed on-prem or in the cloud.
To read the entire report, click here.
Widget not in any sidebars