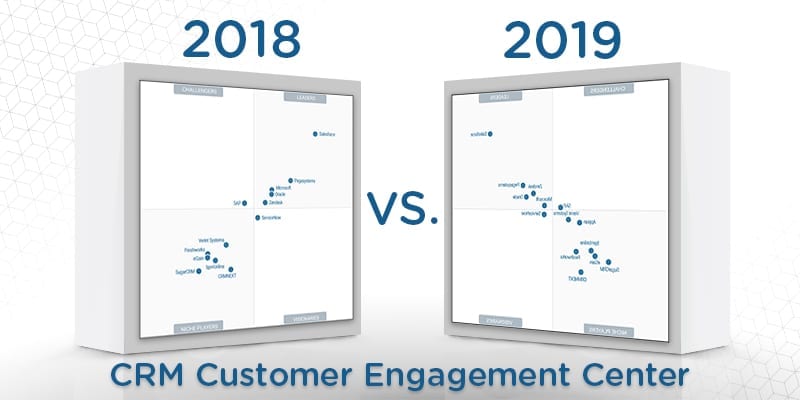 The editors at Solutions Review highlight what's changed since the last iteration of the Gartner Magic Quadrant for CRM Customer Engagement Centers and provide an analysis of the new report.
Analyst house Gartner, Inc. recently released the 2019 version of its Magic Quadrant for CRM Customer Engagement Centers. Customer Engagement Centers, also known as CECs, are applications that enable customer service and support operations to engage with customers and handle their requests. These can range from very small, with fewer than 20 agents, up to very large, with distributed platforms featuring more than 10,000 active agents. This year's Magic Quadrant for CRM CEC shows that digital business models with improved AI maturity and connected customer service ecosystems are rising to the top.
Today's CEC's vendors and customers need to view customer service as a cross-departmental function requiring widespread coordination. Customer service is becoming an increasingly proactive and vital part of business operations. The proliferation of AI enables application leaders to improve on existing CEC functionality and is actively changing the definition of customer service.
What's Changed: 2019 Gartner Magic Quadrant for CRM Customer Engagement Centers
---
Customer service and support are both department goals and enterprise goals. CECs must provide appropriate communication channels that allow for consistent and satisfactory management of customer issues on the department level. CECs must enable organizations to treat their customers with respect and consistency during a variety of engagements across all device types on the enterprise level.
In this Magic Quadrant, Gartner evaluates the strengths and weaknesses of 14 providers that it considers most significant in the marketplace and provides readers with a graph (the Magic Quadrant) that plots the vendors based on their ability to execute and their completeness of vision. The graph is divided into four quadrants: niche players, challengers, visionaries, and leaders. At Solutions Review, we read the report, available here, and pulled out the key takeaways.
Gartner adjusts its evaluation and inclusion criteria for Magic Quadrants as markets evolve. As a result, Appian has been added to this year's report.
Salesforce maintains its position at the top of the leaders' quadrant. Its customers consistently see it not only as a CRM solution but as a center of knowledge and adviser on how to innovate and grow their business. Their AI augments existing functionality, such as case management, Salesforce Einstein Chatbot, and Einstein Analytics. Pegasystems has continued to capitalize on their low-code-supported innovation to make it easy to extend their solution and integrate with third-party technologies. Their Pega Infinity tool also serves in scaling their technology for large (5,000+) deployments.
Zendesk shows upward momentum in the leaders' quadrant with its practical AI capabilities such as Answer Bot, a feature that surfaces knowledge articles and supports chat engagements. Oracle's vision and dedication to continuous innovation are exemplified by its expansion of native digital channels, including messaging, virtual assistants, augmented reality, and IoT. Microsoft's customer service offers extensive support for integrating various line-of-business applications, providing customer service agents a unified view and RPA capabilities to ensure interactions are smooth and productive.
SAP remains the only vendor in the challengers' quadrant by enabling its customers to connect all SAP applications within an intelligent cloud suite. Their communication products, such as chat, video chat, co-browsing, audio chat, and email, are run on the SAP Cloud Platform. This allows them to extend their core customer service applications. Additionally, SAP's Cloud Applications Studio enables users to create complex business processes, new functionality, business objects, and application components.
ServiceNow maintains its position as the sole vendor in the visionaries quadrant. Reference customers have praised its short time-to-implementation, ease of configuration, and workflow and case management features. It's also important to note that ServiceNow's product is built on the same code base as its PaaS platform and other core service management solutions, which means the probability of bugs popping up is very low. Organizations currently subscribed to ServiceNow should also consider exploring their customer service product.
Verint Systems saw its position upgraded, as it now sits atop the niche players column. It wouldn't surprise Solutions Review if the vendor evolved into a market challenger in 2019. Gartner reference customers speak highly of Verint's Engagement Management software, a product for knowledge management and customer service capabilities. Appian is new to this year's Magic Quadrant and establishes itself as a force in the space. The company recently announced "The Appian Guarantee," which guarantees that new users will be able to deploy their first project in eight weeks and that technically skilled professionals can deploy in only two weeks.
bpm'online has gained some vertical momentum and leapfrogged several of its competitors. This vendor's product is easy to configure and modify, and its security and scalability stand out. bpm'online received the highest reference customer scores for ease of use out of all the vendors in this Magic Quadrant. Freshworks focuses on enabling better customer conversations and has enhanced its case management capabilities with new and innovative features, including real-time omnichannel routing, messaging support, and the launch of its new Freddy AI, which supports chatbot functionality.
eGain specializes in digital engagement channels and has a wide variety of offerings, including email, chat, chatbot, virtual assistant, social and messaging support, co-browsing, and notifications. According to Gartner reference customers, SugarCRM is in the top-five vendors for workflow, real-time guidance, and mobile app support. They have also demonstrated an investment in new features such as RPA and natural language processing. CRMNEXT has international influence, with a good presence in India, Hong Kong, and Singapore, and access to parts of the Middle East and Africa. They have excellent scaling capability, with their largest customer boasting over 300,000 daily users.