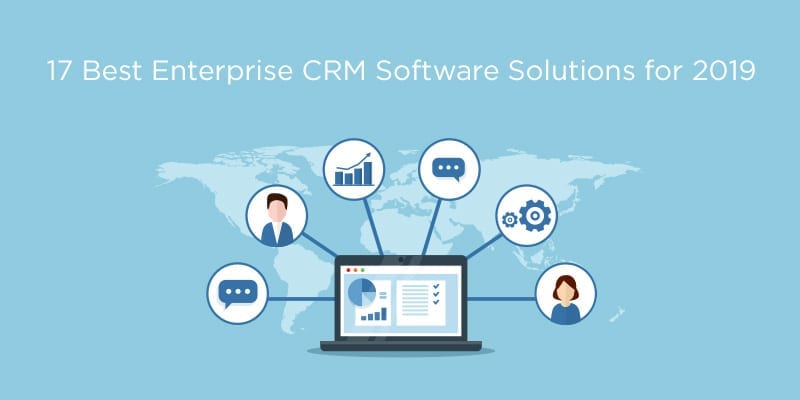 The editors at Solutions Review have compiled a list of the best enterprise CRM software solutions for 2019 based on each solutions' Authority Score, a meta-analysis that combines user sentiment across the web's most trusted software review sites with our internal criteria.
Like much of the enterprise technology covered here at Solutions Review, the best enterprise CRM solutions don't stay the same as the years go by. As new technology like AI and ML is introduced to the mainstream enterprise technology market, features appear and disappear. Different vendors experiment with different functionalities, focusing on sales, marketing automation, or simply developing a more pleasing user experience. With that in mind, it's important to keep track of platforms that top the charts throughout the year.
Vendors such as Salesforce, Creatio, and Zoho focus on developing a wide array of applications and tools to provide potential customers with as much choice as possible. Other providers, such as Insightly, Maximizer, and Nextiva, focus on creating one or two high-performing applications. To assist you with what can become an overwhelming task of choosing the right product, these are the 17 best enterprise CRM solutions.
The Best Enterprise CRM Software Solutions
---
Description: Act! provides a variety of features with a focus on sales management and marketing automation. Although applicable to all businesses, those at the SMB level may find the most success with Act!, as it offers a companion app available on tablets and mobile devices. In addition to designing responsive campaigns and nurturing incoming leads, this vendor's marketing automation allows users to optimize their campaigns and marketing assets. A/B testing pinpoints your most impactful marketing strategies, and tools like GDPR compliance and spam analysis ensure that your campaigns get where they need to go.
Description: Apptivo is a CRM that helps businesses attract, engage, and retain customers. It offers a highly customizable experience that allows users to manage each aspect of their CRM through a network of connected applications. This includes apps for contracts, competitors, sales planning, territory management, customers, contacts, work orders, opportunities, cases, and leads. Apptivo offers a wide range of functionalities and is therefore compatible with many different business types and industries. Once they've selected their necessary tools, users can change the master layout of the CRM by creating or removing various fields.
Description: Creatio's CRM offerings include sales, marketing, and customer service. The sales tool offers a wide variety of capabilities and features, focusing on driving customer acquisition, development, and retention. By offering sales automation, marketing automation, and service management products, Creatio covers a wide breadth of business solutions. They offer a unique document flow feature that allows users to track documents within the system and link them to customers, opportunities, and orders.
Description: Over 15,000 customers use Freshworks, taking advantage of its sales pipeline management and built-in phone and email capabilities. This CRM solution provides access for unlimited users, unlimited contact storage, and unlimited support from Freshworks' service team. Its core features include built-in phone and email, lead and contact management, and visual sales pipeline management. This vendor also offers Freshworks access on mobile devices such as tablets and smartphones.
Description: HubSpot is a free CRM solution with sales and lead nurturing capabilities. Users can store as many as 1 million contacts and companies, and access to HubSpot is free forever. Functionalities include contact management and insights, email tracking and templates, reporting dashboards, Facebook & Instagram leads, integration with Gmail & Outlook, and much more. In addition to typical CRM features, Hubspot also offers several customer service features through its Service Hub. This includes the ability to generate FAQs and customer feedback tools, conversational bots, and goal-oriented metrics.
Description: Infor's CloudSuite platform provides a comprehensive view of your customers by taking data directly from your team's inputs, as well as automatically collecting data from past interactions and outside sources. CloudSuite's core features include lead and opportunity management, detailed reports, dashboards, and analytics, as well as manual process automation. Users also have access to CloudSuite on smartphones, tablets, and other mobile devices. In addition to CRM functionality, CloudSuite offers full integration with various ERP systems and other enterprise technology software solutions.
Description: Insightly is a CRM focused on helping businesses build stronger customer relationships and deliver projects promptly, allowing users to manage contacts, sales, and projects in a single location. Insightly's features include lead routing, workflow automation, email management, custom dashboards, and trackable metrics, as well as mobile access for both Android and iOS. The mobile app allows users to scan business cards and easily upload contact information, update task statuses, milestones, and deliverables, or create a completely new opportunity.
Description: Maximizer offers a feature-rich suite of products, its CRM highlighted by sales functionality, as well as marketing automation, contact management, cloud-based data storage, and a companion mobile application. Maximizer also provides users with unlimited storage and investment account management, which can be unlocked through a collection of different sales package add-ons. The solution itself can be deployed on-premise, or customers can utilize Maximizer's own cloud and eliminate the hassle of managing servers.
Description: Microsoft Dynamics 365 spans multiple technology categories and offers more than just traditional customer relationship management. The solution is much more focused on customer support than its competitors. Dynamics 365 provides users with a complete customer view, agile support models, predictive analysis, and integrated AI functionality. It easily integrates with other Microsoft products, allowing different teams to work together and share information more efficiently.
Description: Nextiva offers multiple CRM products to fit the needs of different industries. Treating its software like tools in a toolbox, this vendor provides solutions designed to tackle traditional sales challenges and customer service. Their sales capabilities are on par with competitors, but the unique quality of their customer service features is what separates Nextiva from the pack. Features include customer management, analytics and insights, customer feedback and satisfaction, workflow automation, and much more.  For organizations focused on providing quality customer service support, Nextiva is a good choice.
Description: Nimble offers a wide array of products and functionalities specifically designed to integrate with Microsoft Office and G-Suite. Well suited for middle-market and enterprise-level organizations, Nimble offers CRM and sales automation functionalities, as well as social insights into potential prospects. This social integration sets Nimble apart from its competitors, collecting key information from online profiles to supplement data already within the system. Nimble is a great tool for nurturing customer relationships and closing more deals.
Description: Nutshell offers a user-friendly experience for businesses and teams of all sizes. Complete with customizable sales processes and sales automation, Nutshell provides all the standard features of a CRM. The mobile Nutshell app is a great choice for small business sales teams, which provides users with everything they need to close a deal in a simple, affordable package. View and edit account information, scan business cards, log meetings, and call notes, receive push notifications and alerts, and much more.
Description: Oracle NetSuite offers a cloud-based CRM tool that updates in real-time. The tool provides traditional features such as sales forecasting, marketing automation, and customer management. It also offers more non-traditional features such as order management, commissions, integrated e-commerce, and more. Instead of focusing on a single area, NetSuite CRM tackles the entire customer lifecycle, from lead all the way through opportunity, sales order, fulfillment, and more.
Description: Pipedrive offers a clean, visually intuitive CRM focused on improving sales processes. The product includes functionalities such as forecasting, pipeline management, email integration, reporting, as well as task automation. With the Pipedrive mobile application, users can access tracked calls and caller ID, quick notes and meeting prep, online and offline access, and more. Keep track of everything on your schedule by viewing upcoming calls and meetings, as well as managing unread emails and overdue activities.
Description: Salesforce offers the most expansive and complete CRM product of any vendor profiled in this resource. This platform includes all of the company's sales and marketing applications, most notably the Sales and Marketing Clouds, Service Cloud, Analytics Cloud, App Cloud, and IoT service. Salesforce is fully mobile, and its Complete Customer Management Solution is best-in-class. If your organization needs a large suite of established, popular enterprise technology solutions, Salesforce has got you covered.
Description: SugarCRM is designed to provide an excellent user experience by offering a simple UI and a wide breadth of customization options. The platform is available in three different versions, with functionalities differing between versions. There's also a special relationship intelligence add-on available to those who need it. Key features include sales automation and forecasting, lead management, sales campaigns, and quote configuration. SugarCRM's marketing automation tools offer functionalities including lead qualification, ROI measurement, data segmentation, email campaign management, and more.
Description: Zoho CRM offers a wide variety of tools to help organizations improve their selling capabilities. Core features include sales automation, marketing automation, pipeline management, multichannel management, artificial intelligence, and more. With Zoho marketing automation, users can observe the activity of their audience on native or outside web apps. Get a bird's eye view of ROI and budget distributions, and manage your presence across various channels and social platforms. Zoho also offers a variety of integrations with other business applications.