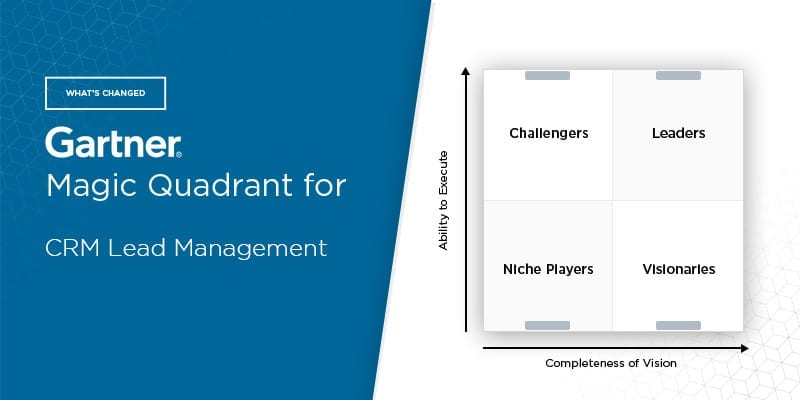 The editors at Solutions Review highlight what's changed in the 2019 iteration of the Gartner Magic Quadrant for CRM Lead Management and provide an analysis of the new report.
Analyst house Gartner, Inc. recently released the 2019 version of its Magic Quadrant for CRM Lead Management. Gartner defines CRM lead management as the process of capturing leads, tracking their activities and behavior, qualifying them, giving them constant attention to make them sales-ready, and then passing them on to the sales team. This year's report indicates that analytics and content management are key to CRM lead management success. Successful vendors are facilitating the delivery of content across multiple channels and orchestrating better marketing and sales coordination.
Because lead management comes with the ability to document a customer's full journey, CRM users can access a large pool of customer data. It's important to note that this should be viewed and analyzed by marketing teams and sales teams. This year's report shows that lead management is ultimately about better cooperation between sales and marketing. Other notable trends were a strong focus on integration capabilities, continued maturing of predictive lead scoring, and a continued focus on ease of use and redesigned UI.
What's Changed: 2019 Gartner Magic Quadrant for CRM Lead Management
---
In this Magic Quadrant, Gartner evaluates the strengths and weaknesses of 15 providers that it considers most significant in the marketplace and provides readers with a graph (the Magic Quadrant) plotting the vendors based on their ability to execute and their completeness of vision. The graph is divided into four quadrants: niche players, challengers, visionaries, and leaders. At Solutions Review, we've read the report, available here, and pulled out the key takeaways.
Gartner adjusts its evaluation and inclusion criteria for Magic Quadrants as markets evolve. As a result, X2Engine has been added to this year's report. Gartner also notes the following vendors as honorable mentions worth considering: Infor, Microsoft (Dynamics 365 CRM), Workbooks.
Every vendor in the Leaders quadrant gained some horizontal movement, showing an improvement in their Completeness of Vision. Oracle continues to maintain its position at the top of the quadrant by being one of the few vendors in this year's report that provide Data as a Service. Oracle has also added functionality to support specifically ABM for B2B account data and signals.
Marketo was acquired by Adobe in October 2018 and has garnered praise from its reference customers for its rich feature set, including a strong lead nurturing and multisite B2B implementation capabilities. Adobe's solution and roadmap emphasize capabilities that support the needs of marketers and sales teams, and their professional services team has been cited as particularly helpful.
Salesforce has improved its position by integrating its Pardot solution with its other Sales Cloud, Marketing Cloud, and Service Cloud solutions. The integration of Pardot with the Sales cloud allows for productivity through shared insights into marketing and sales activities. Pardot offers strong features such as lead aggregation, multichannel lead management, lead process management, and lead nurturing.
bpm'online (now known as Creatio) has gained enough horizontal movement to break into this year's Leaders quadrant. This is largely due to its strong vision for efficiency and effectiveness. Creatio offers strong multichannel lead acquisition, lead nurturing and qualification, lead process management, and predictive lead scoring capabilities. Acoustic (formerly IBM Watson Marketing) provides strong support for large B2C enterprises that manage over 100,000 leads. It offers potent multichannel lead management capabilities and has the highest-scoring roadmap out of all the vendors in this year's report. Notably, it has also released several new capabilities to support local data privacy laws.
HubSpot is the only vendor in this year's Challengers quadrant, having leaped its position as a Niche Player last year. This vendor stands out for its ease of use and adaptability features, reporting shorter deployment times than the vendor average. Customers have praised the intuitive interface, noting that it streamlines campaign orchestration and workflow management. HubSpot also features a unique freemium model: the CRM is available for free, but its Marketing Hub features tiered edition-based pricing.
Act-On maintains its position at the top of the Visionaries quadrant. It has recently introduced Accelerate, a package of services that helps onboard new clients. Act-On has also introduced an improved UI and environment that easily interfaces to third-party systems. Pegasystems has seen a good deal of horizontal movement in this year's report. Marketers recognize its high-quality support for industry-specific use cases, as well as its versatility in supporting the needs of large, complex B2B2C organizations.
SAP has gained significant horizontal movement, managing to break into this year's Visionaries quadrant. Its SAP Marketing Cloud brings the greatest value to mid-size organizations looking for B2B lead management capabilities. It has a strong presence in several verticals, and its SAP C/4HANA suite allows customers to virtually access any lead management feature, even in offline mode. SAP also stands out because it is one of the few lead management providers with out-of-the-box integration to social sites.
CRMNEXT has gained enough vertical momentum to push it to the top of this year's Niche Players quadrant. In addition to lead management, this vendor is largely focused on B2C retail banking use cases and banking operations requirements. CRMNEXT provides a variety of deployment options with its commutable cloud, and its product offers comprehensive workflow designers and predictive modeling capabilities.
Zoho has moved farther along the horizontal axis, moving closer towards the Visionaries quadrant. Using this vendor's product, marketers can easily create workflows and duplicate or clone them for field marketing teams. Its ML technology can predict lead conversion and close deal probability by utilizing historical data. Customers also cite Zoho for ease of use, giving the vendor high scores for deployment support and ease of implementation.
X2Engine is a newcomer to this Magic Quadrant, starting strong by providing integrated functionality in one unified solution. All of its modules are based on a no/low-code basis, which allows for greater customization and adjustable workflow environments without requiring deep tech knowledge. Salesfusion, which SugarCRM has recently acquired, maintains its position within the Niche Players quadrant. This vendor enables marketers to create an unlimited number of scoring models, including temporary models. In addition to standard CRM features, Salesfusion offers GDPR compliance and an accessible in-house support team.
Mautic, recently acquired by Acquia in May, delivers marketing automation capabilities through a SaaS platform built on open-source software. Customers can use native platform capabilities or connect Mautic to their existing technology stack. It is also important to note that Mautic had the shortest deployment times of every vendor evaluated in this Magic Quadrant. Impartner maintains its position in the quadrant with a highly rated overall experience, particularly in its customer journey reporting.