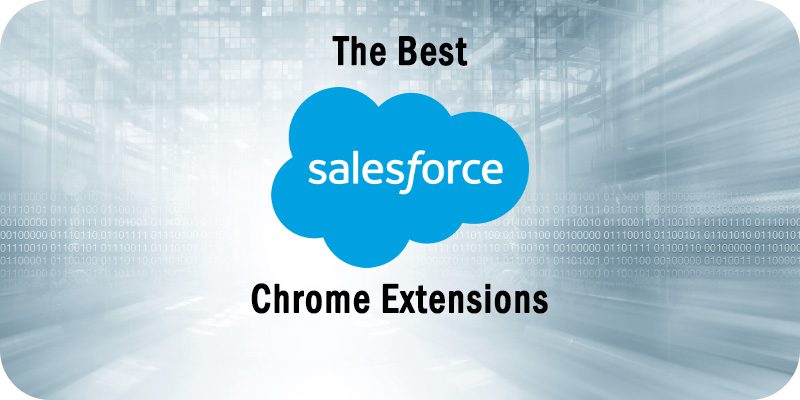 Solutions Review has compiled this list of 11 of the best Salesforce Chrome Extensions. We've selected a variety of options capable of several tasks.
The need for helpful Salesforce Chrome Extensions is unsurprising. Given what a popular browser Google Chrome has proven to be over the years – thanks in no small part to the plethora of Chrome Extensions available out there—it makes sense that many Salesforce users will find themselves on the service most of the time. Custom Salesforce quality-of-life upgrades available at the click of a button can help shed hours of monotony and inconvenience throughout their use.
Solutions Review has compiled this list of 11 of the best Salesforce Chrome Extensions. We've selected various options capable of several tasks—Quick Login, Multi-Function, Debugging, Production, and Communication, to name a few. We've listed these options in alphabetical order and linked them to the creator wherever possible. These links will lead you right to the downloads for each extension for your convenience.
The Best Salesforce Chrome Extensions
---
by MattSimonis
This extension aims to provide many functions that users believe should come standard in Salesforce. Booster for Salesforce speeds up both admin and developer work: it allows you to search when adding items to changesets, display the API name next to field names when editing a fieldset, and check or uncheck all items in a column, along with many other time-saving features – all in a single Chrome Extension.
---
by Fronde
Everything you can do in Chatter—whether viewing your newsfeed, leaving comments, posting status updates, unfollowing and following users, etc.—can all be done through Chrome, thanks to Chatter Monitor. This extension is a fantastic alternative to the Chatter desktop app because it works across all systems without additional software. One can even manage multiple Chatter accounts simultaneously, right within the browser itself.
---
by Clearbit
Clearbit for Salesforce – Lite is an extension that can save you up to two hours of manual research and data entry every day. Users can turn an email address or domain name into a prospect or company profile in Salesforce with only a few clicks. Adding additional data to existing contacts, segmenting leads, and researching new opportunities is faster and less complex with Clearbit for Salesforce – Lite.
---
Typically, Salesforce only allows you to refresh your Dashboards daily, weekly, or monthly. With the Enhance Salesforce Dashboard extension, you can have real-time updates of your dashboards. The extension allows you to select an auto-refresh frequency/duration. It also allows you to increase the dashboard columns from the default three columns to a full seven columns.
---
by Gourav Bhardwaj
Analyzing the Salesforce debug log is effortless with this easy-to-use extension. Log Machine highlights key sections and provides tips for avoiding errors. An update to the extension made the Code Unit and Method Entry / Exit clickable, allowing users to go directly to the component with a single click. Plus, the Color Index has a checkbox that can filter the log to see only specific content, such as errors or user debug, with ease.
---
by CleanData4Good
Salesforce ID Paster is a smaller extension that saves time in data entry. Simply, it redirects your current Salesforce page to the one whose SFID is in your clipboard with a keystroke (default combination being Ctrl + Shift + Y). It is beneficial to those users who constantly export and import data in and out of the Salesforce database. Good news: this extension has been updated and is now Lightning-enabled!
---
by Synebo
Thanks to this extension's security token support, users can bypass verification codes and quickly sign on with one-click login. You can also import and export credentials simply by copying login information to a clipboard or generating a session login link. Any stored data is synced to Chrome automatically, and passwords/tokens are protected by encryption. This results in a secure option for managing multiple accounts on Salesforce. 
---
by Enrico
No need to memorize logins and passwords with Salesforce ORGanizer. It can even store your security token to avoid slowed down by verification codes. If you often work in multiple organizations at once, you'll appreciate the option to assign a color to each org. This is then automatically shown on the relevant browser tabs. It also has a Login As a function that allows you to toggle between multiple users. ORGanizer is perfect for managing changesets. With this extension, you can export a changelog that will enable you to remove items simply by clicking remove. This saves time because you do not have to click next for everything in the changelog.
---
This is a handy Salesforce Chrome extension for both Admins and Developers alike. It will allow you to log in as any user in your organization quickly and easily. On click, it will give you a pop-up selection of all the users on the listing page, and from there, you can choose to log in as any specific user. When you log out, it will take you back to the first page you were browsing before logging in as the other user. This extension is also compatible with Lightning. 
---
by Rhajiv Bhatt
With SOQL Extractor and Analyzer, users can easily observe 'Too Many SOQLs' errors. This extension extracts the SOQL queries with their execution counts from the Salesforce Debug logs with only a single click. It will provide you with information on the count, objects on which the queries are executed, statistics, and also helps in optimizing your application's performance.
---
by Whatfix.com
Whatfix on Salesforce is an extension that will help in guiding and training users efficiently on the platform via interactive guides and walkthroughs. This is a free version for individuals to train themselves on Salesforce. It includes a widget called "self-help," which lists all the walkthroughs on Salesforce created by the Whatfix Community. With a click, the interactive walkthrough will launch in real-time and virtually handhold you through completing each task. Organizations can also purchase the Whatfix Enterprise Version for extensive use, which is used widely for Salesforce Onboarding, Training, and Support.
---