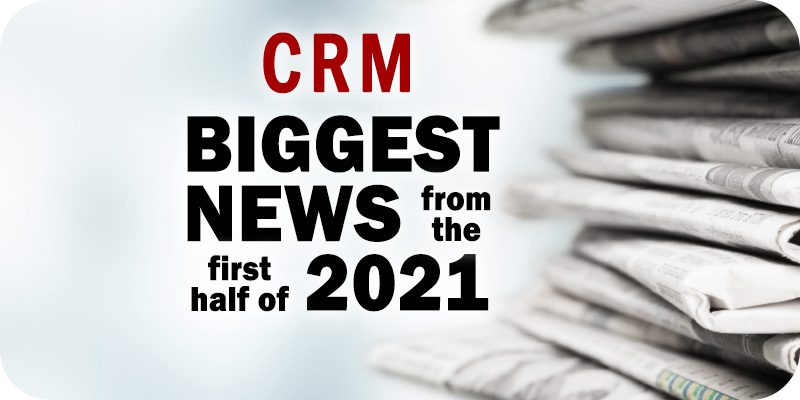 Our editors have curated a list of the biggest CRM news items from the first half of 2021, as highlighted on Solutions Review.
The interactions between a company and its target audience drive successful marketing and sales strategies. Developing fruitful relationships and ensuring the customer has a positive experience is easier said than done, which is why many companies turn towards CRM solutions. Customer relationship management solutions can increase productivity and streamline processes across departments like marketing, sales, service, and more. CRM can automate tasks, analyze large quantities of data, and perform tasks more efficiently than a person could.
Part of Solutions Review's ongoing analysis of the CRM marketplace includes covering the biggest industry news stories that impact the companies that rely on CRM technology. This is a curated list of the biggest CRM news stories from the first half of 2021. For more on the space, including the newest product releases, funding rounds, mergers, and acquisitions, follow our popular news section.
The Biggest CRM News Items During the First Half of 2021
---
Pipeliner CRM announced the launch of a new reporting and analytics solution for its CRM platform. The new features will provide insights into past, current, and future performance trends and allow users to interpret data utilizing descriptive, diagnostic, predictive, and prescriptive analytics. Other features offered as part of the new analytics offering include performance indicators, quota forecasting, visual aids, and more.
Nikolaus Kimla, CEO of Pipeliner CRM, said, "The constant changes in today's business world have increased the demands for the immediate delivery of data. Automation features and functions in Pipeliner CRM provide the means for sales teams to organize and interpret data so that leadership decisions can be made rapidly and accurately. Deep analytics with actionable insights can lead to more efficient and effective strategies to leverage opportunities and quickly understand indicators and performance."
---
Zoho Corporation announced the launch of Qntrl (pronounced as "control") as a new business division. Qntrl will act as a separate brand within Zoho and focus on delivering automated workflow solutions that empower decision-makers with improved clarity and control over their business processes. Qntrl has previously been in beta but launched into general availability as of April 13th.
Mani Vembu, Chief Operating Officer at Zoho Corporation, made the following statement: "As the workflow management market grows in size and sophistication, frustrations related to efficient and transparent management are becoming a bigger roadblock for organizations across the board. These challenges require robust solutions that minimize the negative impact on business. With the full support of Zoho Corporation, Qntrl will tackle this head-on, helping its customers accelerate business with the support of first-class orchestration software."
---
Salesforce announced newly reimagined features and innovations for its Service Cloud solution. This "new generation" of Salesforce Service Cloud is designed to accommodate changing expectations in customer service and provide organizations with the technology they need to accommodate the needs of employees and customers alike from a single digital engagement platform. Salesforce announced these new Salesforce Service Cloud Features alongside its Success Anywhere World Tour.
Clara Shih, the CEO of Service Cloud at Salesforce, says that "We are on the cusp of a great reopening of society, and companies know they need to move quickly to seize the moment. While customers and companies alike are eager to return to in-person experiences, digital behaviors we learned and grew accustomed to during the pandemic are here to stay."
---
HubSpot announced the launch of Operations Hub, a new addition to its CRM platform and suite of tools. Operations Hub will help companies unify their data, automate processes, and align team members around the core goal of delivering memorable experiences to customers. Operations Hub is available now and comes in Free, Starter, and Professional versions.
Alison Elworthy, HubSpot's EVP of Revenue Operations, said, "Operations teams are the unsung heroes of our industry. They carry the responsibility for managing the systems, processes, and data that keep a scaling company running every day. As such, they are the orchestrators of the customer experience. Yet, most companies still treat operations as a reactive function whose sole purpose is to fight fires. With the launch of Operations Hub, we are not only bringing operations tools to the heart of our CRM platform, we are bringing operations teams to the forefront of the customer experience – where they belong. After all, to deliver a unified customer experience at scale, companies need to run better. And to run better, they need a unified revenue operations team working together in a connected CRM platform."
---
IBM announced plans to acquire Waeg, a Salesforce Consulting Partner in Europe. The acquisition will help IBM continue to expand its portfolio of Salesforce consulting services, help the company meet the continuing client demand for business transformation and customer engagement strategies, and further its ongoing hybrid cloud and AI strategies. The transaction is expected to finalize later this quarter.
Mark Foster, the Senior Vice President of IBM Services and Global Business Services, made the following statement to accompany the news: "Salesforce continues to play a critical role in companies' digital transformations as they adapt to the conditions created by the pandemic. Trust is the new currency of customer and employment engagement, and every touchpoint is an opportunity to personalize the relationship. Waeg's strength in Salesforce consulting services will be key to creating intelligent workflows that allow our clients to keep pace with changing customer and employee needs and expectations."
---
Unanet announced the launch of CRM for GovCon, a new CRM solution designed for government contractors. The new solution can pair with Unanet's project-based ERP to provide GovCons with an integrated solution for managing opportunities, customers, and projects. CRM for GovCon is available now, and Unanet will be offering webinars, tutorials, and additional details on it at an upcoming user conference.
Craig Halliday, the CEO of Unanet, added the following statement: "Now GovCons can break out of siloed systems and have holistic project and client management functionality. When they can see the full view of their entire customer lifecycle, they are able to make smarter business decisions, operate more efficiently, and deliver better results overall. Unanet is continuously innovating, so GovCons have better solutions than the bolt-on technologies offered by the de facto industry leaders."
---