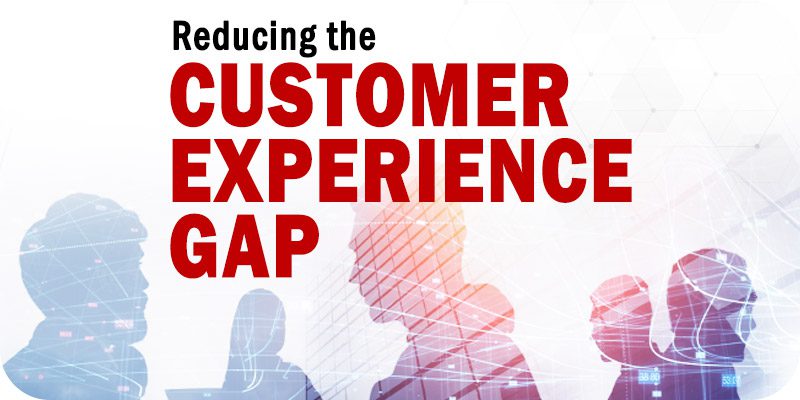 As part of Solutions Review's Premium Content Series—a collection of contributed columns written by industry experts in maturing software categories—John Nash, the Chief Marketing and Strategy Officer at Redpoint Global, shares some insights on how companies can reduce the "customer experience gap."
Brands sometimes lag behind consumers in having their finger on the pulse of consumer trends. When bands like Nirvana popularized the grunge look in the '90s, retailers suddenly couldn't stock oversized flannel shirts and ripped jeans fast enough. Like many other trends in fashion and elsewhere, brands eventually catch up with consumer expectations. However, the experience that brands deliver, rather than the product itself, follows a similar pattern in trailing consumer expectations.
Driven by increased channels and devices, expectations for convenience and immediacy, and a general commoditization of price and product, consumers increasingly demand personalized, relevant customer experiences (CX). A sharp increase in digital-first customer journeys has accelerated this personalization trend. Consumers now recognize their value to a brand, and they expect brands to reward that intrinsic value with a deep, personal understanding of them as individual customers.  
A 2021 Harris Poll survey commissioned by Redpoint Global found that consumers expect a more personalized customer experience than they believe most brands deliver. They consistently rank the ability of brands to meet their expectations lower than brands rank themselves. Across four dimensions of customer experience (customer understanding, personalization, privacy, and omnichannel consistency), there is a roughly 2X gap between marketers' and consumers' assessment of the ability of marketers to deliver an "excellent" experience across each dimension. 
Dynamic Journeys Widen the Customer Experience Gap
From the customer perspective, the reasons for the CX gap boil down to customer journeys becoming more dynamic and unpredictable. The delineation between in-store and online has blurred, as consumers regularly start on one channel or device and finish on another, or even use multiple channels simultaneously. Consumers expect the brands they interact with to follow these omnichannel customer journeys precisely. 
Consider recent McKinsey research on the value of getting personalization right, in which 72% of consumers said they expect the businesses they buy from to recognize them as individuals and know their interests. Expectations include easy channel navigation (75%), relevant product/service recommendations (67%), and messaging tailored to a customer's specific needs (66%).  
Why Brands Struggle to Close the CX Gap
Most brands fail to meet consumer expectations for omnichannel relevance because most have channel-tuned operations rather than customer-tuned. By linking a few data silos, brands harbor the misconception that they have a single customer view and are thus able to deliver on the expectation for consistent relevance.  
In the Harris Poll survey, US marketers report having, on average, 16 customer engagement systems deployed. Roughly 70% of marketers said that the number of systems makes it more challenging to provide a seamless customer experience. Marketers cite a lack of data integration as the most common reason (41%) for preventing them from managing an omnichannel customer experience.
Yet, a channel-focused approach is no match for today's innovative, increasingly digital customer journeys. Nor are traditional engagement strategies that rely on personas, calendars, batch processing, and other static methods that, because they lack a real-time, single source of truth for the customer, must always resort to making assumptions about customer intent.  
One classic example of a brand failing to keep pace with a customer journey is sending an email offer for a discount on a product that a customer has just paid the total price for at one of the brand's stores. Despite the brand's best intentions, it introduces friction into the customer journey due to channel siloes (email vs. in-store). It relies on list-based processes that, unlike rules, are not dynamically updated as the customer moves through a journey.  
How to Shrink the CX Gap
To shrink the customer experience gap and meet customer expectations for a personalized omnichannel journey, brands must first possess an accurate single customer view—all data, in real-time. A unified customer profile, also known as a golden record, breaks down channel and process siloes by compiling every conceivable type and source of data into a single source of truth for customer data. When both the underlying data and data quality steps (cleansing, matching, etc.) are updated in real-time, brands are assured they possess all that is knowable about a customer, resolved to the individual or household level.  
A single customer view becomes actionable with a customer experience platform that includes automated machine learning and intelligent orchestration. With this technology, marketers can scale relevant experiences and deliver tailored next-best actions in real-time in the precise moment an action is optimized for the desired outcome metric. This way, marketers can pursue innovative, effective, and ambitious engagement strategies without fear of introducing friction. A single point of operational control ensures that marketers and other business users of customer data always move in the exact cadence of the customer across an omnichannel journey.  
The Reward for Closing the CX Gap
Brands that fail to meet customer expectations for highly relevant, omnichannel engagements face similar consequences as those that fail to keep up with fashion trends. Customers move on, happily giving their business to brands that provide a personal understanding. For example, in the Harris Poll, 39% of consumers surveyed said they would not do business with a company that does not provide a personalized experience. A majority (65%) said that personalization is now a standard service expected across all interactions. Furthermore, 82% said they are loyal to brands that demonstrate a thorough understanding of them as a unique customer.  
In knowing what customers want from a brand interaction, and with the tools and technology that make it possible to meet this expectation, there is nothing stopping brands from striving to meet this goal. An effort to close the customer experience gap demonstrates to customers that the brand values them beyond a transactional basis. Customers reward a deep, personal understanding with their continued business and more personal data, amplifying the loop between highly personalized experiences, relevance, and revenue growth. 
---