17 Key CRM Questions to Ask During Software Evaluation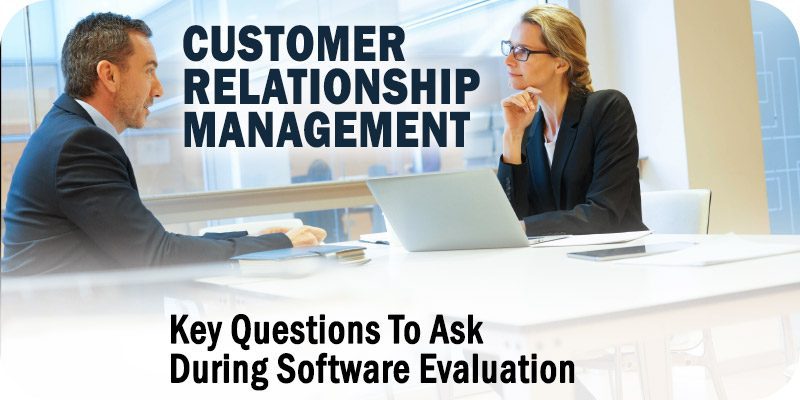 The Solutions Review editors have developed a collection of CRM questions a company should ask before and during the CRM software evaluation process.
Evaluating new sales and marketing software for your organization can be a painstaking task, often involving research. Having a list of CRM questions to consider can help you with that process. There is a wide variety of available customer relationship management (CRM) tools to help companies with these challenges. The sheer number of providers, software packages, and pricing options can be dizzying.
With this in mind, Solutions Review has developed a collection of buyer's guides and best practices to assist you in your search. However, sometimes you need a little more help to get started in the right direction, and that's where asking the right CRM questions can help. Our editors have compiled this list of key CRM questions your organization should consider during the vendor selection process.
CRM Questions to Ask During Software Evaluation
---
1. Do you have a visible, organization-wide location for storing and accessing leads and accounts?
A portion of CRM is specifically made to handle large amounts of contact information and data. When evaluating the best tool for your organization, consider the resources you already have and consistently use. If you lack this kind of functionality, CRM will be a good investment. Otherwise, it might be better to find more modular tools.
2. Is there cross-team visibility into information for each contact or deal, including notes, telephone calls, and scheduled tasks?
Having a central location for all your customer contact information is vital, but it's just as crucial for multiple teams to access that data and any other related information. When looking into different CRM platforms, make note of the sales enablement and alignment features the provider offers, as these can be crucial tools for improving sales, marketing, and service team collaboration.
3. Do you have disparate systems to manage the sales process, including different systems used by different reps?
The majority of CRM software will significantly benefit sales teams. Organizations that need strong pipeline visualization and management should consider sales and marketing automation, particularly a sales-centric option. If your team already has a streamlined sales workflow, you should look for a CRM to address any of your other business needs.
4. How do you receive reminders to follow up with sales contacts?
Some tools, particularly sales-focused solutions, send prompts and reminders to your employees based on personalized triggers or events. They will inform you of opportune times to contact leads or ping you when a significant sales opportunity presents itself. Make sure to pick a CRM that encourages both productivity and proactivity.
5. Is it easy for reps to view prioritized leads based on criteria or to see a view of all new leads?
Lead segmentation is crucial for teams that easily identify sales opportunities and potentially fruitful leads. Specific solutions will automatically rank customers based on their interactions with your organization or will provide predictions of their future preferences. Most CRM platforms have dedicated lead management capabilities (or even offer them as a standalone solution), so make sure your company takes the time to look into all its options.
6. If one of the sales reps left tomorrow, would you be able to easily access the sales contacts, deals, and deal history they were working on?
Thinking more logistically, consider what would happen if one of your sales reps left tomorrow. Would you be able to easily access that employee's sales contacts, deals, and deal history? Would their notes and additional strategic information be available? This might be a challenge if your CRM doesn't have centralized information access.
7. What kind of security does the software have?
This is an essential feature for every CRM, as they store large amounts of personal information. Your customers need to trust you, which won't happen if your system is easily accessible. Ensure your CRM provides security measures to prevent hacking, data breaches, and other malware.
8. How much does this cost?
This question can sometimes be lost in discussions about feature depth and software innovation, but it's arguably the most important. Every business must stick to its budget when purchasing a new CRM, especially when purchasing, developing, implementing, and maintaining a technology solution often has costs that aren't advertised upfront. Always consider your company's budget when comparing and contrasting various solutions.
9. How long does it take to implement this solution?
Installing new software, especially if it's server-based, can take time. There may be delays or other difficulties, and the productivity of your workplace may be affected as a result. If your company lacks the internal bandwidth to implement a solution, consider working with a CRM consultant or implementation company. These businesses often specialize in specific platforms (i.e., Salesforce) but also have the technical skills and experience needed to ensure seamless implementation.
10. How can I integrate with legacy systems?
This is often one of the biggest challenges when purchasing a new CRM. Unless your company is new and is buying its first software, you likely want your CRM solution to function in tandem with the other technology you're using. Different vendors offer different integration possibilities, and certain products integrate easier with Microsoft or Google products.
11. Does this have a steep learning curve?
In addition to integration, another big challenge for CRM customers is teaching employees how to utilize new technology correctly. User interface and experience, feature depth, ease of access, and more can affect how quickly your employees get up to speed with your new product.
12. What kind of support comes with the solution?
Once your CRM has been implemented, you may run into software errors or other unexpected problems. Certain vendors offer 24/7 support, while others provide online resources. You will also want to note how often the CRM is updated and maintained by the vendor.
13. Are there data storage limits?
Large enterprises and organizations that need to keep track of customer information should consider possible data limits. Some vendors offer the option to purchase additional storage space in the future as your business grows. Keep in mind the goals of your organization.
14. Is this solution scalable?
If your business is small, you should consider the possibility of future growth when choosing a CRM. Many vendors offer different-sized packages, and you can upgrade from one to the other when you see fit. Selecting a CRM without this ability could cost you more money in the long run, as you would need to purchase a new product.
15. Are your requirements industry-specific?
With a wide variety of solutions at your disposal, it's crucial to pick a tool that will streamline the workflow of your particular industry. Specific tools are made for certain sectors, and it's better to pick something that aligns with the tasks and goals of your business.
16. What business processes do you want to improve?
Features vary significantly from product to product, even between CRM tools designed for the same vertical. Make sure to identify what parts of your business you want to streamline and what features you find the most desirable. Sales teams want certain features, while customer service professionals seek others.
17. On-premise or in the cloud?
The market has seen a rise in cloud-based technology in recent years, and more companies are looking to integrate that with their CRM solutions. Certain vendors offer entirely cloud-based technology, while others provide server-based solutions. This is also important for companies that employ remote and home-based workers.
---