What's Changed: 2022 Gartner Magic Quadrant for Digital Experience Platforms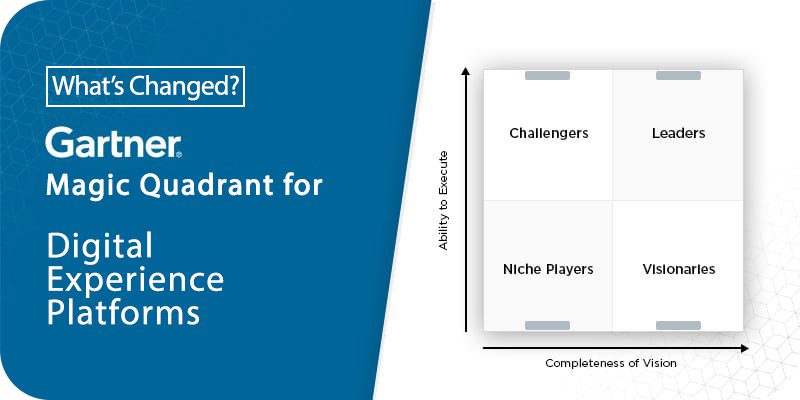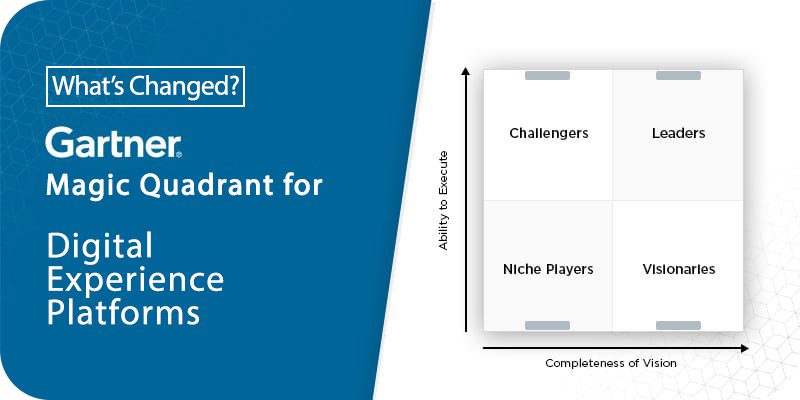 The editors at Solutions Review highlight and summarize the key takeaways and updates found in Gartner's 2022 iteration of their Magic Quadrant for Digital Experience Platforms.
Analyst house Gartner, Inc. recently released the 2022 version of its Magic Quadrant for Digital Experience Platforms. Digital Experience Platforms (DXP) include technologies designed to support organizations by digitizing aspects of their business to provide better customer experiences. These technologies have evolved from CMS, WCM, portal servers, and commerce servers. While the 2022 version of the report is not yet available on Gartner's website, you can find the 2021 iteration here.
The core capabilities of a DXP solution, provided either natively or via an integration, include analytics, content management, personalization tools, customer journey mapping, knowledge sharing, artificial intelligence (AI), customer data management, access control, cloud capabilities, multi-experience support, and more. Gartner also lists some optional capabilities that DXP platforms sometimes have, including low-code application development, form-based apps, digital asset management (DAM), CRM, customer service, marketing resource management, payment gateways, and more.
In this Magic Quadrant, Gartner identifies what it considers to be sixteen of the most significant providers in the Digital Experience Platform marketplace. The analysts on the report—Irina Guseva, Mike Lowndes, Jim Murphy, and Gene Phifer—also evaluate each listed vendor's strengths and weaknesses and rank them on the signature "Magic Quadrant" graph. The chart is divided into four quadrants: leaders, challengers, niche players, and visionaries.
What's Changed: 2022 Gartner Magic Quadrant for Digital Experience Platforms
---
To qualify for Gartner's report, each DXP vendor met specific criteria. These include generating at least $17 million in revenue with 5% year-over-year revenue growth in the 12 months leading up to June 2021, having been on the market since June 2020 at the earliest, maintaining an active ecosystem around its DXP solution, and more. The vendors also have to provide their DXP product as a cohesive and integrated product under one name, support B2C and B2B environments, and align with the core capabilities listed above.
A breakdown of each category and the companies associated with it is below.
Leaders
Adobe is the first Leader in the report. Its DXP solution, Adobe Experience Cloud, is available on-premises and PaaS. It is outfitted with content management, personalization tools, content management, analytics, customer data management, customer journeys, and multichannel campaigns management functionalities. The platform's primary focus is B2C, but it is also used in B2B situations. According to Gartner, Adobe's strengths as a DXP vendor include its extensive ecosystem of partners, well-regarded market share, and an innovative suite of digital marketing functionalities.
Acquia's Open Digital Experience Platform comprises its Drupal Cloud and Marketing Cloud solutions. The solution is available as both a PaaS and SaaS offering. It includes functionalities for customer experience management, personalization, analytics, content management, customer data platform, customer journey management, and other features for B2C and B2B use cases. Its strengths include the open-source Drupal community, a suite of business technology capabilities, and continued investment in business technology capabilities.
Optimizely's DXP solution is geared toward midsize-to-large enterprises in manufacturing, commercial services, retail, distribution, healthcare, high tech, and financial services companies in B2C and B2B use cases. The platform is available as a subscription plan and a hybrid cloud solution, which uses SaaS components and management UIs around a single-tenant PaaS. Gartner identifies its strengths as its simple, scalable, and transparent pricing package and its extensive suite of capabilities, including the customer journey mapping tools from its acquisition of Zais' customer data platform.
Sitecore rounds out the Leader category with its Digital Experience Platform, which provides content management, optimization, personalization, and customer data management capabilities. The platform is currently transitioning to a SaaS model. It is adopting a new vision backed by several recent acquisitions with complementary functionalities that expand the solution with AI, CDP, and other features. Sitecore's strengths include its suite of CX and B2C use cases and its growing global network of partnerships.
Challengers
Salesforce maintains its placement as a Challenger in Gartner's Magic Quadrant. With the Salesforce Experience Cloud solution, companies can utilize content management, AI, personalization, customer journey, CDP, and integration capabilities across retail, healthcare, manufacturing, and financial verticals. Gartner spotlights Salesforce's market penetration, 100% SaaS model, extensive partner ecosystem, App Exchange marketplace, and developer community as being among its most notable strengths.
In this year's report, Liferay has moved from a Leader to a Challenger. Its DXP, the Liferay Digital Experience Platform, is available as a PaaS and an on-premises platform and is equipped with experience, content, and analytics management tools for B2B, B2C, and B2E use cases. The company is especially appealing to enterprise IT buyers, as it offers a robust developer toolset and pure-play portal heritage. Other strengths include its extensibility, applications development, relatively low cost of ownership, and open-source nature of its software.
OpenText also maintains its position in the report with its Experience Platform, which is offered on-premises, on a private cloud through OpenText Private Cloud, as a fully managed service, and on the public cloud via Microsoft Azure, Google Cloud, and Amazon Web Services. According to the report, its strengths as a DXP vendor include its expertise in highly regulated industries and its ability to help companies create a unified information strategy that encompasses DXP, document management, content services, customer communications management, and content collaboration.
Oracle offers a DXP solution via its Oracle Advertising and Customer Experience (CX) product, including analytics, security, content management, AI, marketing, advertising, sales, and service tools. The company has an extensive global presence and partner ecosystem, which adds to its well-rounded functionalities and scalable pricing and packaging models, making Oracle a reliable vendor for growing companies to align themselves with.
HCL Software is the final Challenger in this year's report. Its DXP solution, the HCL Digital Experience (DX), is part of its wider HCL CX portfolio and includes core capabilities like DAM, security, access controls, low-code application development, and content management. Gartner's report says HCL's DXP is well suited for complex global deployment, and its strengths include improved cloud capabilities and the broad range of industries it functions in.
---
---
Niche Players
Crownpeak is the top Niche Player in the report. Its DXP offers content management, orchestration, and presentation capabilities alongside additional compliance, governance, security, and consent management features. It operates primarily within B2C and B2B use cases and has bolstered its European presence by acquiring e-Spirit in March 2021. While Gartner notes that Crownpeak's functionalities cover less of the DXP technology landscape than more prominent vendors, its easy-to-use interface and AI-powered personalization tools help it maintain its position as a Niche Player in the category
CoreMedia offers its Content Cloud Solution in several formats, including a vendor-managed PaaS, self-managed version, on-premises, or in a public cloud. Clients usually use CoreMedia's DXP functions in B2C, B2B, and B2B2C use cases, mainly if they include digital commerce experience support. According to the report, CoreMedia's strengths stem from its ability to support global multi-site operations, its comprehensive localization capabilities, and the integrations it provides.
Kentico's Xperience solution includes a range of capabilities, including marketing automation, B2B commerce tools, and personalization functionalities. While Gartner says its functionalities are less developed than other vendors in the DXP marketplace, the company's focus on midmarket organizations means it remains an appealing option for users looking to avoid the complexities of more comprehensive solutions. Its strengths include a flexible, easy-to-navigate pricing model and its straightforward deployment process.
Progress is the first new entrant in the 2022 iterator of Gartner's Digital Experience Platform reports. The company's DXP product, Sitefinity DX, is also a WCM product, which means its outfitted with complementary features like optimization tools, decisioning, business process management, forms, configurable conversational interface, and more. Gartner's report spotlights Sitefinity DXP's strengths as being its straightforward, scalable pricing model, easy-to-use interface, low-code features, and natively built components for conversational interfaces.
Squiz rounds out the Niche Player quadrant with a DXP available as an on-premises solution and SaaS. The company primarily works with mid-size organizations in utilities, government, and higher education markets and can be used across B2C, B2E, and B2B use cases. While Gartner notes that its capabilities aren't as sophisticated as some of its peers, Squiz is well-regarded for its modular product suite, low TCO, short learning curve, and a short time to value.
Visionaries
Bloomreach's DXP, Bloomreach Experience Cloud, focuses on personalization, content management, search, and merchandising functionalities for B2C use cases in retail, banking, and travel, and B2B for manufacturing. It features a growing partner ecosystem that helps expand its global reach and has refined its product into three "pillars" encompassing engagement, content, and discovery. These features, alongside its new CDP features from its acquisition of Exponea in 2021, make it a modular solution for companies looking to build out a DXP solution gradually.
Magnolia is the final vendor in Gartner's report. Its core capabilities are content management, search, personalization tools, and campaign management. It is primarily used by mid-size to large organizations across various industry verticals, and B2C and B2B use cases. Magnolia's DXP is well-regarded for its easy-to-use interface, flexible PaaS infrastructure, and extensible features built from "best-of-breed" components. Due to its "lean" approach to DXP, Magnolia might not be the best choice for larger companies looking for a fully-featured platform. However, the scalability it offers can also be a significant bonus for growing companies.
---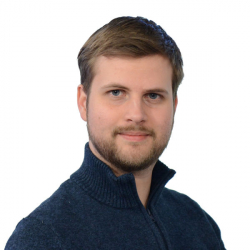 Latest posts by William Jepma
(see all)