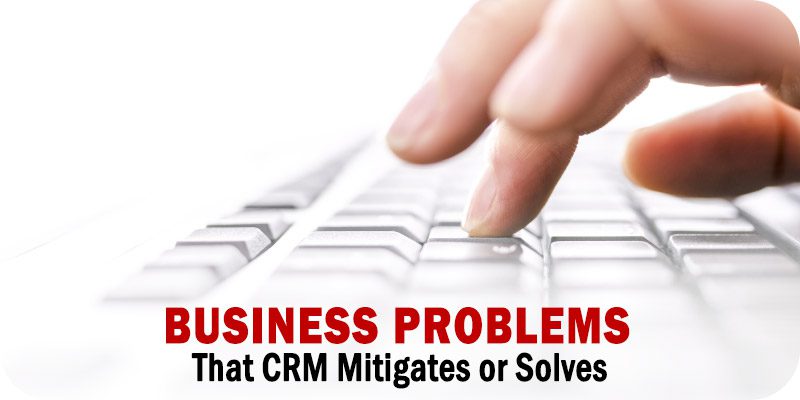 The editors at Solutions Review have highlighted some of the most significant problems a CRM solution can solve, how it solves them, and why organizations should take notice.
There are so many different benefits to implementing a CRM system. No matter the size of your business or the industry you operate in, a CRM solution is an excellent tool for boosting sales and marketing productivity. But business leaders want to know the specifics. What issues can CRM address? What existing problems can CRM help mitigate or (ideally) solve? If your company is struggling with handling various business functions, or you're simply looking to learn more about CRM, here are nine business problems CRM solves.
The Business Problems that CRM Solves or Mitigates
---
Messy, Decentralized Data
One of the biggest challenges businesses can face is dealing with messy, haphazardly organized data. This can become a much more serious issue when looking for essential sales information but looking through various documents, charts, and spreadsheets. A CRM solution will centralize all your data and make it easier for you to find what you need precisely when you need it.
Irregular Workflows
Having a CRM solution means you can standardize various tasks and assignment workflows. When every employee knows how they should proceed with specific tasks and knows how to enter detailed data into the system, it allows for less confusion and increased productivity. When employees know what to expect from each other and their CRM, their work will go much smoother.
Lackluster Customer Service
Providing quality customer service without service-oriented tools and features can be challenging. Luckily, many CRM solutions offer a variety of service functionalities. This includes customer ticketing, built-in phone and messaging, conversational bots, customer journey management, and more. Many CRMs are developed with specific needs or industries in mind, so it's easy to find solutions heavily focused on customer service.
Inaccurate Sales Forecasting
One of the most significant ways CRM can help your business is by consolidating data gathered from various sources and using that data to predict future sales. For example, a CRM can analyze past sales trends and habits, predict achievable sales revenue, and help your business plan for future growth. This is a vital feature for all businesses at the enterprise level.
Low Remote Work Productivity
With cloud-based CRM solutions, it's much easier for employees to work from home or access documents while away on business trips. They need a laptop and internet access. It's also become increasingly popular for CRM vendors to offer mobile solutions that take advantage of mobile features such as GPS and cameras. This also means employees can be productive with a single mobile device instead of bringing a laptop.
Lacking Social Insights
As a business, being present on and aware of social media is essential. Look no further if your organization has been struggling to find appropriate tools to monitor the social scene. CRM solutions come with various features dedicated to social media management and marketing. You can schedule posts, access analytics, monitor your competitors, and more. Depending on your individual needs, you can find a solution that focuses heavily on social capabilities instead of sales or customer service.
Bad Customer Communication
CRM is a great way to improve communication with leads, clients, and potential customers. You can call, message, or email your contacts from a single location. Easily access a log of all your previous interactions with that contact, or access a customer's existing purchase history to address any of their questions or concerns. Many CRMs will also let you respond through social media messaging systems.
Little to No Sales and Marketing Collaboration
Because CRM centralizes different processes and data, it's a great way to encourage or improve communication between your marketing and sales teams. Without the marketing team, sales wouldn't have anyone to follow up with. Without the sales team, marketing doesn't have a clear goal. They're strongly connected but are often entirely separate from each other in a business setting. With CRM, communication and sharing of information can become more accessible.
Lackluster Reporting
Your CRM can provide real-time reports based on your sales and marketing data. Many solutions also allow you to create custom reports with charts, graphs, and other visual aids. This is particularly helpful for users who have frequent meetings. With CRM, you can easily and quickly create professional-looking, meeting-ready reports based on up-to-date data.
---
---