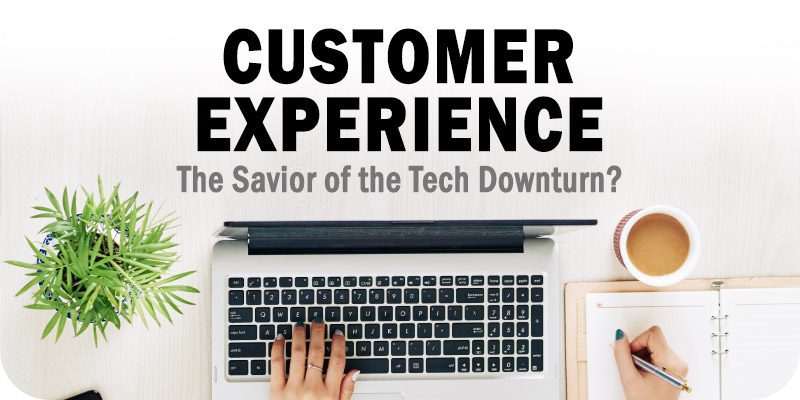 As part of Solutions Review's Expert Insights Series—a collection of contributed articles written by industry experts in enterprise software categories—Alfred "Chip" Kahn IV, the founder and CEO of OvationCXM, explains how prioritizing the customer experience can help companies manage the "tech downturn."
Since last January, tech giants like Alphabet, Microsoft, Meta, Amazon, and Apple have lost over $7 trillion in the market. It's impossible to scroll through the morning news without seeing a new headline featuring another company announcing layoffs, staff reductions, cutting employment-enticement efforts, and complete dissolution of internal departments. 
As these giants start to tumble, where does that leave users and customers of well-known tech and social media mainstays? Will customers and their experiences continue to be a priority through this period of instability? Or will they be accidentally forgotten by companies trying to keep the ground as steady as possible with fewer employees and tighter wallets? 
As we advance into 2023 and at least another couple of years that follow, there will be tension as companies tighten belts in anticipation of another year of economic headwinds while still responding to the ongoing pressure to transform and innovate in ways customers are demanding. Even though research from executive leaders repeatedly confirms customer experience (CX) as a top priority, the reality is that 70 percent of IT spending just keeps the lights on. Companies must figure out how to keep growing and innovating, nonetheless. 
Operational changes will be inevitable, but the question remains whether these companies can maintain their brand's reputation and customer centricity to stay relevant. Businesses cannot afford a decrease in the quality of their customer experience. Tech entities of all sizes have achieved great success in the past precisely because they found opportunity gaps in goods or services customers needed or wanted (and sometimes didn't even know they did!). These titans have won by leading with bold innovation and customer obsession, and that can't be pushed to the wayside now if they are to survive and come out stronger post-downturn.  
This is true not only of the engagement layer but through to the systems and back-office processes that power user experience. Users look for convenience but also security and reliability. If a company cannot meet these basic tasks with a quick response, it should not expect long-term stability, much less growth. So, how does a tech company do more with fewer resources while continually focusing on the customer?  
For decades, companies have invested in many tools to become "digital-first" as customer expectations increase. But, as more devices have been purchased and added, complexity within company tech stacks has also increased. Typically, significant changes to tools (whether adding new or updating existing ones) require a re-engineering of the IT infrastructure, starting with legacy system updates or even ripping out older tools and replacing them with something new. All those systems have a downstream effect, not just on other internal systems but also on ecosystem partners. It adds to very long timelines, high IT team involvement, massive implementation budgets, disruption to internal teams, and impacts the customers.  
All of the headaches mentioned above impact the customer experience. While complex tech stacks have provided companies the ability to offer better digital interfaces, none of the systems properly connect. Hence, the customer's holistic journey and experience can't receive the proper focus and attention. The toggling between systems, pinging partners for more information, and lack of streamlined communication are felt not only within company teams and departments but by the customer.
However, properly connecting systems to allow customer and third-party partner information to flow from one tool to another has historically cost millions of dollars and taken years of IT resources to build. These expensive projects necessary to remain customer-centric may be particularly out of reach during economic uncertainty. As businesses fail to unite their disparate silos within their partner ecosystem, software developers are creating a new industry to alleviate these costs by providing low-to-no-code software to connect customer interaction data (from internal tools and partner ecosystems) into a singular central hub.
To create a unified customer journey, companies need to find a way to develop proper communication internally and externally to prevent the loss of the company's most important asset—existing loyal customers. Organized customer journeys across products and cohorts on a single platform can help teams better identify problems and guide customers in the critical moments that matter while they are in the middle of an organization's buying, activation, or servicing journey.  
As companies find themselves at a crossroads where they must do more with less (fewer people, less money, etc.), new AI-backed customer experience platforms can drive outsized business outcomes in weeks versus months to quarters. IT departments can immediately augment and drive change by utilizing new customer experience platforms as their technology and partner ecosystem aggregator. They can also eliminate wasted dollars and months on making simple changes. Customers remain at the center and heart of the company's focus—driving better customer experiences in the moments that matter, in real-time. 
Tech companies have a lot of pressure on their shoulders to "do more with less" to match output with that of last January. But, with the emergence of new AI-backed ecosystem technology, there is a new wave of tools that can augment limited resources, maximize the capabilities of their existing devices, enhance third-party partner collaboration, and keep the customer at the center of their focus. This next year will be a pivotal time for companies to find solid ground, protect their reputation and hold onto their customer base, lest they join the growing list of lost and forgotten tech companies of the Wayback Machine.
---