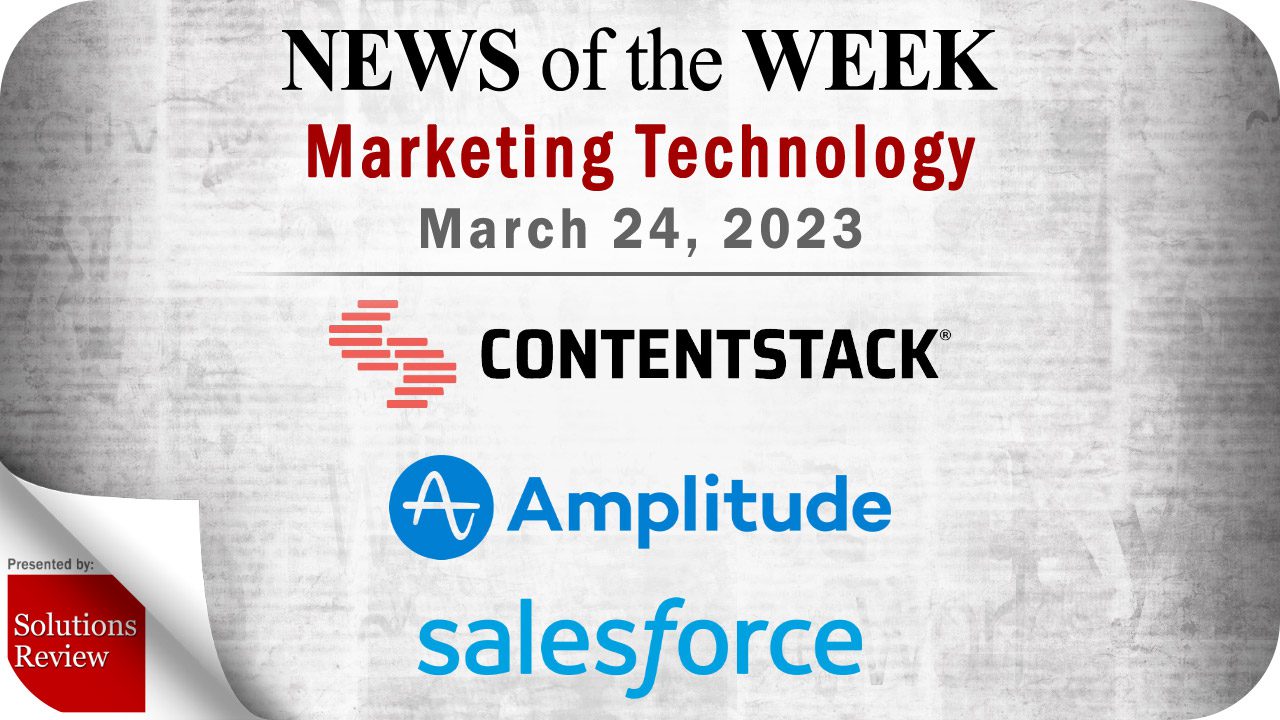 The editors at Solutions Review have curated this list of the most noteworthy MarTech news from the week of March 24th. This round-up covers announcements and updates from companies like Contentstack, Amplitude, Salesforce, and more.
Keeping tabs on the most relevant CRM and MarTech news can be time-consuming. As a result, our editorial team aims to summarize the week's top headlines in the marketing technology landscape. The Solutions Review editors will compile a weekly round-up of vendor product news, mergers and acquisitions, venture capital funding, talent acquisition, and other noteworthy MarTech news. With that in mind, here is some of the top MarTech news from March 24th.
Our
Free CRM Buyer's Guide
 helps you evaluate the best solution for your use case and profiles leading providers in the marketplace.
Top MarTech News From the Week of March 24th, 2023
---
Amplitude, a digital analytics platform provider, has announced an expanded suite of product features for Amplitude Experiment, its experimentation solution offering. The Amplitude Experiment platform is built on Amplitude's Digital Analytics Platform. It is natively integrated with Amplitude Analytics to help data leaders unite their analytics, experimentation, and program management capabilities to scale their experimentation programs. Capabilities include tools for building formula-based metrics, data quality checklists, Controlled-experiment Using Pre-existing Data (CUPED), and creating subsets of users for experimentation projects.
---
Contentstack, a Composable Digital Experience provider (DXP), has announced an OpenAI ChatGPT integration for its content management system (CMS). The new integration will help content editors and publishers create summaries, outlines, descriptions, metadata tags, headlines, and full-length keyword-optimized blogs in a few clicks with the help of an AI assistant. The integration is scheduled to be generally available later in Spring 2023, but existing Contentstack customers can sign-up to gain access through the company's Early Access program.
---
Demandlab, a global B2B digital marketing agency, has released Insentric, a new marketing intelligence platform. The platform is a revenue attribution solution designed to help enterprises and Fortune 2000 B2B marketers measure and demonstrate their impact on company revenue. Insentric is implemented as a Platform-as-a-Service (PaaS), providing users with data insights, automation, and attribution tools. It can help marketers transform and align their marketing data and unlock valuable insights into revenue attribution, campaign timing, budgeting, channel performance, and more.
---
Analyst house Gartner, Inc. recently released the 2023 version of its Magic Quadrant for Digital Experience Platforms, identifying fourteen leading providers of Digital Experience Platforms. The analysts on the report—Irina Guseva, John Field, Jim Murphy, and Mike Lowndes—also evaluated each listed vendor's strengths and weaknesses and ranked them on the signature "Magic Quadrant" graph.
---
One AI, a generative AI platform, has announced details on its new AI solution for CRM companies and enterprise customers. With its new solution, One AI can help CRM companies and customers detect customer sentiments, summarize conversations, automate follow-up reminders, and improve their business's operational and analytical aspects. The solution will also equip organizations with a complete over of customer journeys and advanced AI tools for tracking marketing opportunities, boosting response times, improving data integrating, automating tasks, and more.
---
ON24, a digital engagement platform provider, has announced a new partnership with LeapPoint, a digital advisory firm, to help companies develop and execute digital-first go-to-market strategies powered by ON24 and Adobe Experience Cloud technologies. ON24 will build on its integration with Adobe Marketo with additional support and services for implementing Adove integrations. It will also showcase its joint offerings with LeapPoint at the Adobe Summit event, so companies can see firsthand how these strategies can improve their sales and marketing operations.
---
Salesforce has revealed several new Commerce Cloud innovations to help companies across industries improve how they connect with customers via personalized experiences. Included in these updates is Einstein GPT for Commerce, which combines real-time data with generative AI to provide improved purchasing recommendations that personalize the shopping experience. Additional updates include a new page designer for Composable Storefront to help merchants and marketers create unique commerce experiences on headless sites.
---
Zendesk has announced a five-year strategic collaboration agreement (SCA) with Amazon Web Services (AWS) to help businesses deliver personalized customer experiences at scale. The strategic collaboration will use AI-powered tools, analytics, and bots to help businesses provide customers with faster conversational experiences across channels, build secure chatbots on reliable cloud architecture, personalize interactions, and use AI-based tools to help agents analyze customer emotions and respond to questions faster.
---
Expert Insights Section
---
Watch this space each week as the Solutions Review editors will use it to share new articles from the Expert Insights Series, Contributed Shorts videos, Expert Roundtable videos, event replays, and other curated content to help you gain a forward-thinking analysis and remain on-trend with changing industry expectations. All to meet the demand for what its editors do best: bring industry experts together to publish the web's leading insights for enterprise technology practitioners.
---
As part of Solutions Review's Expert Insights Series, Steve Martin, the CMO of Act!, outlines how the right technology stack can help businesses navigate economic uncertainty. In his article, he explains how technology can play a significant role in reducing marketing costs, increasing customer retention, leveraging data, and staying flexible amidst economic uncertainties.
---
As part of Solutions Review's Expert Insights Series, John Stamos, Principal at Alexander Group, explains how companies can drive profitable growth by developing and executing an expansion strategy. His article delves into relevant subjects around upselling, cross-selling, expansion plays, and multiple tactics for driving sales success.
---
For consideration in future news round-ups, send your announcements to wjepma@solutionsreview.com.
---