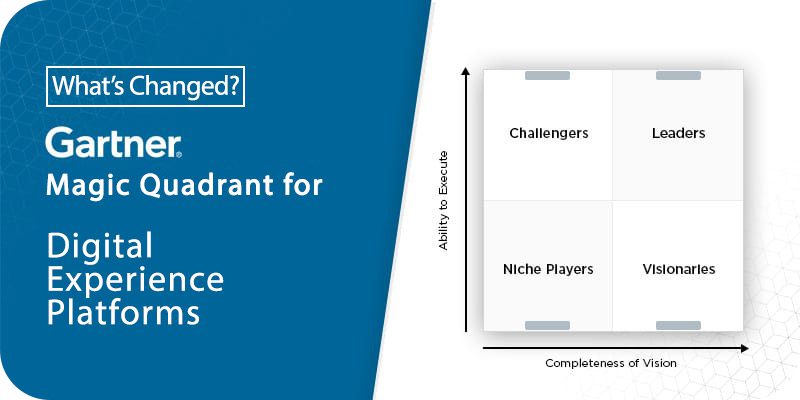 The editors at Solutions Review highlight and summarize the key takeaways and updates in the 2023 iteration of Gartner's Magic Quadrant for Digital Experience Platforms.
Analyst house Gartner, Inc. recently released the 2023 version of its Magic Quadrant for Digital Experience Platforms. Digital Experience Platforms (DXP) include technologies designed to support organizations by digitizing aspects of their business to provide better customer experiences. These technologies have evolved from CMS, WCM, portal servers, and commerce servers.
According to Gartner, the core capabilities of a DXP solution are provided natively or via integration and include analytics, content management, personalization tools, customer journey mapping, knowledge sharing, artificial intelligence (AI), customer data management, access control, cloud capabilities, multi-experience support, and more. Gartner also lists some optional capabilities that DXP platforms sometimes have, including low-code application development, form-based apps, digital asset management (DAM), CRM, customer service, marketing resource management, payment gateways, and more.
In this Magic Quadrant, Gartner identifies what it considers to be some of the most significant providers in the Digital Experience Platform marketplace. The analysts on the report—Irina Guseva, John Field, Jim Murphy, and Mike Lowndes—also evaluate each listed vendor's strengths and weaknesses and rank them on the signature "Magic Quadrant" graph. The chart is divided into four quadrants: leaders, challengers, niche players, and visionaries. You can find our summary of the 2022 report here.
What's Changed: 2023 Gartner Magic Quadrant for Digital Experience Platforms
---
To qualify for Gartner's report, each DXP vendor met specific criteria. These include generating at least $17 million in revenue with 5 percent year-over-year revenue growth in the 12 months leading up to June 2022, having been on the market since June 2020 at the earliest, maintaining an active ecosystem around its DXP solution, and more. The vendors must also provide their DXP product as a cohesive and integrated product under one name, support B2C and B2B environments, and align with the core capabilities listed above.
A breakdown of each category and the companies associated with it is below.
Leaders
Adobe kicks off the Leader category with Adobe Experience Cloud, a DXP with content management, personalization, customer journeys, analytics, and customer data management capabilities. Its platform applies to companies of various sizes and across industries and is available as a managed service for PaaS and SaaS. Gartner spotlights its functionalities for external consumer-facing use cases, its reliable brand identity, and its extensive ecosystem of systems integrators, creative agencies, marketing, and advertising agencies as its most notable strengths.
Optimizely provides a DXP with content management, analytics, personalization tools, and customer data management capabilities for B2B and B2C organizations. The platform is a subscription-based hybrid cloud solution that employs SaaS components, and management UIs orchestrated from a single-tenant PaaS. Strengths include its diverse digital experience capabilities and its simple, scalable, modular, and transporting pricing packages, which are well-regarded by customers and prospects.
Acquia's DXP consists of the Acquia Marketing Cloud and Acquia Drupal Cloud, which are available as a PaaS with some components available as SaaS. Companies in B2C and B2B environments will benefit from Acquia's content management, customer experience, analytics, personalization, customer journey management, and customer data platform offerings. Notable features include its support for intranet and employee portal use cases, uncommon in DXP vendor offerings, and the Site Factory toolset that helps users coordinate and scale deployment. Gartner also spotlights the synergy Acquia has developed between its product innovations and acquisitions.
Sitecore's DXP offering includes three "cloud" solutions; all organized around common use cases. They include the Sitecore Content Cloud, Commerce Cloud, and Engagement Cloud products. The Sitecore Experience Platform (XP) compiles those products in an on-premises or PaaS offering. Its standout qualities as a DXP provider include its support for customers building iteratively rather than all at once, its investments in new site templates, and its support, guidance, and customer success services.
Challengers
HCLSoftware is a Challenger in this year's Magic Quadrant. Its DXP solution, HCL Digital Experience (DX), is included in its broader HCL Customer Experience (CX) product portfolio and is primarily used in large enterprises operating in B2B, B2C, and B2E use cases. While its pricing is higher than other vendors, Gartner notes that the provider is well-regarded for its functionalities for B2E clients, security and governance capabilities, and framework for building custom DXP solutions.
OpenText's DXP is the OpenText Experience Platform, which provides content management, optimization, analytics, personalization, and digital asset management (DAM) capabilities to its primarily B2C-centric clientele. Its solution is offered on-premises or as a hosted product on the public cloud via Microsoft Azure, Google Cloud Platform, or Amazon Web Services. Its differentiating features include its support of highly regulated industries, its extensible technology framework, and its support for broader information management strategies.
Niche Players
Crownpeak kicks off the Niche Player category with the Crownpeak Digital Experience Platform, often used in B2B and B2C use cases. Capabilities include content management, orchestration, and presentation, with adjacent functionalities for consent management, governance, compliance, and security. While Gartner notes that Crownpeak's presence in the DXP landscape is smaller than some of its competitors, its AI-powered capabilities, product and go-to-market strategies, and integrations that plug natively into the UI help it stand out in the market.
Liferay's DXP, the Liferay Experience Cloud, equips businesses in B2B, B2C, and B2E markets with experience management, personalization, analytics, and content management capabilities. It's best known for its subscription license, giving peace of mind to prospective customers worried about costs, and its extensive architecture, which is valuable to clients whose business skirts the line between traditional B2C experiences and implementations that involve heavier integrations and application development.
CoreMedia is next on Gartner's list with CoreMedia Content Cloud, a DXP outfitted with content management, integration capabilities, and interoperability services. It's available to clients as a vendor-managed PaaS or a self-managed platform on-premises in a public cloud. Despite a narrow go-to-market strategy and outdated UI elements, CoreMedia earns its place on this year's Magic Quadrant with its support for global multi-site operations, comprehensive support for globalization services (i.e., internationalization, translation, localization), and a lean-but-wide collection of integrations.
Kentico offers two DXP options to clients. The first, Kentico Xperience 13, was launched in 2020 and is available as a PaaS with a managed service option. Its newer DXP is Xperience by Kentico, which debuted in July 2022 as a "successor" to Xperience 13. The new DXP is a self-managed SaaS and provides businesses with content management, digital commerce, marketing automation, and other capabilities for B2B, B2C, and B2E use cases. Strengths include its ease of use, easy deployment, and approach to innovation, leading to a more unified, cohesive platform than some of its DXP contemporaries.
Progress is the next Niche Player in Gartner's report. The core of its DXP, Sitefinity DX, is a WCM product complemented by Sitefinity Insight, which offers personalization and optimization tools, and Corticon, which brings decisioning, forms, and business process management capabilities. The platform is available on-premises or as a fully managed PaaS. Its notable features include its ease of use for marketers and a new business unit focused on improving digital experience management efforts across content, design, and development projects.
Squiz rounds out the Niche Player category with a DXP equipped with content management, personalization, search, data management, and integration functionalities for B2C, B2E, and B2B companies. Its platform can be implemented on-premises or as a SaaS. Gartner highlights its strengths as being its experience accelerators, prebuilt integration recipes, and support for the government and higher education industries. 
Visionaries
Bloomreach is the first Visionary listed in the report (and almost borders on the Leader category) with the Bloomreach Commerce Experience Cloud. This modular DXP solution comprises a Content, Discovery, and Engagement solution with capabilities for search, merchandising, content management, personalization, analytics, and a customer data platform. Notable characteristics include its headless CMS, strong growth rates, and customer data management and personalization functionalities.
Magnolia's DXP closes out this year's Magic Quadrant for Digital Experience Platforms with a solution equipped with content management, personalization, and search features. The platform is available on-premises or as a PaaS offering in a public or private cloud. While the platform has a narrower focus than other vendors, Magnolia's embrace of the composable approach, support for headless front-end applications, and growing partnerships make it a company worth paying attention to in the marketplace.
---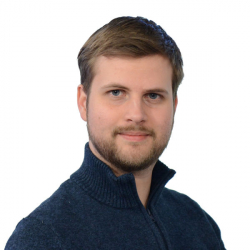 Latest posts by William Jepma
(see all)