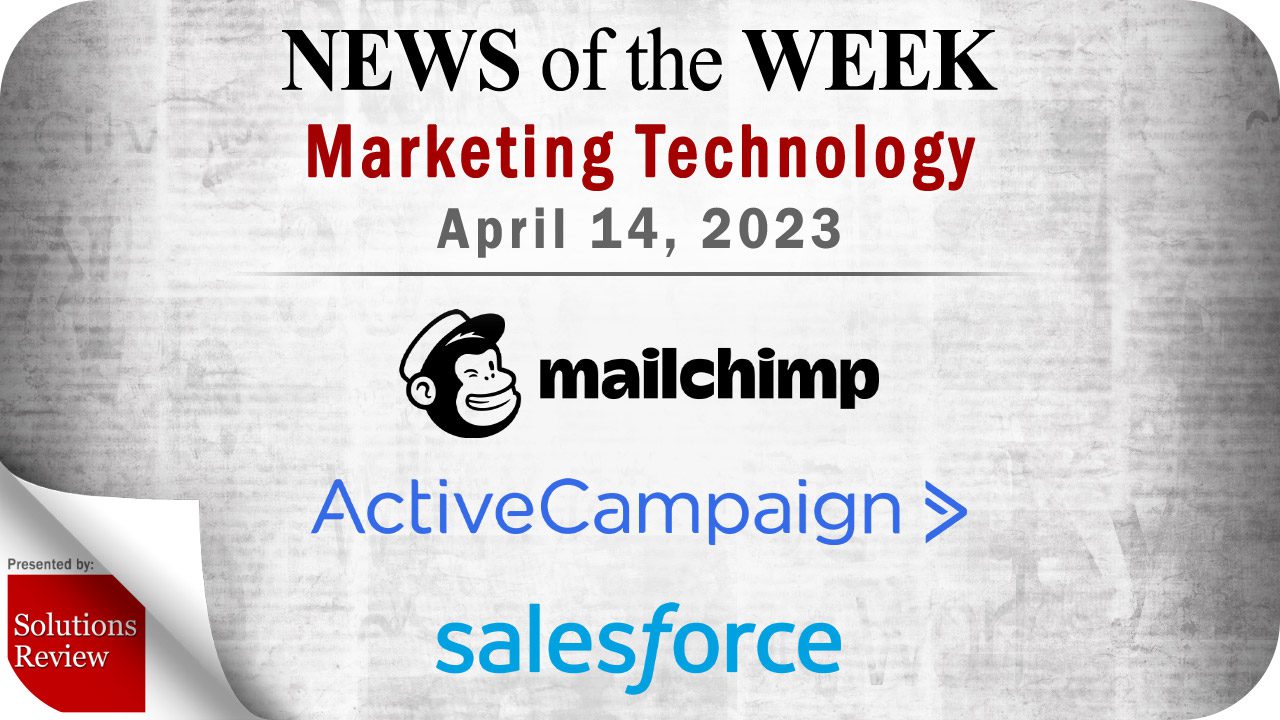 The editors at Solutions Review have curated this list of the most noteworthy MarTech news from the week of April 14th. This round-up covers announcements and updates from companies like Intuit Mailchimp, ActiveCampaign, Salesforce, and more.
Keeping tabs on the most relevant CRM and MarTech news can be time-consuming. As a result, our editorial team aims to summarize the week's top headlines in the marketing technology landscape. The Solutions Review editors will compile a weekly round-up of vendor product news, mergers and acquisitions, venture capital funding, talent acquisition, and other noteworthy MarTech news. With that in mind, here is some of the top MarTech news from April 14th.
Our
Free CRM Buyer's Guide
 helps you evaluate the best solution for your use case and profiles leading providers in the marketplace.
Top MarTech News From the Week of April 14th, 2023
---
Acquia and KPMG have announced a strategic alliance to deliver the Acquia Open Digital Experience Platform (Acquia DXP) to enterprise customers across various industries. With the new alliance, KPMG's Customer Advisory team will provide services that tailor Acquia DXP's capabilities to clients' needs. Acquia DXP comes packaged with other foundational products, including an open-source content management system, a customer data platform, digital asset management, and personalization tools to help users understand customer behavior in real-time.
---
ActiveCampaign—a marketing automation, email marketing, and CRM solution provider—is expanding its presence in the Latin America market with a new "hub" in San José, Costa Rica, and aims to have one-hundred employees in the new site within twelve months. Once active, the site will provide local, on-site resources and improved Spanish-speaking support to regional customers. The hub, alongside existing offices in Brazil and Colombia, demonstrates ActiveCampaign's continued investment in the LATAM market.
---
Affinity, a relationship intelligence platform, has launched Affinity for Salesforce on Salesforce AppExchange to help customers find, manage, and close deals with insights direct from Salesforce. Affinity for Salesforce can automatically generate contacts, enrich records, create relationship insights, and deliver them to dealmakers directly with Salesforce Sales Cloud. Additional benefits include automated record creation, dealmaking workflows, relationship data insights, and more.
---
Intuit Mailchimp, a global provider of email marketing and automation solutions, has launched the beta of Email Content Generator. This new tool provides customers with GPT AI technology to help them create marketing email campaigns based on industry, marketing intent, and brand voice. The Email Content Generator is part of Mailchimp's suite of AI-powered features. This latest release represents the latest step in its goal to improve small and mid-size businesses' email marketing efforts.
---
Khoros, a digital-first customer engagement software, has announced a new partnership with Cerby, a cybersecurity solution provider that helps companies maintain identity and security standards. The partnership will allow companies to launch, manage, and analyze their social media profiles quickly and securely from within the Khoros platform. Additionally, Cerby will bring advanced security features, like Single Sign-On (SSO), directly into social and ad accounts for Khoros and Cerby customers. Cerby will also be available as an added for Khoros customers in July 2023.
---
NetHunt CRM, sales automation built inside Gmail, has announced that it's expanding its integrations suite with direct integrations for WhatsApp and Instagram. With the new integrations, NetHunt CRM users no longer need to switch between multiple apps when communicating with leads and clients. Instead, all chats from different channels can be managed from the CRM interface. The integrations can also help users link conversations to customer records, share access to specific communications with team members, create customer records in the CRM from chats, and more.
---
Salesforce recently introduced new Education Cloud innovations at the 2023 Education Summit in Dallas, Texas. The latest innovations will help educational institutions quickly develop and deliver personalized experiences, drive better outcomes, and create lasting relationships with their students. With the updated Education Cloud platform, institutions can achieve faster time to value, maximize the impact of their faculty, impress prospective students with personalized experiences, capture real-time insights, and use intelligent prospecting tools to group prospective students based on shared interests.
---
Slingshot, a digital workplace solution from Infragistics, has announced the Data Catalog, a new solution to help everyday business users see what data their company has, analyze it, generate visual snapshots of their work, and use those insights to make informed business decisions. With Data Catalog, companies can streamline bringing their data sources together, making it easier for users to track performance, processes, people, and profitability across departments, platforms, and channels.
---
Zendesk recently announced a new collaboration with OpenAI, an AI research and deployment company. The partnership will help create and launch new capabilities that expand on Zendesk's proprietary foundational models with OpenAl's capabilities. The new capabilities include automatic content summarization to help agents resolve service tickets faster, streamlined ticket responses, an extensive ticket response system, and the tools to deliver intelligent answers to customer questions that don't require coding or model building.
---
Expert Insights Section
---
Watch this space each week as the Solutions Review editors will use it to share new articles from the Expert Insights Series, Contributed Shorts videos, Expert Roundtable videos, event replays, and other curated content to help you gain a forward-thinking analysis and remain on-trend with changing industry expectations. All to meet the demand for what its editors do best: bring industry experts together to publish the web's leading insights for enterprise technology practitioners.
---
Power Your Personalization with a Better Customer Engagement Platform, by Jeremy Swift of Cordial
As part of Solutions Review's Expert Insights Series, Jeremy Swift, the founder and CEO of Cordial, explains how companies can use a customer engagement platform to power their personalization efforts. In his article, Swoft explains why marketers miss consumer expectations, what customers want from the companies they communicate with, and how customer engagement platforms can help.
---
Selecting the right sales CRM software solution is easier said than done, especially for small and medium-sized businesses, where budget and functionalities are significant factors. To help with that process, the Solutions Review editors have compiled a rundown of the sales and CRM features available on Pipedrive, a top-rated customer relationship management (CRM) solution for sales professionals and small-to-mid-sized businesses.
---
For consideration in future news round-ups, send your announcements to wjepma@solutionsreview.com.
---