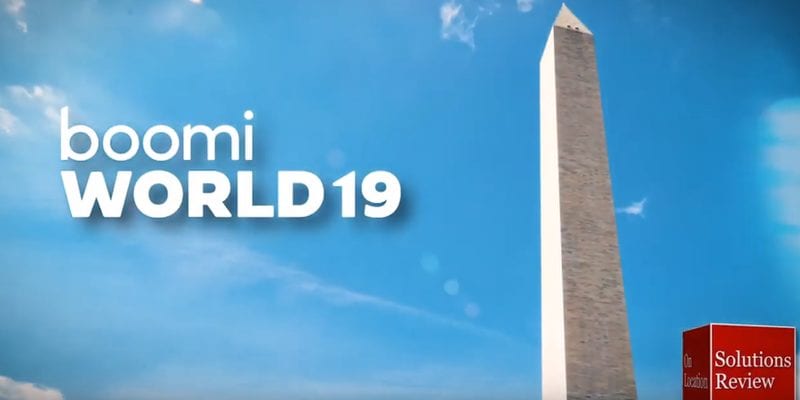 Solutions Review just finished up our two-day coverage of Boomi World 2019, Dell Boomi's annual user conference. While we were live on the ground in Washington, DC, we spoke with Boomi customers and partners, as well as some of the company's top brass about cloud data integration, data management and much more. Boomi also made several product announcements of note pertaining to its flagship Integration Platform as a Service offering.
We discussed a wide variety of topics with Boomi's executive team, including the broad move to the cloud in the enterprise, as well as what kinds of use cases they are seeing most commonly amongst their customer base. We also asked them about what the future holds for big data and cloud integration as the marketplace continues to evolve. We hope these interviews help you to learn as much as we did about the present and future of the space.
Check out the full interviews below.
Ed Macosky is Boomi's Senior Vice President of Product and Solutions. He talked with us about the company is trying to move beyond its recognition as just an integration company to one that helps enterprises hasten the time it takes to generate business outcomes.
Div Manickam is the Director of Portfolio Messaging at Boomi. She talked to us about how Boomi is taking a new approach to marketing, one that considers the buyer's persona. Manickam also described how she is assisting Boomi's product marketing department in vertical-specific messaging.
Ranjana Haridas is the Principle Product Marketing Manager at Boomi (and repeat Boomi World interviewee). She told us a bit about her new role since we last spoke, and how Boomi is taking a more platform-centric approach when trying to help customers with their data integration challenges.
Myles Suer is Boomi's Head of Global Enterprise Marketing and #CIOChat facilitator. He spoke to us about digital transformation and how organizations need to really break down their end-goals before embarking on overarching technology modernization initiatives.
Rajesh Raheja is the Senior Vice President of Engineering at Boomi. He described what he and his team are working on to help Boomi customers, and how their innovations can assist enterprises that are undergoing a major move to the cloud right now.
Andrew Hawthorn is Boomi's Senior Consultant for Solution Marketing. He shared some things to consider when evaluating, purchasing and deploying data integration solutions like Boomi.
Michelle Wideman is the Chief Customer Success Officer at Boomi. She talked to us about some of the metrics Boomi uses to track customer success, as well as how the company is on the cutting edge in terms of support. We found it interesting that Boomi's customer success team is involved from the beginning (sales) all the way through implementation and maintenance of the platform.
Mandy Dhaliwal is Boomi's Chief Marketing Officer. She spoke to us about some of the company's new branding efforts, as well as Boomi's leader tag in Gartner's Magic Quadrant six year's running. Dhaliwal also explained how use cases like IoT are quickly becoming a big driver for the Boomi platform.
Thameem Khan is the Director of Product Strategy at Boomi. He told us about the process he and his team uses to ensure that Boomi's product roadmap falls in line with what enterprises customers are seeking. Khan also explained how market research and enterprise demand are driving Boomi's R&D.
Subscribe to our YouTube channel for more.