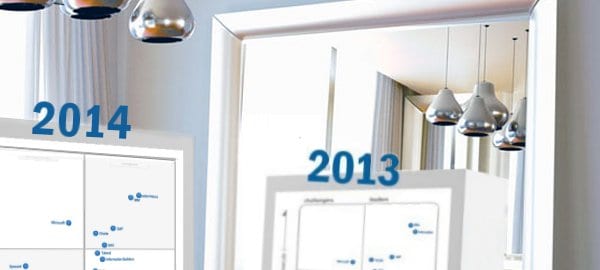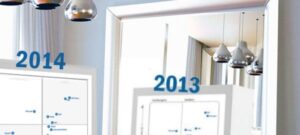 If you follow Data Integration, then you probably already know that Gartner has released its 2014 Magic Quadrant for Data Integration Tools. It's a fairly long document and like most people, you won't have the time to thoroughly read it. So here's a bit of advice: If you still have last year's report, then just skim it . . . Not that much has changed. Below is a brief review that summarizes the few changes in the Gartner Magic Quadrant for Data Integration Tools between 2013 and 2014.
If you look at the Gartner Magic Quadrant, you can see that Informatica is now positioned at the upper-right most spot in the Gartner Magic Quadrant ("Leaders"), by overtaking IBM in "ability to execute", making them the outright leader in both execution and vision in the data integration space. Informatica is a company striving to create broader solutions and has launched or will be launching more comprehensive offerings with a breadth of functionality and usage in the near future. https://solutionsreview.com/data-integration/informatica-new-tools-and-platforms-the-future-is-looking-broader/
In the upper-left quadrant ("Challengers") Microsoft made a move up in its "ability to execute" passing incumbents Oracle and SAP. This is largely due to some key factors. First, their aligned support of data and process-oriented integration which offers access to almost any commercially available relational database sources and targets making them extremely flexible. Second, their user-friendly interface design allows users to grasp it quickly enhancing productivity and time to value.
Check Out this Free 2014 Data Integration Tools and Software Buyers Guide
The Market Overview
Included each year in Gartner's Magic Quadrant report is a market overview that describes the current landscape of the industry. Let's compare 2013 to 2014 to give us an understanding of what has changed in Gartner's eyes over the last year.
In the 2013, Gartner's view of the market:
there was a demand for the flexibility of their information infrastructure to capitalize on new challenges in driving a renewed vision and focus among providers
an increasing desire in organizations to reduce the number of tactical data integration tools with chosen enterprise standard
an increasing demand for real-time data delivery and service oriented data integration
a demand in synergy for application and data integration and data management
an uptick in the reusability of tools for broad applications
In the 2014, Gartner's view of the market:
Frankly, Gartner still sees the market as they did in 2013 except for a couple of key trends:
growing momentum for cloud-based integration
demand for self-service data integration capabilities for the business-user-facing data preparation
For the most part, most of Gartner's views coincide with my experiences speaking with IT and business professionals who work with data integration. However, Gartner believes that the market will reduce the number of data integration tools with a chosen few enterprise standards. I'm not seeing this at all. I'm noticing that companies that have full SAP and SQL shops for example, are becoming more hybridized by integrating different solutions to meet their complex and evolving demands.
Click here for a Free 2014 Data Integration Tools Buyers Guide which outlines features and capabilities of the Data Integration providers that Gartner lists and also a handful more, giving you a better understanding of your Data Integration options.