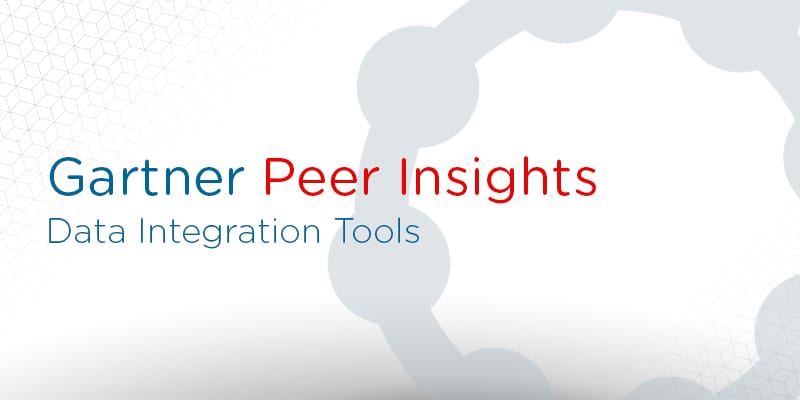 Analyst house Gartner, Inc. has officially announced the winners of its 2018 Peer Insights Customer Choice Awards for Data Integration Tools. According to Gartner, the Customer Choice Awards are a ranking of vendors by "verified end-user professionals" on the company's Peer Insights website, a peer review site in the mold of G2Crowd, Capterra, and TrustRadius. Recognition is given to a maximum of seven vendors in the marketplace. The awards take into account both the number of end-user reviews, and the overall user ratings.
Awards are given based on several criteria. The vendor must have at least 50 published reviews in the market guide during the submission period and must pass Gartner's validation, conflict of interest and moderation process. Additionally, any solution provider must have a at least one tool designated by Gartner's analysts as relevant in the space. In markets where more than seven vendors meet the thresholds, those with the highest number of approved ratings are named winners.
Peer Insights Customer Choice Awards are designed to "help IT professionals make better purchase decisions by leveraging the knowledge and feedback by fellow verified end users" according to Gartner's executive VP of Products and Services Ken Davis. He adds: "We work hard to ensure that all of the reviews are submitted by an IT professional or business user who has had experience purchasing, implementing and/or using the enterprise solution they are reviewing — free from conflicts of interest."
Informatica, Talend and Microsoft dominate the marketplace for data integration tools
No surprises in the data integration space, as two of the three major players in the space also tout the largest user communities. Informatica users rank it best for the bulk/batch data movement use case with an impressive 4.6 stars. However, pricing and terms remain a touchy subject for reviewers, as contract flexibility earned just 3.6 stars by verified users.
Talend, conversely, received a 4-star rating for contract pricing  while scoring 4.3 stars for data replication and synchronization. The company's flagship tool, Open Studio for Data Integration, is available via a free open-source license. Talend Integration Cloud is offered in three separate editions (SaaS, hybrid, elastic), and provides broad connectivity, built-in data quality, and native code generation to support big data technologies.
Denodo is the "gold standard" for data virtualization
Is the opinion of an Enterprise Architect at a 10 billion-dollar firm that reviewed Denodo for Gartner Peer Insights. Other users echo that sentiment, giving the product an overall rating of 4.7 stars. Denodo didn't have a product capability rating of lower than 4.2 stars, and its ranking for data federation and virtualization was nearly perfect.
Denodo delivers on-demand real-time data access to many sources as integrated data services with high-performance using intelligent real-time query optimization, caching, in-memory, and hybrid strategies. These are automatically (or manually) chosen based on source constraints, application need and network awareness. Included data services scale horizontally and vertically to meet most analytical and application use cases.
We encourage you to read Gartner's complete listing of Peer Insights vendor and product reviews.

Latest posts by Timothy King
(see all)