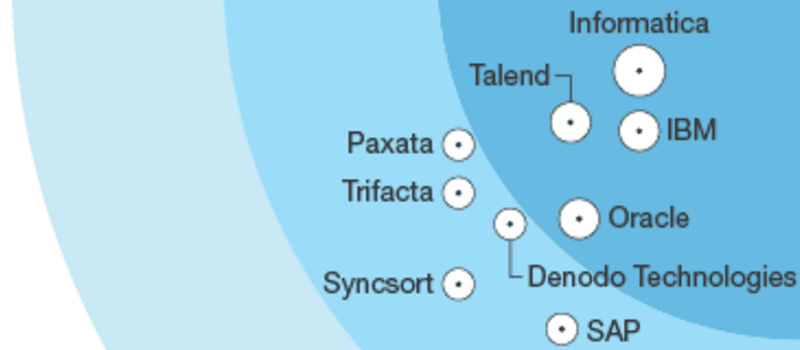 Enterprise technology analyst house Forrester Research has recently released the latest version of its Big Data Fabric Wave Report for Q4 2016. In their 26-criteria evaluation of Big Data Fabric solutions, Forrester researchers Noel Yuhanna and Gene Leganza identified the nine providers whom they consider most significant in the category – Informatica, Talend, IBM, Paxata, Trifacta, Oracle, Denodo, Syncsort, SAP, Global IDs, and Waterline Data – then researched, analyzed, and scored them. The Wave report details their findings and examines how each vendor meets (or falls short of) Forrester's evaluation criteria and where vendors stand in relation to each other.
According to Forrester, "big data fabric is accelerating the delivery of insights by automating key processes for increased agility while giving business users more autonomy in the data preparation process. Enterprises use it to support many use cases, such as enabling 360-degree and multidimensional views of the customer, internet-of-things (Iot) and real-time analytics, offloading data warehouses, fraud detection, integrated analytics, and risk analytics." Enterprises are increasingly becoming interested in this technology because it provides action-worthy insights with minimal effort, delivers a self-serve data platform for end-users, and enables cross-enterprise real-time integrated data.
In order to help Big Data professionals select the right tools, The Forrester Wave Report outlines the current state of the market and separates the top providers into Leaders, Strong performers and Contenders. At Solutions Review, we've read the report, available for free download here, and pulled a few of  the most important takeaways.
The Big Data Fabric market is immature, but will rapidly evolve
Big Data solutions meet at the intersection of Data Management and business analytics. These tools allow for the ongoing care of vital data so that it may be readily and continually available for analysis. Thus, Big Data Fabric platforms may be seen as mediators between all of the data an organization collects for future use, and a grand organizer that makes tidy analysis possible. Data-driven businesses are increasingly viewing these  solutions as necessary to help them govern data from a variety of sources.
In the months ahead, Forrester believes this market is set to take off. As more vendors come online to offer their versions of Big Data software, so too will enterprises who have been hesitant to adopt. Until recently, as the technology research giant explains, developers were the main users of these tools due to complexity. However, fabric solutions put a strong emphasis on self-service data prep, integration, and orchestration that non-technical users can leverage. Thus, the market's current immaturity will soon vanish, and users of every performance level will be able to combine data and share it cross-enterprise.
Informatica, Talend and IBM are the runaway leaders
Forrester argues that these providers, and to a lesser extent, Oracle, offer the most comprehensive and scalable platforms of any of the providers covered in this report, citing broad use case support as the major advantage. These solution providers are staples in the enterprise Data Integration space, and have staked their respective claims on the throne of the rapidly growing Big Data software sector.
Informatica has tentacles in every aspect of the Big Data space, with award-winning tools in Data Integration and Data Management. It's strength comes in its visual and metadata-driven development environment, which developers can leverage for Big Data sources. IBM's offering is unique because they provide their own Hadoop distribution while also offering connectors to support connectivity to other Hadoop and Apache Spark ecosystems. Talend's Big Data Fabric solution touts ease of use and can be deployed on-prem, in the cloud cloud or in hybrid environments. In addition, Talend Data Fabric requires no coding, but data prep, discovery and self-service are still emerging features.
Denodo and Paxata are on the cusp of joining the top dogs
Currently included in the Wave's Strong Performers sector, these providers offer notable price-to-performance upside, especially for more broad Big Data and Integration as a Service use cases. Denodo is most known for a mature Data Virtualization offering, however, they've expanded their reach into the Big Data Fabric market sector, with enterprise customers utilizing their tool for virtual big data marts, real-time analytics, and IoT data processing. According to Forrester, customers like its ease of use and "simple yet sophisticated data modeling capabilities, search, and support for various big data sources."
Like Denodo, Paxata is within a stone's throw of the Leader's wave, offering an interactive and analyst-centric data prep tool that is powered by a unified group of technologies designed to support enterprise integration, data quality, data governance, and collaboration. According to Forrester, customers report that Paxata's integration with "a few" traditional and legacy data sources is not optimized, which may be the only thing holding them back from a spot near the top, however, enterprise organizations currently use the solution for ad hoc, operational, predictive, and real-time analytics.
Read Forrester's Wave for Big Data Fabric, Q4 2016.

Latest posts by Timothy King
(see all)