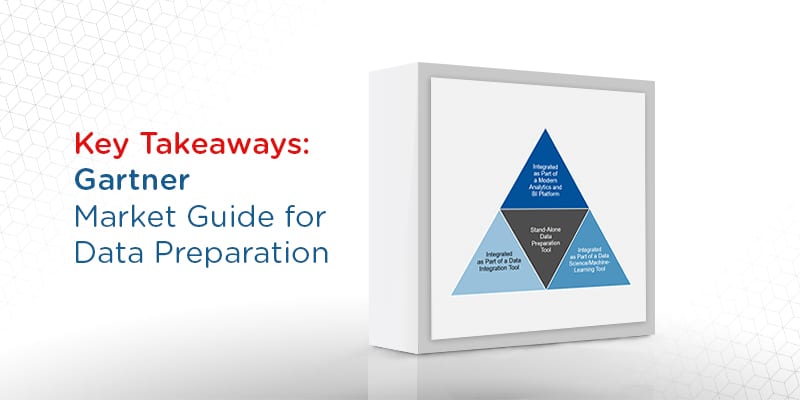 Analyst house Gartner, Inc. recently released its new Market Guide for Data Preparation. The researcher's Market Guide series is meant to cover new and emerging markets where software products and organizational requirements are in limbo. Gartner's Market Guides can be a great resource for understanding how a fledgling space may line up with current and future technology needs.
According to Gartner, "With the focus on early, more chaotic markets, a Market Guide does not rate or position vendors within the market, but rather more commonly outlines attributes of representative vendors that are providing offerings in the market to give further insight into the market itself."
Though Gartner's Market Guide is not provider-centric, and instead, aims to provide a more overarching view of the software space, the research house does mention the vendors to watch as things take shape. Many of the solution providers included are major players in vertical markets, such as BI and data analytics and data management.
Gartner highlights the following providers in data preparation: Alteryx, Cambridge Semantics, ClearStory Data, Datameer, Datawatch, IBM, Lavastorm, Lore IO, Oracle, Paxata, Rapid Insight, SAP, SAS, Talend, Tamr, TMMData, Trifacta, Unifi,Elegantj BI, Hitachi Vantara (formerly Pentaho), Informatica, Microsoft, MicroStrategy, Podium Data, Qlik, Tableau, Yellowfin,  and Zaloni. At Solutions Review, we read the report, available here, and pulled out the key takeaways.
Data preparation is widely regarded as one of the most time-consuming practices in the analytic process. As a result, Gartner proceeds with the stance that preparing data for analysis is changing from an end-user dominated self-service function to an "enterprise imperative."
This marketplace is unique because it encompasses providers, technologies, and software products from other vertical markets, with many of the top vendors including data preparation capabilities inside their existing BI and analytics, data science, and data integration solutions. In this way, data preparation tools lack definition. However, an increasing number of enterprise technology providers are expected to follow the footsteps of forward-thinking vendors in releasing standalone products.
Gartner recommends data and analytics leaders "develop a deployment strategy for data preparation to enhance user understanding of data, reduce data preparation efforts and increase agility", adding that organizations should evaluate prospective providers "based on capabilities, integration points, pricing and roadmaps."
Adoption of dedicated data preparation tools is being driven largely by the proliferation and demand for data analysis in enterprise settings. It's not just the need for advanced analytical processing, but the expanding and increasingly disparate nature of enterprise data sources. This has caused a great degree of friction between line-of-business users and centralized IT, and since data preparation can be such a painstaking process, analyzing the right data can be a struggle.
Due to these facts, we cite a Gartner statistic where organizations report spending 60 percent of their time in data preparation. Gartner adds that in a recent Research Circle Study: "respondents indicated that they are most likely to automate data integration (60%) and data preparation (54%) in the next 12 to 24 months."

Latest posts by Timothy King
(see all)