Gartner's Market Guide for Data Preparation Report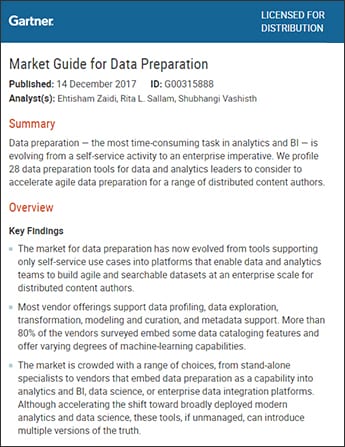 Data preparation is widely regarded the most time consuming task in the analytic process. The market for dedicated data preparation products has evolved to the point where Gartner now considers it an 'enterprise imperative'. A companion to Gartner's Magic Quadrant and Critical Capabilities series, the Gartner Market Guide helps data and analytics leaders understand the status of an emerging market so organizations can meet future needs.
In this report, Gartner profiles the top-28 data preparation tools to consider to meet an increasingly important task: Alteryx, Cambridge Semantics, ClearStory Data, Datameer, Datawatch, IBM, Lavastorm, Lore IO, Oracle, Paxata, Rapid Insight, SAP, SAS, Talend, Tamr, TMMData, Trifacta, Unifi,Elegantj BI, Hitachi Vantara (formerly Pentaho), Informatica, Microsoft, MicroStrategy, Podium Data, Qlik, Tableau, Yellowfin,  and Zaloni.
This report covers:
Strategic planning assumptions with predictions by the year
A general market overview, with key findings and recommendations
Market definition that includes the data preparation process, key capabilities of the best tools, and more
Market direction, analysis, and a representation of each vendor

Fill out the following to download this resource