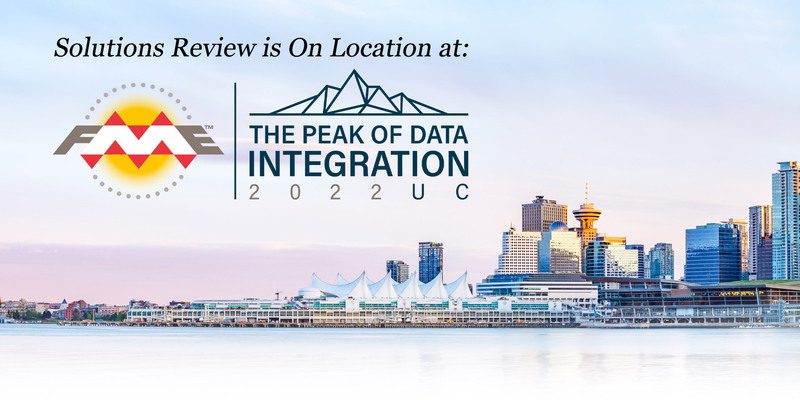 Solutions Review On-Location: A live event blog of all the expert video interviews from Safe Software's FME UC 2022 in Vancouver, Canada.
Safe Software's FME User Conference 2022 shows you how to leverage your data better. The three-day event features the industry's top spatial data technology experts and thought leaders, providing guidance and insight. With over 100 sessions, it showcases technical "how-tos", provides valuable data integration tips, and gives answers to the trickiest data integration questions.
Safe Software offers a data integration platform with native support for spatial data. The solution enables users to move information between more than 450 applications via a visual interface. Safe also ensures data quality throughout the integration lifecycle with FME transformers. More than 500 transformers exist to modify data exactly for a specific need. The product offers workflow automation as well by automatically providing integrated data to stakeholders in real-time.
Solutions Review is holding live interviews throughout the show! Our editors will update this post as new videos go live on our YouTube channel. Want to watch the event "live" on YouTube? Check out our FME UC 2022 playlist.
FME UC 2022: Day 1 Video Interviews
August 24, 9:30 AM:
August 24, 10:00 AM:
August 24, 10:30 AM:
August 24, 11:00 AM:
August 24, 11:30 AM:
August 24, 1:00 PM:
August 24, 1:30 PM:
August 24, 2:00 PM:
August 24, 2:30 PM:
August 24, 3:00 PM:
August 24, 3:30 PM:
August 24, 4:00 PM:
August 24, 4:30 PM:
FME UC 2022: Day 2 Video Interviews
August 25, 8:30 AM:
August 25, 9:00 AM:
August 25, 9:30 AM:
August 25, 10:00 AM:
August 25, 10:30 AM:
August 25, 11:00 AM:
August 25, 11:30 AM:
August 25, 12:00 PM:
August 25, 1:00 PM:
August 25, 1:30 PM:
August 25, 2:00 PM:
August 25, 3:00 PM:
August 25, 3:30 PM:
August 25, 4:00 PM:
August 25, 4:00 PM: