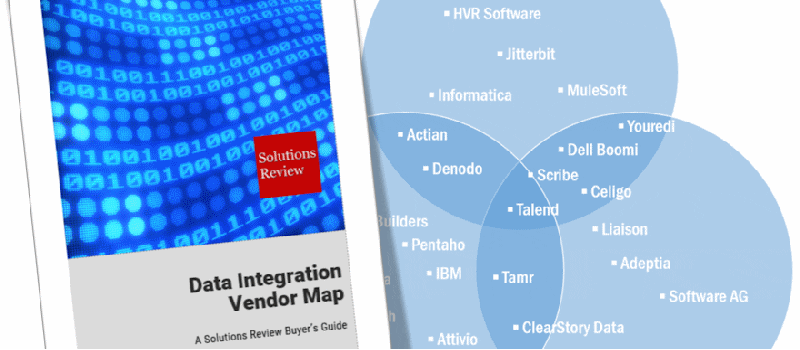 Solutions Review is proud to release an all new resource for comparing Data Integration and preparation software, the Data Integration Vendor Map. The report provides an expansive overview of key frameworks involved in unifying and preparing data for analysis: Integration Platform as a Service, application integration (EAI), and self-service data preparation. The included visual maps notable providers in this market to give buyers an overarching view of how specific feature offerings overlap and differ.
Top providers highlighted include: Actian, Adeptia, Attivio, Celigo, ClearStory Data, Datawatch, Dell Boomi, Denodo, HVR, IBM, Informatica, Jitterbit, Liaison, MuleSoft, Pentaho, Scribe Software, Software AG, Talend, Tamr, Trifacta, and Youredi.
Without integration, accurate analytics are impossible to achieve. Imagine trying to make a decision based on incomplete data. The less information available, the more likely a decision leads to an undesirable outcome. Now, multiply this challenge – decisions will now involve millions of dollars, hundreds of data sources, and terabytes of data. In order to steer a business correctly, integration needs to handle a heavy burden.
Businesses now face a bewildering array of choices and options around various types and features of integration platforms. Coupled with our Data Integration Buyer's Guide, this release further enhances the ability of the IT professional to make the right product buying decisions. In using these two tools in conjunction, solutions-seekers will be armed with all of the materials they need to ensure selection of the best software for their organization.