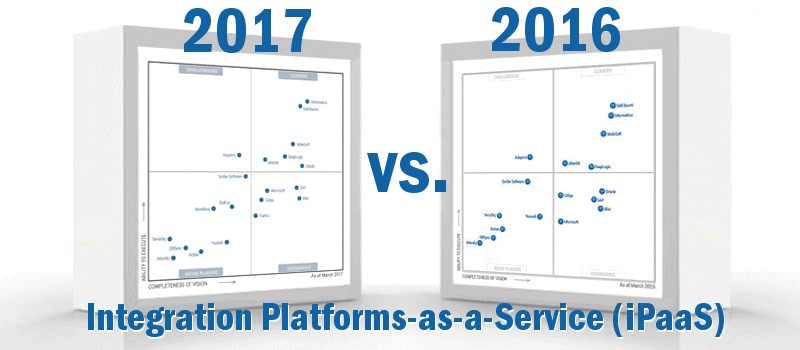 Analyst house Gartner, Inc. has officially released the 2017 version of their Magic Quadrant for Enterprise Integration Platform as a Service. Integration Platform as a Service (iPaaS) refers to capabilities that allow users to implement data, application, API and process integration via cloud and on-premises endpoints. Proliferation in cloud technologies and adoption have made application portfolios hybrid, with many organizations now needing to integrate between them. In some instances, businesses can utilize existing technologies to integrate with SaaS applications, although speed remains a major hurdle.
The report notes that integration tools providers are acting fast to get their iPaaS offerings to market, including large, legacy vendors who are all now present in the space. The technology research giant expects to see continued adoption of iPaaS among the enterprise, and as such, explosive revenue growth in the marketplace. However, expansion in iPaaS adoption will likely have a crippling effect on other integration software sectors. Gartner explains: "Other integration technology markets, such as message-oriented middleware, managed file transfer and enterprise service bus, all saw single-digit growth or less in 2016."
According to Gartner, iPaaS capabilities typically encompass the following:
Communication protocol connectors
Application connectors
Data formats
Data standards
Data mapping, transformation and quality
Integration flow development and operational monitoring
Full life cycle API management
Gartner adjusts its inclusion criteria year over year, and this report features three new providers – Built.io, Fujitsu, and Moskitos. Remaining vendors include Actian, Adaptris, Attunity, Celigo, DBSync, Dell Boomi, IBM, Informatica, Jitterbit, Microsoft, MuleSoft, Oracle, SAP, Scribe Software, SnapLogic, Terrasky, and Youredi.
The top spot in this year's report goes to Informatica after they leapfrogged Dell Boomi. This doesn't come as a surprise, as Informatica seems to be a favorite of the analysts. Perhaps their offerings check all the boxes in Gartner's proprietary research. It remains a two-horse race, however, with MuleSoft standing firm as third to the throne for the second year in a row. Oracle rounds out the leaders bracket, and it's jump is notable in that like other large, legacy integration providers, they've made major strides to keep pace with evolving use cases during the course of the last year.
Adaptris showed only slight horizontal movement on the grid and sticks as a challenger for the second-straight year. Even though movement was barely noticeable, they remain a strong player in the market with high customer ratings and included integration brokerage functionality.
Microsoft, SAP and IBM are the big names in the market visionaries bracket, with all three seeing improved standing from a year ago. Maybe another year of adaptation to growing demand for iPaaS tools will be enough to vault them into the leaders segment with old friend Oracle. Celigo and newcomer Fujitsu round out this sector, and will have work to do if they're to make a splash with some of the names ahead of them.
There wasn't much movement in the niche players column outside of a sneaky horizontal play by Scribe Software. Now with a position very close to the epicenter of the graph, they're a good bet to see upgraded standing in next year's iteration. Two of the new arrivals – Moskitos and Built.io – make their debut as niche members. Based in France, Moskitos offers pure iPaaS, with a strong focus on ad hoc and citizen integrators. According to reference customers, Built.io offers some of the best professional services in the market.
Read Gartner's Magic Quadrant.

Latest posts by Timothy King
(see all)