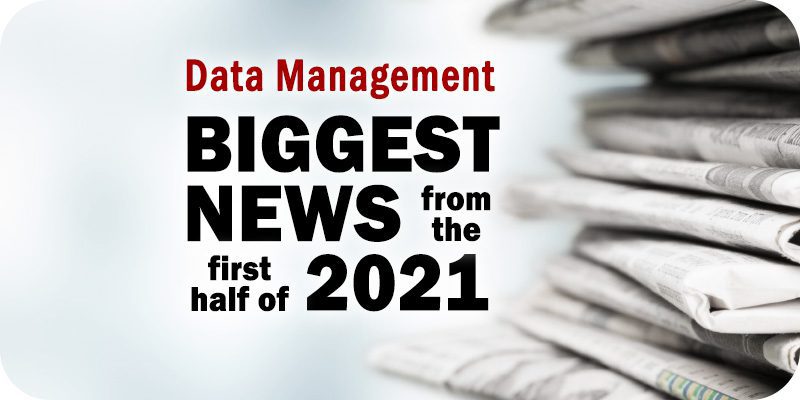 Our editors curated this list of the biggest data management news items during the first half of 2021, as highlighted on Solutions Review.
Data management can sometimes prove to be an overwhelming process. There are inherent risks in moving, mixing, and matching data to meet the needs of an enterprise. The data management market offers a broad spectrum of products that can be used to analyze data from disparate and increasingly diverse sources. Traditional data warehousing techniques are slowly being phased out with the adoption of data lakes, and cloud connectivity has emerged as a differentiating factor in a growing number of deployments.
Part of Solutions Review's ongoing analysis of the big data marketplace includes covering the biggest data management news stories which have the greatest impact on enterprise technologists. This is a curated list of the most important data management news stories from the first half of 2021. For more on the space, including the newest product releases, funding rounds and mergers and acquisitions, follow our popular news section.
The Biggest Data Management News Items During the First Half of 2021
Dremio has announced new funding in a Series D round worth $135 million, according to a press release on the company's website. The Dremio funding brings the company's total raised to more than $250 million since its founding in 2015 and comes on the heels of funding in March 2020. The new capital injection is being led by Sapphire Ventures with participation from existing partners. Dremio will use the funding to expand its engineering centers of excellence and invest in growing a community of data lake practitioners.
In a media statement about the news, Dremio CEO Billy Bosworth said "There is a challenging story before the story when it comes to data warehouses, and that is the process of copying, moving and synchronizing data. Dremio's technology fundamentally simplifies workflows allowing analytics directly on your full data set, stored in industry-standard open formats, residing in native cloud storage. We are pleased to have Sapphire Ventures on the investor team helping to make that possible."
Data protection and security provider Quest Software acquired erwin, Inc. according to a press release on the company's website. The addition of erwin will help to strengthen Quest Software's data toolset by adding new capabilities to drive data initiatives and the deployment of modern applications while ensuring regulatory compliance. The merger will also help customers by providing infrastructure to manage and govern enterprise data.
In a media statement about the news, Quest Software CEO Patrick Nicholas said "Together, Quest and erwin will continue to deliver database tools aimed at helping companies know their data, alleviating concerns about where and how their data is used. Quest was already dominant in database tooling and performance monitoring, and now by combining with erwin's industry-leading data modeling, data intelligence, and Evolve products, this acquisition further establishes Quest as a major player in the enterprise data management market end-to-end."
Informatica launched what it is dubbing "the industry's first" all-in-one enterprise-scale Master Data Management SaaS solution, according to a press release. The Customer 360 SaaS product is built on Informatica Intelligent Cloud Services (IICS). It features seamless connectivity, data integration, process orchestration, data quality, reference data management, and master data management.
In a media statement, Informatica's Chief Product Officer Jitesh Ghai said "Customer experience remains the ultimate battleground where if you don't innovate, you will be disrupted. Our new Customer 360 Saas Solution built on the Cloud and designed for enterprise-scale, is a game-changer for companies looking to truly transform how they address the perpetual shifts in consumer behavior in real-time with the agility and speed of a modern cloud-first, cloud-native Master Data Management solution."
TigerGraph announced a new Series C funding round worth $105 million according to a press release on the company's website. The funding brings TigerGraph's total raised to more than $170 million since its founding in 2012. The round was led by Tiger Global. The news comes on the heels of TigerGraph unveiling version 3 of its flagship graph database in March of last year. The featured product enhancement in this version includes the ability to run graph queries using drag-and-drop functionality so non-technical users can benefit from advanced graph analytics.
In a media statement, TigerGraph CEO Dr. Yu Xu said "TigerGraph is leading the paradigm shift in connecting and analyzing data via scalable and native graph technology with pre-connected entities versus the traditional way of joining large tables with rows and columns. This funding will allow us to expand our offering and bring it to many more markets, enabling more customers to realize the benefits of graph analytics and AI."
The SAS Viya analytics and data management platform was updated with easier cloud migration and enhanced analytic workload management, according to a press release on the company's website. These product developments, according to SAS "help customers more efficiently democratize analytics throughout their organizations while seamlessly managing analytic workloads and building SAS into a variety of applications." The release is highlighted by an integration with Microsoft Azure services.
In a media statement on the news, SAS CEO Jim Goodnight said "SAS Viya helps organizations see their data, customers and operations in new ways that encourage confident decision making.
Oracle announced updates to its self-driving Oracle Autonomous Data Warehouse, according to a press release on the company's website. The release is highlighted by this product's evolution into an intuitive point-and-click, drag-and-drop experience for data analysts, data scientists. and business users. The mega-vendor adds "The latest enhancements to Oracle Autonomous Data Warehouse provide a single data platform built for businesses to ingest, transform, store, and govern all data to run diverse analytical workloads from any source, including departmental systems, enterprise data warehouses and data lakes."
In a media statement on the news, Oracle Vice President of Database Server Technologies Andrew Mendelsohn said "Oracle Autonomous Data Warehouse is the only fully self-driving cloud data warehouse today. With this next generation of Autonomous Data Warehouse, we provide a set of easy-to-use, no-code tools that uniquely empower business analysts to be citizen data scientists, data engineers, and developers."
Alation recently announced the launch of Alation Cloud Service, a new cloud-based platform for data intelligence. The product provides a fast, easy way to drive data intelligence across an organization's hybrid infrastructure via its ability to connect to any data source no matter the location. The cloud service is available through Alation and on Amazon Web Services through the AWS Marketplace.
In a media statement about the news, Alation co-founder and CEO Satyen Sangani said "We've always believed that speed to deployment and time to value are fundamental strengths of Alation's platform. Alation Cloud Service doubles down on that value proposition. Now, not only does Alation's ease-of-use drive adoption, but new deployment options allow organizations to innovate and collaborate on data faster than ever before."
Octopai recently announced the launch of Data Lineage XD and release of an associated multidimensional platform, according to a press release. Octopai Data Lineage XD provides a complete, in-depth view of data flow. According to Octopai, the release adds "Octopai's new platform takes data lineage from the classic, monolithic, limited view of data to a multi-dimensional approach by offering three layers of data lineage." The product's visual representations eases the discovery of the data flow and movement from source to destination.
In a media statement on the news, Octopai CEO Amnon Drori said "We are seeing more than ever that data access no longer resides in the Business Intelligence department alone; executives throughout a corporation need access to accurate data, fast. Our platform addresses the needs of each data user, providing a complete data lineage solution at every level. Our customers feel that with our platform they are getting a premium platform at an affordable price."
Alation recently announced that it has raised $110 million in Series D funding, bringing the company's total earned to more than $200 million since its founding in 2012. The capital injection was led by Riverwood Capital with participation from new and existing investors. The round will enable Alation to meet demand for its popular data intelligence platform. It will also enable the company to fund innovation in new products and capabilities. Alation wants to expand to new geographies, verticals and product areas as well.
In a media statement on the news, Alation CEO Satyen Sangani said: "There's never been a stronger demand for Alation. Alation empowers leading global brands to find, understand, and trust data. With the support of this investment group led by Riverwood, I could not be more thrilled with the opportunities this capital unlocks. We'll be able to go faster. This is what our customers like Blackstone and Salesforce want. This is what our partners like Snowflake, Tableau, and Capgemini want. Most critically, it's what people who use data desperately need to make decisions and innovate."
Syndigo recently announced its acquisition of Master Data Management and Product Information Management solution provider Riversand, according to a press release. Syndigo offers Product Information Management and syndication capabilities and is a portfolio company of Summit Partners and The Jordan Company. The merger will enhance Syndigo's position in the MDM marketplace while enabling the company to add new PIM capabilities across multiple domains and systems.
In a media statement on the news, Syndigo CEO Paul Salay said: "Combining Riversand's expertise in MDM and PIM with Syndigo's leading capabilities in enhanced content, syndication and data analytics means more data – better data – for all of our clients. Our connectivity and added capabilities between the two solutions will continue to help maximize the speed to market for our clients. We look forward to growing globally together."
Neo4j announced $325 million in Series F funding, which represents the largest investment in a private database company in history. The capital injection was led by Eurazeo with participation from Google Ventures and existing participants. Neo4j's latest raise brings the company's total earned to $515 million. Neo4j now touts an evaluation of more than $2 billion. Solutions Review named Neo4j to its list of the Best Graph Databases to Consider for 2021 back in March.
In a media statement on the news, Neo4j co-founder and CEO Emil Eifrem said: "This is a magical time in databases, presenting an opportunity for a handful of generational companies to emerge as leaders in the broader landscape. Neo4j is one of these companies, and today's record-breaking transaction in the database space demonstrates that our new and existing investors share this belief."
Boomi recently announced the addition of Data Catalog and Preparation (DCP) AtomSphere Service to the Boomi AtomSphere Platform. The company also released a new Data Operations Professional Services Offering. Together, the solutions will enable customers to build the framework for creating a data fabric. Data Catalog and Preparation AtomSphere Service is available as a managed cloud-based service to work with the rest of the AtomSphere platform.
In a media statement on the news, Boomi's Head of Product Ed Macosky said: "We are leading the evolution of iPaaS to include key aspects of data management that address the common problems of data discovery, preparation, and governance that we often see integration projects suffer from. Customers no longer need to integrate multiple point solutions to share data between systems and data repositories – they can simply access the Boomi platform to holistically accelerate data readiness processes across their enterprise."
Israel-based cloud data warehouse solution provider Firebolt announced today $127 million in Series B funding, according to a press release on the company's website. The capital injection brings Firebolt's total earned to $164 million since its founding in 2019. Firebolt's funding will enable the company to expand its product, engineering, and go-to-market teams. Firebolt has doubled its employee headcount in the last six months and plans to do the same again over the next calendar year.
In a media statement on the news, Firebolt CEO Eldad Farkash said: "Companies are developing data applications more than ever before – which require a high level of performance that is not readily available. Firebolt takes out the grueling pain from the entire process, making it possible for engineers to develop interactive data applications that deliver fast performance over extremely large data sets. Developers can finally develop data-related features at unheard-of speeds."