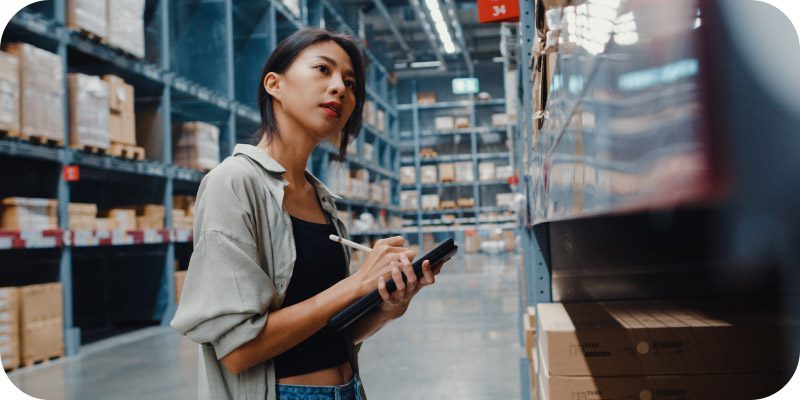 Inventory management is defined as the management of inventory and stock. As an element of Supply Chain Management (SCM), inventory management includes aspects such as controlling and overseeing ordering inventory, storage of inventory, and controlling the amount of product for sale. Managing all this is no easy task, and if handled improperly, can leave you with an overabundance of stock sat in warehouses, or a lack of enough to meet demand. Either situation costs you money and the latter can lose you customers, damaging your reputation.
What is Distribution ERP?
ERP systems are business management technology platforms that businesses, manufacturers, and distributors use to collect, store, manage, and communicate data across all functions of the enterprise. By integrating information from all areas of a business (including product planning, development, HR, manufacturing processes, sales and marketing and more) into one complete enterprise system, ERP systems allow data to be shared across departments in real-time in order to streamline processes and automate common tasks.
Since the micro, day-to-day processes differ between manufacturing and distribution, there must be different software capabilities to service the two different verticals. Distributors technically need more tools as they provide end-to-end solutions. Features such as fleet management, inventory management, marketing and shipping are all necessary for a successful distributor to run their business, but are not necessarily important to a manufacturer.
Helen Peatfield, B2B tech & SaaS writer, states that distribution ERP systems help you track, monitor, predict, and manage your inventory so that you satisfy your customers and your revenue targets. Below, she provides three ways ERP can improve your inventory management.
How to Improve Inventory Management
Automated Control
An ERP system can save you precious time and money by eliminating the daunting task of manually process inventory management. Automated inventory management capabilities can improve your management processes by allowing end users to track and manage data across multiple warehouses – giving you real-time visibility to current inventory in transit and costs. ERP systems can even manage complete product traceability and recalls. Because your inventory control is synced with each division across your business, you have the full picture in one portal.
Track Inventory Across All Departments
You need total visibility of your stock across the entire organization, especially if you have multiple locations nationally or internationally.  Say you don't have an item in stock in one warehouse, you may well have it in another. Today, customers expect faster service and if you can't fulfill their order in time, they'll be off to the next supplier who can. An ERP system gives your people instant access to a centralized inventory database. A database that's updated in real-time so you know exactly what you can or can't fulfill and when the customer can expect delivery.
"You can also track expenses related to sales. Are you spending too much on distribution because you don't carry enough stock in the right locations? An ERP will help you identify revenue leakage points so you can better plan and decrease your cost per sale. You can also integrate with barcodes, QR codes or even IoT technology to automatically update inventory levels and whereabouts across all distribution centers," Peatfield adds.
Improved Demand Forecasting
In her article, Peatfield notes that an ERP system will help you keep track of sales, purchasing, logistics, and SCM so that you have the right inventory levels to match demand cycles for your business. Having insight into surplus inventory in real time means you might have the opportunity to return stock to your supplier or kick a marketing campaign into action to get those items moved before they perish, become obsolete or just take up shelf space that something more profitable could be using.
We encourage you to read the full article here.
---
Looking for more? Download our ERP buyers guide for free and compare the top-24 products available on the market with full page vendor profiles. The guide includes four key capabilities to look for in an ERP solution, plus five questions to ask yourself and five questions to ask the software provider before purchasing. It's the perfect resource for anyone looking to find right ERP for their business/organization.
And don't forget to follow us on Twitter, Facebook and LinkedIn for all the latest in the ERP space!

Latest posts by Elizabeth Quirk
(see all)