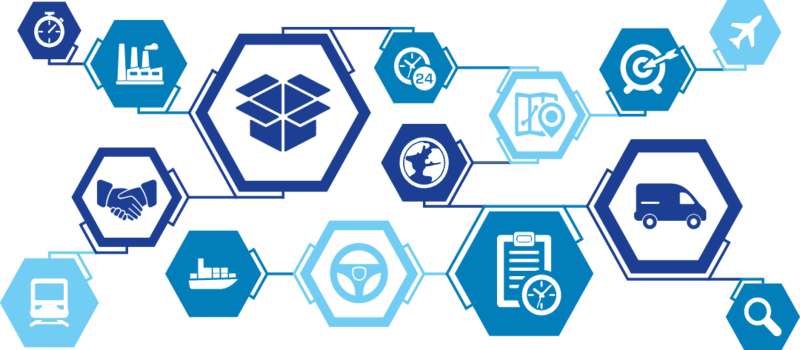 Supply Chain Management (SCM) is defined as the management of the flow of goods and services, involving the movement and storage of raw materials, of work-in-process inventory, and of finished goods from point of origin to point of consumption. 
For manufacturers, managing a supply chain is extremely important and can even be a 'make it or break it' type of situation. This is where an Enterprise Resource Planning (ERP) solution comes into play (to save the day).
Nicole Brennan, writer for Vision33, a global reseller for SAP Business One, explains the seven ways an ERP solution can tighten your supply chain:
1. Tracking Your Inventory
ERP solutions offer comprehensive inventory tracking systems to help business control and manage their stock. With ERP, businesses can organize and categorize their inventory, and better manage detailed warehouse data, plus record various inventory movements. This provides managers with a greater understanding of what inventory is on hand and where it is at all times.
2. Counting Your Cycle
According to Brennan, cycle counting is an inventory process where a small subset of inventory is counted at regularly scheduled intervals. An ERP supports this function, allowing managers to note any differences or discrepancies during counts and adjust them within an integrated accounting function of the ERP solution. Cycle counting can help businesses by reducing errors in transactions and assist in planning for inventory replenishment.
3. Just-in-Time Inventory
A just-in-time inventory strategy enables companies to increase efficiencies by receiving materials just as they're needed for production, which reduces inventory costs. ERP facilitates the adoption of this strategy through automation of inventory counting. This ensures that a business can determine what they need and when they need it.
4. Reporting in Real-Time
Manual reporting means business report less frequently because of the labor intensive and manual process required to gather data, which in turn, leads to decisions made on out of date and/or inaccurate data. When you move to an integrated ERP solution however, you get access to accurate, real-time information about the company's performance. This allows decision-makers to keep better track of the movement of goods and materials, and the ability to use this streamlined data to improve operational efficiencies in their supply chain.
5. Improved Relationships w/ Vendors
With better vendor relationships, products can get to customers more quickly, efficiently and less costly. An ERP solution can can provide vendor portals that empower and connect vendors to access their account information they need. With these connected systems and automated processes, businesses can improve coordination with their vendors and ultimately, strengthen working relationships.
6. Warehouse Automation
Relying on manual processes can slow down the distribution process and obstruct information flow through the supply chain. By implementing an ERP solution, various functions such as notifying a warehouse manage of inventory or stock levels, would become automated. This can enhance operational efficiency, ensure the optimization of inventory, timely sales orders and make sure reporting is accurate.
7. Materials Requirement Planning (MRP)
Brennan states that MRP allows businesses to maintain an optimal production plan for multilevel production processes. Using MRP offers supply chain managers the ability to schedule and manage items that are to be produced or purchased. This process provides consistent availability of the right materials, minimizes inventory levels, and streamlines production while reducing carrying costs.
Looking for more information about ERP systems? Download our free buyers guide, where you can find the top ERP software vendors, little blurbs about their highest ranking ERP solutions and products, plus the top 10 questions and tips to ask your vendor before purchasing!
And don't forget to follow us on Twitter, Facebook and LinkedIn for all the latest in the ERP space!

Liz is an enterprise technology writer covering Enterprise Resource Planning (ERP), Business Process Management (BPM) and Talent Management Suites (TMS) at Solutions Review. She attended Massachusetts College of Liberal Arts, where she attained a Bachelor of Arts Degree in Journalism. You can reach her at equirk@solutionsreview.com

Latest posts by Elizabeth Quirk (see all)