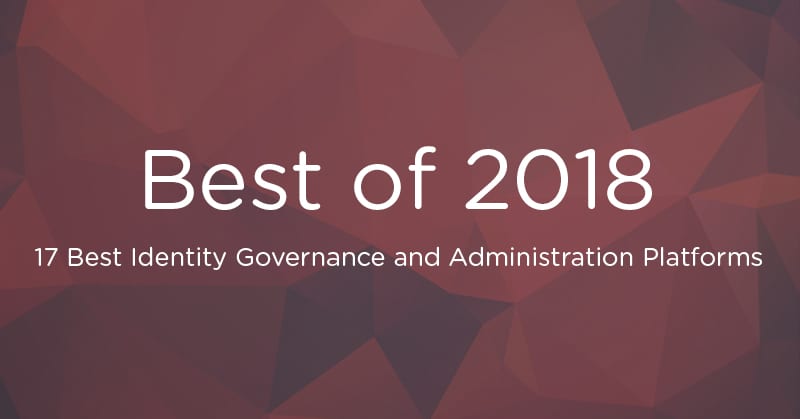 Two of the most consistent challenges to traditional identity and access management (IAM) are compliance and role access management. The former is perhaps the better understood—nearly every enterprise has its own governmental and industry regulations concerning employees digital permissions or data leaks. The latter, however, is far more insidious: how do enterprises prevent access creep? How do they enforce the principle of least privileges consistently? How do they bestow temporary privileges, remove those entitlements, and keep track of who has what?
The answer to these questions is identity governance and administration platforms. As the need for better access management and visibility becomes more apparent, so does the need to deploy IGA on enterprise networks. But identity governance and administration platforms can be complex to deploy and maintain—not always an easy decision to undo. To help your enterprise make the right choice the first time, we've compiled the 17 best identity governance and administration platforms of 2018:    
Crossmatch
Well known for its biometric authentication, Crossmatch works to create new options in IGA for modern contexts. While they offer specially tailored identity and administration platforms for specific industries, they are also a good fit for public sector industries and mid-sized enterprises. They can relieve password fatigue.
Tools4Ever
Tools4Ever provides standardized and affordable identity governance and administration platforms, which are easy to deploy thanks in part to their in-house IT consultants offering implementation assistance. Their solutions facilitate governance via SSO, audit logs, and access reporting.
Identity Automation
Identity Automation offers their signature RapidIdentity solution, which ensures access controls remain governed throughout any business changes. Their IGA is centrally implemented and has a history of speedy and highly successful deployments. Identity Automation is an ideal IGA solution for mid-sized to large enterprises.    
Saviynt
Saviynt approaches their identity governance and administration platforms holistically, incorporating cloud security, application GRC, and access governance. Saviynt's solutions can facilitate onboarding and lifecycle management as well as developing rules and roles based on user data, attributes, and behaviors.
Ping Identity
Through their PingDataGovernance solution, Ping Identity offers scalable SSO and the capability can support fine-grain policy control over stored identities and profiles. Their IGA platform can help your enterprise adhere to privacy regulations via restricted access, and supports multiple consumer and third-party identities.   
Simeio Solutions
Simeio Solutions offers the Identity Orchestrator, its own identity governance and administration platform. The Identity Orchestrator automates compliance and protects against both internal and external threats with password and role management, segregation of duties enforcement, role management, and identity proofing.
Fischer Identity
Fischer Identity offers Identity as a Service (IaaS)—an enterprise-grade full-suite solution for your enterprise's private cloud or on-premise servers. Fischer's full auditing and compliance capabilities will match the needs of SMBs and larger enterprises alike, especially those concerned with keeping detailed records of their IAM activity.
IBM
IBM's identity governance and administration platforms, Identity Governance and Intelligence, strong automation and governance capabilities. IBM's products typically offer deep functionality and strong connectivity with a broad range of complementary products ideal for large organizations with global footprints.
NetIQ
Owned by Micro Focus, NetIQ provides an IGA solution with a business-friendly interface on a common governance model that spans all of an enterprises' processes relating to access and identity, demonstrating compliance, and ensuring accurate recertification processes. It has been described as robust.  
SailPoint
SailPoint is a known innovator of identity governance and administration platforms. Their IdentityIQ solution, offered as a standalone on-premises product with several optional add-ons, is well-regarded for its strong identity governance capabilities and provisioning capabilities. They help define user access.
RSA
The RSA Identity Management and Governance solution is a highly scalable identity management suite built of highly capable products. It provides a common foundation for managing policies, controls, risks, assessments and deficiencies across your lines of business. It designs for the non-technical user.
Propentus
Finland's largest IAM vendor, Propentus offers governance and reporting as key features of their United Identity Suite. Their governance capabilities ensure compliance with regulations and auditing standards in real time through standardized operating models logging the activities and authorizations of users.  
Oracle
Oracle's identity governance and administration platforms are marketed for, and well-suited to, large enterprise customers. As such, their Oracle Identity Governance (OIG) Suite is a highly complex, scalable, and flexible product. It can also help solve complicated governance and access use-cases.
Beta Systems
Beta Systems products are known for their capabilities in mainframe security and for providing highly customizable digital environments. Their IGA solution is designed to offer clarity on access permissions, data supervisors, and potential structural weaknesses in your databases.
One Identity
One Identity offers their Identity Governance Solution, providing a unified governance foundation that addresses enterprise management, auditing, and compliance needs; it is a modular and integrated approach to account governance that provides rapid time-to-value. It has strong out-of-the-box capabilities.
CA Technologies
As part of their Identity Suite solution, CA Technologies offers IGA that can help manage user identities throughout the identity lifecycle. CA Identity Governance utilizes a simple UI that makes identity account information straightforward and can be deployed as both cloud and on-premises applications.
Omada
The Omada Identity Suite offers identity governance as a component or as a comprehensive system. OIS features a flexible data model, excellent dashboards and powerful reporting capabilities, including closed-loop reporting. They also offer specialized GDPR auditing and reporting capabilities.
---

Latest posts by Ben Canner
(see all)