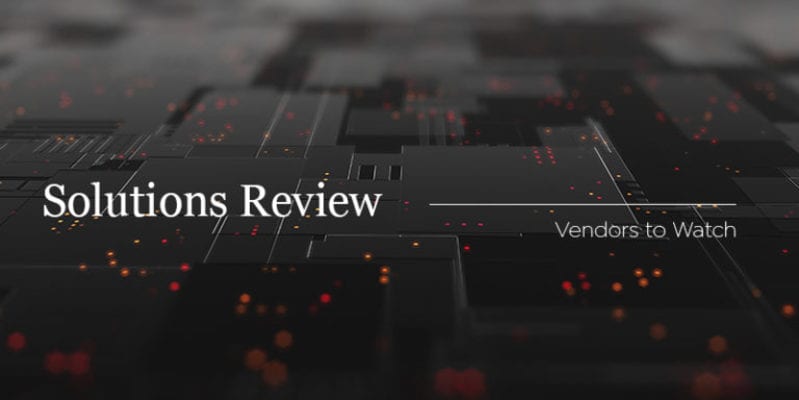 Solutions Review's Identity Management Vendors to Watch is an annual listing of solution providers we believe are worth monitoring. Companies are commonly included if they demonstrate a product roadmap aligning with our meta-analysis of the marketplace. Other criteria include recent and significant funding, talent acquisition, a disruptive or innovative new technology or product, or inclusion in a major analyst publication.
Enterprise cybersecurity must build its foundation on identity management. Experts contend that identity looks poised to subsume the entirety of business cybersecurity within the next few years. However, selecting the best identity management company to work with can prove a daunting task; after all, your business needs to weigh capabilities including single sign-on (SSO), multifactor authentication (MFA), and session monitoring. Additionally, your IT security team needs to weigh its own use case and compare it to different solution offerings.
The editors at Solutions Review continually research the most prominent and influential identity management software and vendors to assist buyers in searching for the tools befitting their organization's needs. Choosing the right vendor and solution can be complicated; it requires constant market research and often comes down to more than just the solution and its technical capabilities. To make your search a little easier, we listed the best identity management solutions of 2021 and beyond.
Auth0 provides a platform to authenticate, authorize, and secure access for applications, devices, and users. Auth0 values simplicity, extensibility, and expertise to enable security and application teams to make identity work for everyone in the organization. Okta acquired Auth0 in a massive deal for $6.5 billion in March 2021; the company will continue to operate as an independent business unit inside of Okta.
With its Avatier Identity Anywhere platform, Avatier offers a suite of independently licensed identity and access management products focused on offering usability and quick time-to-value. Avatier's most prominent strength is its unique approach which extends its IAM automation and self-service capabilities beyond the traditional enterprise use cases. Avatier recently achieved SOC 2, Type 2, and HIPAA/HITRUST compliance.
ForgeRock offers a unique entry to this list in that it offers one of the only open-source IAM platforms on the market. The ForgeRock Identity Platform is built on Sun Microsystem's open-source IAM projects and includes a set of APIs, allowing for the efficient and rapid development of new services ready for deployment in the cloud. This company has been paving the way for passwordless innovation over the past year.
HID Global offers an array of solutions ranging from biometric sensors and read modules; these include OEM embedded reader modules and finished desktop readers that validate identity using fingerprints or hard tokens. HID Global's solutions can integrate into existing business systems, both analog and digital. The company recently added cloud-based multi-factor authentication capabilities for its access management platform.
Jumio offers unified, end-to-end identity verification and eKYC platform to businesses. The Jumio KYX Platform offers a range of identity proofing and AML services to accurately establish, maintain and reassert trust from account opening to ongoing transaction monitoring. Additionally, Jumio leverages AI, biometrics, machine learning, liveness detection, and automation. Jumio secured a $150 million investment in March 2021 for automation and innovation.
Simeio Solutions offers a variety of IAM solutions as both dedicated cloud-hosting or on-premise managed services. Simeio offers IDaaS to clients who want consumer IAM and/or CIAM capabilities as a Service via on-premise, hosted on cloud or hybrid with a private cloud option available. The vendor was named as one of the Top 10 MSSPs for 2021 by Cyber Defense Magazine.
ThycoticCentrify works to reduce risk, complexity, and cost while securing organizations' data, devices, and code across cloud, on-premises, and hybrid environments. Additionally, ThycoticCentrify works to help businesses with their digital transformations. This company is the result of an ongoing merger of Thycotic and Centrify, expected to complete in 2002.
---