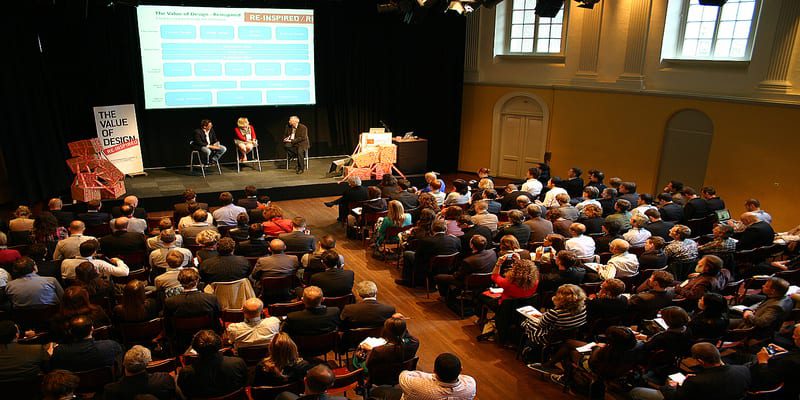 Who doesn't like a good conference every now and again? They're a great way to collaborate with your peers in the field, learn some new best practices, and most importantly, they're a few days out of the office. Jokes aside, the occasional conference is a fantastic way to re-connect with like-minded professionals outside your company and share some insights of your own. This is especially important for marketers, whose job is focused so much on creativity and strategy. Taking notes from your peers is a great way to refine your own skills a bit.
The only caveat is finding one that fits your schedule and interest set. Not every conference is created equal, and sometimes the only way to find out if a conference is for you is to pony up for a ticket and go yourself. A risky investment, to be sure.
That's why we have compiled this list of martech conferences that are going on around the country in 2019. The events listed below are home to some of the best and brightest minds marketing technology has to offer. If keynote speakers, professional workshops, and networking with your fellow marketers sound like your idea of a good time, you should probably start booking your hotel. Conferences are listed in chronological order.
B2B Marketing Exchange 
Date: February 25-27
Location: Scottsdale, AZ
Description: Since its creation, the B2B Marketing Exchange has had one mission: to empower marketers by spotlighting all that's new in B2B. Held right after the New Year, the event is designed to get you and your team not only inspired but prepared to tackle the latest trends, market conditions and buyer realities with gusto.
Click here for more information
Digital Summit Seattle 
Date: February 26-27
Location: Seattle, WA
Description: Playing host to hundreds of brands, Digital Summit gathers marketers from the world over to help them build their skill set. Digital Summit attendees are the movers and shakers influencing the growth and success of their company's digital marketing — and the future landscape of the digital economy.
Click here for more information
Pubcon Florida
Date: March 5-7
Location: Fort Lauderdale, FL
Description: Pubcon showcases strategies for search, social media, mobile marketing, content development and other areas of digital marketing. The conference starts with a series of Masters Workshops, followed by hourly multi-track sessions. Networking, evening events, and exhibitions round out a full three-day schedule.
Click here for more information 
Engage Conference
Date: March 7-8
Location: Portland, OG
Description: Engage is a two-day marketing conference, presenting multiple informative learning tracks and panel sessions designed to provide expert insight into the latest strategies and technological advancements in digital marketing, including social media, content, UX/design, creative, advertising, SEO and paid media.
Click here for more information
Soundboard Conference
Date: March 21-22
Location: Athens, GA
Description: Founded in 2014, SoundBoard is an annual digital marketing conference held in Athens, GA. The conference brings marketers with different specialties together in one place in order to foster more cross-functional collaboration and provide actionable takeaways for our audience. Several of the keynotes speakers come from various vendors like Hubspot and Salesforce.
Click here for more information
Adobe Summit 
Date: March 26-28
Location: Las Vegas, NV
Description: Adobe's conference is a chance for user's of their marketing suite to gather and compare notes with each other. Several high-level members of Adobe are keynote speakers, as well as leaders from Marketo and Microsoft, and New Orleans Saints Quarterback Drew Brees.
Click here for more information
MarTech
Date: April 3-5; October 1-3
Location: San Jose, CA; Boston, MA
Description: MarTech presents as a tech conference for marketers, and a marketing conference tor technologists — and it does this quite well. Designed to cross-pollinate the fields, it is a must-go for people looking to network with people they wouldn't normally meet.
Click here for more information
ContentTech Summit
Date: April 8-10
Location: San Diego, CA
Description: ContentTech explores how marketers can use content and apply the technology at their fingertips to create more meaningful consumer experiences. The standard fare of conferences is all here, workshops, keynotes, and networking events, but the event does take breaks for comedy marketing workshops. Keeping it light makes the whole experience much more enjoyable.
Click here for more information
DigiMarCon
Date: May 9-10
Location: New York City, NY
Description:  DigiMarCon East 2019's agenda will help attendees enhance their marketing efforts. Sessions focus on improving traffic, expanding brand awareness, improving customer service and gaining insight into today's latest digital tools.
Click here for more information
Inbound 
Date: September 3-6
Location: Boston, MA
Description: Inbound is focused on Hubspot and generally features a focus on inbound marketing, unsurprisingly. Expect a great focus on that marketing strategy, keynotes with company leaders, and opportunities to learn more about the products Hubspot has to their name.
Click here for more information 
AI In Digital Marketing Summit
Date: October 29-30
Location: New York, NY
Description: We're very big fans of AI on this site so this conference should be a no-brainer. Featuring guest speakers from ABC, LEGO, NBC, and Conde Nast, attendees can expect deep insights as to how to apply artificial intelligence in your marketing strategy.
Click here for more information
Dreamforce '19
Date: November 19-22
Location: San Fransisco, CA
Description: Salesforce's premier conference of the year, Dreamforce is where marketing and sales professionals can convene and discuss the finer points of their jobs and the software they work with on the day-to-day.