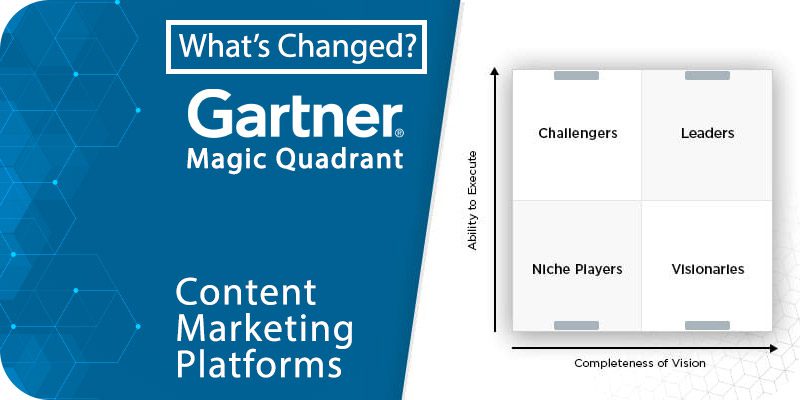 The editors at Solutions Review highlight and summarize the key takeaways and updates in Gartner's 2023 iteration of their Magic Quadrant for Content Marketing Platforms.
Analyst house Gartner, Inc. recently released the 2023 version of its Magic Quadrant for Content Marketing Platforms. Gartner defines Content Marketing Platforms (CMP) as being able to help digital marketers create, manage, measure, and scale content that generates a customer response. Content marketing is a broad category that covers the creation of text, video, graphics, images, audio, e-books, white papers, and interactive content assets for distribution through media platforms and social media.
The core capabilities of a CMP solution include tools for editorial planning, content performance measurement, calendarization, content strategy, ideation, workflows, audit approvals, collaboration, content optimization, and the creation, assembly, curation, and distribution of content types. The CMP solution providers in Gartner's report often integrate other marketing technologies, including marketing automation, web content management (WCM), sales enablement, and digital asset management (DAM).
In this Magic Quadrant, Gartner identifies what it considers to be the most significant providers in the Content Marketing Platform marketplace. The analysts on the report—Nicole Greene, Jeffrey L. Cohen, Amber Boyes, and Isoke Mitchell—also evaluate each listed vendor's strengths and weaknesses and rank them on the signature "Magic Quadrant" graph. The chart is divided into four quadrants: leaders, challengers, niche players, and visionaries.
What's Changed: 2023 Gartner Magic Quadrant for Content Marketing Platforms
---
To qualify for Gartner's report, each CMP vendor met specific criteria. These include, among others, generating at least $5 million in revenue by December 1st, 2022, and providing six of the following seven capabilities: ideation insights, creative workflows, content metadata management, editorial planning, out-of-the-box integrations, distribution tools, and content performance analytics. You can find Solutions Review's summary of last year's report here.
A breakdown of each category and the companies associated with it is below.
Leaders
Optimizely kicks off the Leaders category with a content management platform (CMP) designed to integrate tightly with its digital experience platform (DXP). It provides B2B companies across industries the tools content marketers need to plan, create, deliver, and optimize campaigns. Gartner's report highlights Optimizely's strengths as being its generative AI capabilities, modular content, and flexible, scalable user experience, which supports centralized, decentralized, and hybrid governance of content marketing and marketing teams.
Sprinklr's suite-based solution is designed to help content marketers hear, reach, and engage audiences across digital channels. Companies in the CPG, retail, financial services, pharma and healthcare, technology, and the public sector markets use Sprinklr's solution to reduce content production times, lower costs, optimize performance, automate content moderation, distribute content, and provide governance for distributed teams. Gartner Peer Insights spotlights Sprinklr's multichannel publishing with prebuilt templates, AI-enabled analytics, and the ability to incorporate user-generated content (UGC) into the content pipeline as its differentiating features in the market.
Storyteq, previously known as CanopyCloud, is a newer addition to the CMP market. Its platform has tools for planning, managing, and refining content marketing efforts alongside features for helping companies manage agency relationships, cross-functional work, content planning strategies, and global content management. Storyteq's strengths as a CMP include its holistic approach to content, extensive content performance analytics, and diverse ideation insights that provide insight into local and global audience demand for content.
Skyword rounds out the category with its Skyword360 platform, which displays content projects in a single enterprise dashboard that uses automation and AI functionalities to support content planning and production efforts. The company primarily works with B2B and B2C clients in the financial services, manufacturing, healthcare, software, and CPG markets. Its standout features include its managed services, support teams, global talent network, and narrow focus on content creation, which allows marketing teams to zero in on their content generation strategies. 
Challengers
CoSchedule is the only Challenger in this year's report. Its Marketing Suite solution can help small and midsize B2B companies in the technology, education, travel, hospitality, healthcare, and financial services markets coordinate their content marketing processes, projects, and teams. While its content performance insights are limited, the platform is well-regarded for its social media automation tool, collaborative approach to editorial organization, and consistent emphasis on using core customers to help guide its product roadmap.
Niche Players
Upland Kapost is the first Niche Player in this year's Magic Quadrant. Its CMP focuses on helping companies manage the core aspects of integrated content strategies. It primarily works with North American and European companies in B2B markets, specifically in the publishing, manufacturing, life sciences, technology, and financial services industries. Gartner's report highlights the platform's editorial planning support, content organization tools, and understanding of client markets as its differentiating strengths.
Contently's platform is designed to support the entire content creation lifecycle and help B2B enterprises across industries produce content at scale and streamline the process of integrating Contently into their tech stack. The platform offers fewer integrations than other solutions in the market but received high marks for its built-in custom workflow functionalities, search-driven content ideas, and vetted network of freelance content creators, which can help content creators and marketers expand the skills of their teams.
Visionaries
Sitecore is the final vendor in this year's report. Its platform provides content, metadata, governance, and distribution capabilities to midmarket and enterprise organizations in retail, automotive, manufacturing, hospitality, financial services, healthcare, and technology markets. The company also prioritizes its project management capabilities, which support alignment across business units, emphasize direct integrations, and more. Gartner highlights Sitecore's creative workflow capabilities, suite-based strategy approach, and modular, structured content creation tools as the strengths it brings to the CMP market.
---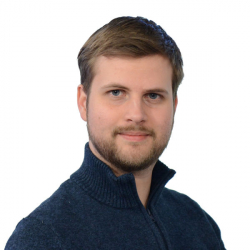 Latest posts by William Jepma
(see all)